Start of Main Content
Claiming a seat at the table: Recruiting success in food & agribusiness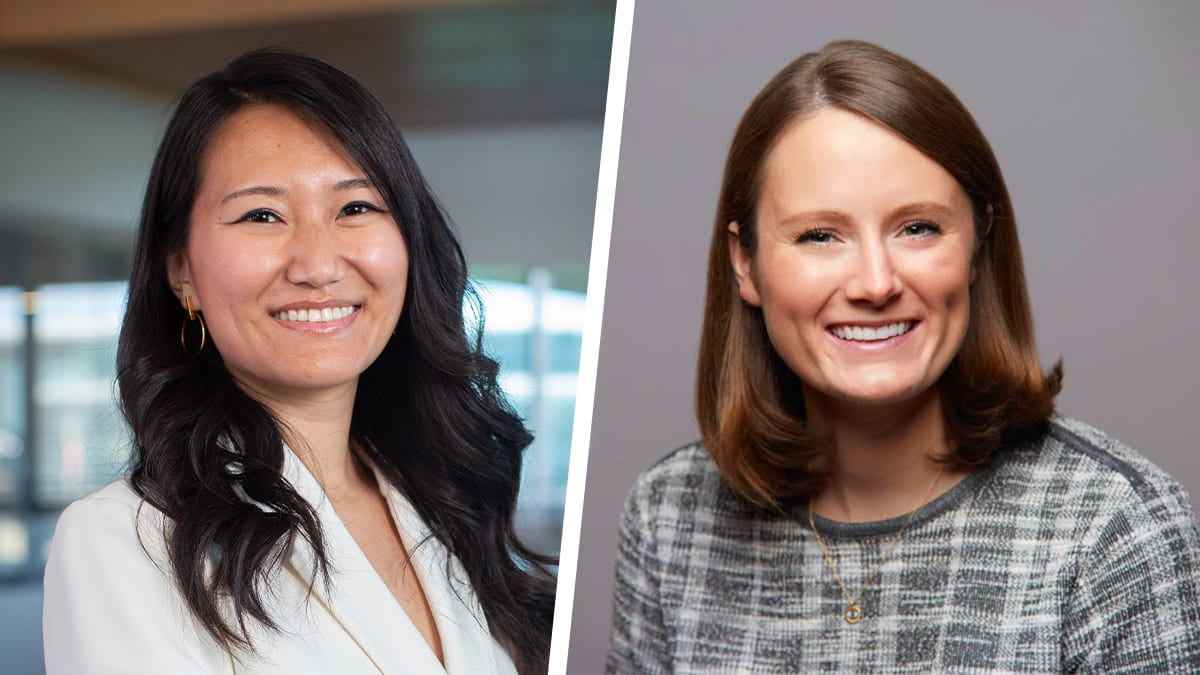 This post was originally published on CMC Go To Market, the blog of Kellogg's Career Management Center.
CMC Go To Market's new content series focuses on recruiting in niche or non-traditional industries. This month we're covering food and agribusiness. We talked with Amy Wu, Kellogg Food and Agribusiness Club (kFAB) Co-President, and Sallie Gayle Sanders, kFAB VP of Marketing, to learn about their experiences recruiting and interning in this industry. Make sure to catch our previous post on Kellogg students' recruiting experience in sports business.
Amy Wu (2Y, Class of 2022)
Pre-Kellogg: Business Manager, Capital One
Summer Internship: Associate Brand Manager, Tyson Foods
Major project or area of focus: Pitching a plant-based protein line expansion for a $200M premium sausage brand, Aidells
Sallie Gayle Saunders (2Y, Class of 2022)
Pre-Kellogg: Senior Team Leader – Client Solutions, Professional Services Firms, GLG
Summer Internship: Management Associate Intern, H-E-B
Major project or area of focus: Merchandising – Omnichannel and eCommerce Strategy
Why do you want to pursue a career in food and agribusiness?
AW: My passion for food comes from my culture. In my family, food was the sixth love language! My mom always had a freshly cooked meal on the table (which wasn't complete without a dish of each color of the rainbow, a Chinese principle). After college, I got into cooking and started reading about the modern food system and realized how much I wanted to fix its broken parts.
Food & ag is so vast that I often get asked how I pinpointed which space I wanted be in. For me, I wanted to find something that leverages my work experience (consumer products), passion (sustainability) and education (materials science engineering) — and that's how I landed on alt protein. Just because you're changing industries doesn't mean you have to start from scratch!
SGS: I have always been interested in the food industry because of the intimate nature of food consumption. Food plays such a personal role in our lives, whether it be through traditions, medicine/healing or pure indulgence, and you can learn a lot about an individual by examining the contents of his or her grocery basket.
I didn't realize there was a career path within food until my first job after college — I worked at a market research firm supporting PE firms' due diligence efforts in the consumer packaged goods (CPG) space. In this role, I spent a lot of time interfacing with food and beverage brand managers and grocery retail merchandisers. Through these conversations, I realized the main points driving my personal interest in the food space (relationships, wellness, consumer psychology) made it a very fascinating and complex industry from the commercial side. I decided to go to business school in the Chicago area ("the capital of the food industry") to transition into the food industry full-time.
How did you find your internship and what was your recruiting experience like?
AW: Coming into Kellogg, I wanted to try out both a traditional big CPG experience and foodtech startup experience. Though I knew I had to choose one for my internship for the summer, I learned that startups are often more flexible and open to off-cycle or part-time internships.
For my CPG internship, I leaned heavily on my Interview Prep Group (IPG) which had two amazing leaders. This route is easier to break into food since many CPGs do on-campus recruiting and they're used to industry-switchers. There were still stressful moments, but my IPG provided structure and support, and I appreciated having my summer plans locked in by early February. My startup recruiting journey was more self-driven although also much shorter. I interviewed the co-founder of Perfect Day last fall for a management and organizations course. Once I felt like I developed enough relevant experience, I reached back out and pitched myself hard for a spring project. He put me in contact with his commercialization team, we found a mutual fit and I signed on for an independent study.
SGS: I should first call out that I am from and have spent most of my life in Texas where everyone knows, loves and shops for groceries at H-E-B, so the company was on my radar prior to starting my recruiting efforts. To my surprise and delight, H-E-B has a great recruiting relationship with Kellogg, due in part to the fact that their Chief People Officer, Tina James, is a Kellogg alumna. I first met with H-E-B at Kellogg Networking Night, maintained the relationship via Career Management Center coffee chats, and eventually applied to the internship using the Kellogg Job Board.
Overall, my recruiting experience was straightforward because I knew I wanted to start my career at a large, traditional food and beverage player, and many of these companies come to Kellogg to recruit talent. I mostly utilized CMC company presentations and coffee chats for company research and networking, and I relied on CMC coaches and career peers to fine-tune my resume and customize my cover letters for high-priority companies.
What CMC resources or programming were most helpful to you during your internship search?
AW: The most helpful CMC resource has been my career coach, Tina! She's helped me take a long-term view to my career and strategically negotiate and decline offers to leave the door open in the future.
I also benefited from using the CMC Library. Databases like Pitchbook and NetProspex are invaluable for creating target lists (especially for startups) and finding contacts for cold outreach efforts.
What other resources were valuable to your search?
AW: I've already mentioned my IPG, but another amazing resource for off-campus recruiting is the Kellogg Food and Agribusiness Club, known as kFAB. Our awesome professional development team, led by Mike Wise and Jill Kinslow, put together a Value Chain 101 and internship panel for people who want to go into the space but don't know where to start. They're also putting together a winter food trek for people who want to learn about cool startups and get a boost in networking.
SGS: kFAB was an excellent supplementary resource because it enabled me to complement my traditional CPG/retail interest with exposure to other parts of the value chain. The weekly kFAB newsletter also kept me in the loop by providing useful articles on current industry trends and compiling all of the week's food and ag–related events in one place.
What was your favorite part about working or interning in this industry or at your organization?
AW: The coolest part about working at Tyson was getting an insider's view into the meat industry, which has rapidly changed in the last decade but also been around since food companies existed. As much as we think startups are cool and innovative, there's still a lot we can learn from the incumbents that they're trying to disrupt. Tyson been around for almost 90 years and has had to systematize everything. I was able to see how they do everything from building a consumer profile, to creating an annual marketing strategy to selling a new product.
SGS: My favorite part about interning in grocery retail (vs. at a food manufacturer) was receiving broad exposure to a variety of food categories rather than being hyper-focused on a singular food brand. I enjoyed solving aisle-focused issues and not being limited by the bounds of one product. I also really appreciated the experience of being at a retailer because it is the final "link" in the food & beverage value chain — consumer decisions are made and industry disruption most occurs at the retailer level, and I found this to be very invigorating.
My favorite part about interning at H-E-B was the exposure to senior leaders and the grocery value chain. My intern cohort (a group of seven people) was fortunate to spend a lot of time with members of the C-suite and broader senior leadership team, including dinners, regional tours and one-on-one interviews related to the scope of our summer projects. We also got to learn a lot about the company's value chain by visiting its private label manufacturing plants, massive distribution warehouses, various corporate offices and numerous types of stores. It was an invaluable beginning-to-end education of how a large grocery company operates.
What was your biggest challenge?
AW: I was pitching a plant-based strategy to leaders who knew nothing but chicken and beef. Tyson has an investment arm in alt protein, but it's still a very new idea to many brands. I had to sell it from a risk management and category expansion POV, not just the mission.
SGS: The biggest challenge (yet most valuable opportunity) I faced was the vast autonomy I was given while completing my summer project. I was provided with a broad challenge and educated on H-E-B's data sources but was then released to solve the problem via whatever manner I saw fit. Given that I was new to this industry, I really had to get out of my comfort zone to network and not be afraid to ask questions. I certainly would not recommend the internship to those who prefer a high level of direction.
What tips would you give incoming students looking to pursue a career in this space?
AW: I have four tips for first-year students:
Leverage off-cycle internships. It's a great way to compare what you like between types of companies and figure out what you want to do full-time. Independent studies are a great way to get your foot in the door — it's free work for a company and they get the bonus of having a professor consult for them.
You're as good as your best pitch. I came into Kellogg thinking I wasn't competitive for startups because I didn't have food, banking or consulting experience. I learned that as long as you show how you can add value to their biggest priorities, many startups are glad to have you.
Don't accept the offer as is. Negotiate! I was surprised how successful I was here. I got summer offers at Tyson, General Mills and McDonalds, and I was able to leverage the other offers to negotiate a placement on the brand of my choice at GM and a sustainability internship at Tyson.
Become friends with the second years! I constantly asked my second-year IPG leaders and friends for help last year. We've been through it and want you to succeed. Slack or email me or anyone else in kFAB. We're always down to help out!
SGS: This is an industry where your passion really matters. Most people who work in this space at the senior level have a deep interest in and genuine love for the food and beverage industry. As such, it is vital that you do your research on the value chain dynamics and consumer trends so that you can demonstrate your knowledge and ask informed questions. kFAB provides a lot of useful learning resources via Slack, Instagram (@kellogg_foodag) and its weekly newsletter. I highly recommend making sure you are in the loop on our communications to stay abreast of industry trends!
I also recommend reflecting on your relationship with the space and identifying what compelled you to pursue a career within food and beverage in the first place. Ultimately, I think this is what is most important for finding a fulfilling career path, regardless of the industry for which you are recruiting.