Start of Main Content
'Unparalleled' resources: A Kellogg student makes the leap into PE/VC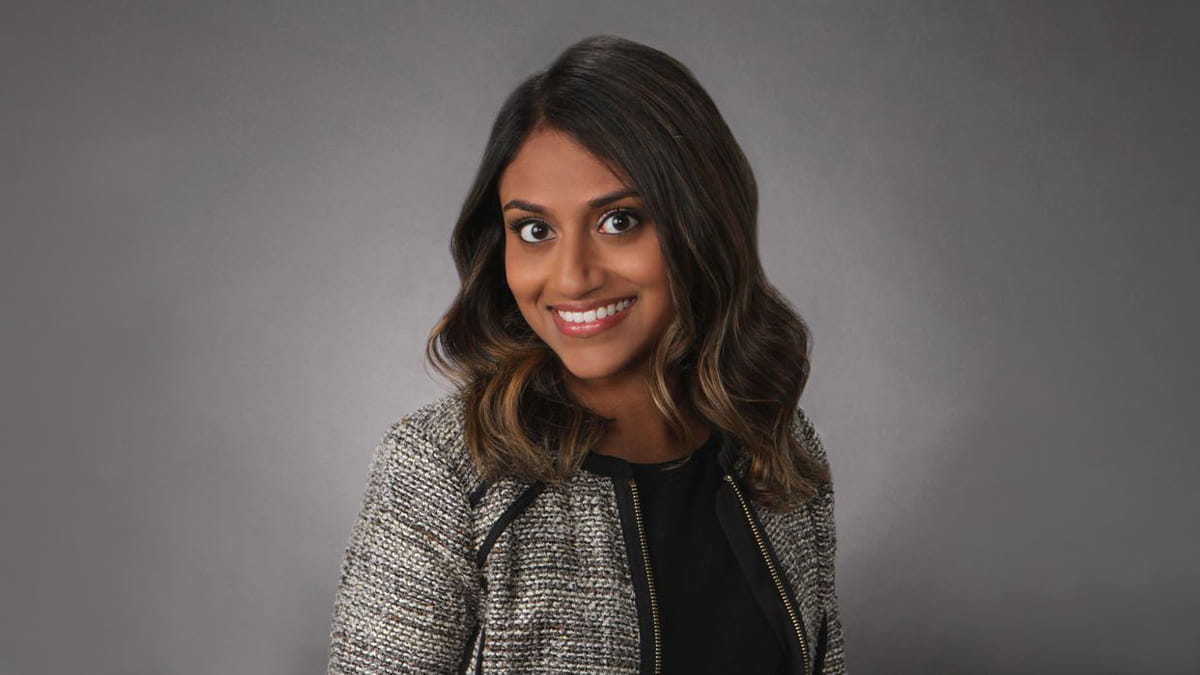 Entering business school, Sahana Rajanahally '22 (2Y) knew she wanted to make a big career leap from consulting and internal strategy to a role in PE/VC. Thankfully, an abundance of resources at Kellogg helped her gain valuable industry experience and ultimately land her top-choice job offer as a chief-of-staff to a CEO at a PE-backed startup.
We chatted with Sahana to learn about how Kellogg helped her find her passion, what recruiting was like, and how she's helping to create opportunities for other women exploring this field.
Why did you choose Kellogg to change careers into the PE/VC world?
I grew up in Chicago and lived downtown after I completed undergrad, so Kellogg has always been on my radar. From a career standpoint, I was interested in pivoting from consulting/strategy to venture capital, and the entrepreneurship and venture community at Kellogg seemed to be exceptionally strong.
As I weighed other programs against Kellogg throughout the application and interview process, it was evident that the resources and network at Kellogg were unparalleled. Once I was accepted, I secured a pre-MBA VC internship at S2G Ventures, which assisted in solidifying my interest in VC. Throughout that summer as an intern, I had a chance to connect with additional students at Kellogg who were pursuing similar career paths, and I received plenty of advice and insights around which classes to enroll in and which clubs and extracurriculars to take advantage of once on campus.
What opportunities on campus helped you further explore a new career field?
I participated in Kellogg's Venture Lab and interned for Muse Capital, a female-founded, seed stage fund based in Los Angeles that invests in underserved markets and entrepreneurs disrupting the consumer space. The founders and principals at Muse taught me about the ins and outs of starting a fund, becoming business development experts, and identifying deals that may often go unnoticed because of their ties to underrepresented groups. While I enjoyed my VC internships at both Muse and S2G immensely, I ultimately realized my passion remained on the operations side — each time I found myself speaking to a different founder or associate at a startup that I was vetting for a potential investment, I kept finding myself wanting to roll up my sleeves, work directly with his or her team and be part of helping the company scale.
It wasn't until I began exploring the startup space during my second year at Kellogg when I stumbled upon a post in the PE Club's Slack channel promoting chief-of-staff roles at portfolio companies backed by PE funds. I was intrigued by the general management aspect of the role and was attracted to the high level of responsibility that would be gained immediately out of business school, so I began researching the formal programs recruiting at Kellogg. While the various programs have different names (CXO Program, CEO-in-Training Program, etc.), they share a similar structure where you're initially placed at a portfolio company as the CEO's chief-of-staff, and then you carve out a VP-level role before eventually becoming a CEO. Being placed on the fast-track to CEO while having the resources and support provided by a successful PE fund seemed like the perfect way for me to build my operational skillset while also enhancing my leadership and management capabilities.
What was that recruiting process like for you?
Overall, the recruiting process was very comprehensive, so I'm extremely glad I did my research up front. There were several opportunities throughout the fall quarter to attend on-campus information sessions, company presentations, and networking events that were critical in helping me assess each fund's program and culture. Kellogg alumni were also very helpful throughout the process, and many took regular calls with me and exchanged numerous emails to help me better determine if this was the right path for me. It was the continued support and guidance I received from the Kellogg community that ultimately pushed me through the interview process and helped me secure my first choice offer at Shore Capital.
How do you hope the PE/VC space continues to grow and evolve with regards to gender representation?
If you had asked me before I began my journey at Kellogg whether I could have foreseen myself accepting a full-time job in the PE industry, I would have been skeptical. While it's no secret that many PE funds are male-dominated, I experienced the representation gap firsthand in recruiting events as I was typically one of the few women out of dozens of men in attendance.
But even though the representation gap was wide, I was intrigued by the handful of women I did see serving in C-suite positions  across the funds recruiting from Kellogg, and that was enough encouragement for me to want to hear their stories and learn more. Thankfully, each of them was more than happy to take the time to share her experiences with me as well as provide me with helpful interview tips. The sentiment that more women ought to consider pursuing operations-based roles in PE was so strong across each of the conversations I had.
I attribute a big part of my post-Kellogg career decision to being influenced by women professors and alumnae who have taken risks to establish themselves in their respective fields. Seeing other women strive for greatness and hearing their success stories has been incredibly inspiring and has encouraged me to think about the impact I hope to make one day as a mentor and role model to future women at Kellogg who are curious about pursuing non-traditional paths. 
Are you using your experience to "pay it forward" to help other women at Kellogg interested in PE/VC?
Absolutely! I was able to bridge the connection between my internship with Muse Capital and Kellogg faculty members to bring Muse on as an official fund that future Venture Lab students can have the opportunity to intern with. Just this past quarter alone, I've spoken to several first-year women at Kellogg who are ranking Muse as their top fund of interest for VC Lab, and I hope other second years alongside myself can continue to encourage more women to join funds like Muse that focus on investing underserved markets in areas like motherhood, the future of women's health, education, media and entertainment.
I also currently serve as the VP of Professional Development for Kellogg's Women's Business Association (WBA). I work closely with Kellogg's Career Management Center, external companies and recruiters, and internal clubs to ensure that women at Kellogg are aware of the many professional paths, roles, and functions available to them. One of my favorite initiatives our committee focuses on are industry panels, where we invite Kellogg alumnae to speak to their experiences in respective fields that are often male dominated. We recently co-facilitated a panel of women Founders and VCs, in which we invited four incredible women leaders to speak to students about how they broke into their fields and navigated challenges dealing with gender equity in the workplace.
Educating women at Kellogg about the various opportunities available to us is a big priority of mine, and the WBA has been instrumental in creating programming to provide students with helpful resources and information.