Start of Main Content
Coaching counts: Recruiting success stories in sports business
This post was originally published on CMC Go To Market, the blog of Kellogg's Career Management Center.
This fall, CMC Go To Market is launching a new content series focused on recruiting in niche or non-traditional industries. First up: sports business. We talked with the current co-presidents of the Sports Business Club to learn about their summer internship journeys, the career coaches who helped them succeed and their advice for students looking to work in this industry.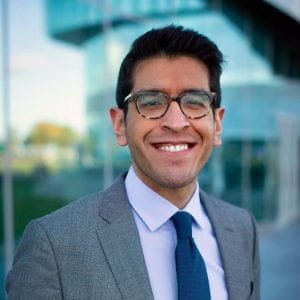 Zohere Tabrez (2Y, Class of 2022)
Pre-Kellogg: Senior Consultant, Deloitte Consulting
Internship Company: National Football League (NFL), International Business Development Intern
Major projects: NFL Africa; International Gaming Strategy; Legalized Sports Betting Market Valuation for Canada; Deal Valuations for New & Existing International Media Partners

Batu Otkeren (2Y, Class of 2022)
Pre-Kellogg: Financial Analyst, National Basketball Association (NBA)
Internship: Elevate Sports Ventures, Insights Intern (strategy consulting)
Major projects: Sponsorship valuation studies for NHL and NBA teams and a NCAA Division l school; Venue feasibility study for a top European club
Why do you want to pursue a career in sports business?
ZT: Prior to Kellogg, I spent 4 years as a management consultant, helping organizations solve issues regarding tech disruptions, financial struggles, customer experience, etc. Many sports leagues and teams are also dealing with these same problems. I'm excited by the opportunity to use my experience to help improve sports businesses, and ultimately, improve the product on the field.
On a personal note, I've always been drawn to sports because of the effect they have on building and strengthening communities. As proof of this, look no further than 2019–2020, the dreaded COVID years. Despite the terrible tragedies taking place around the globe, the NFL was able to hold their season. Not only did this allow individuals a momentary escape, the League also acted as an agent of change, opening stadiums up as vaccination sites and helping to celebrate and honor first responders.
BO:  I first figured out that I liked the business side of sports when I was a kid. When playing video games like Madden and NBA 2K, I found myself spending more time setting concessions prices or trading players than playing the actual games. While I've been interested in this work for a long time and have long-term aspirations to hold a top front office position for a team, what really drives me is being part of something that a lot of people interact with and enjoy every day. Sports can ultimately bring a lot of joy, whether you're attending a game or simply being a fan.
How did you find your internship and what was your recruiting experience like?
ZT: In the fall of my first year, I took part in Kellogg's Sports Trek and attended an NFL panel led by alumnus Thomas McHardy '17. I reached out to Thomas for a coffee chat soon after the panel, and he ended up being a great mentor. Not only did he provide great advice about navigating the sports industry, he also directed me to a few open positions at the NFL. I applied and went through an application process that included a video interview, an essay and three additional rounds of 1:1s and group interviews.
Recruiting for sports-related roles can be challenging because there are very few roles and these positions are highly coveted. This makes your network even more important. Prior to applying to any role at the NFL, I had already spoken to nearly 5–10 people at the league office and built relationships with all Kellogg alumni at the company.
BO: I found the opportunity through a job posting link that was shared within the Sports Business Club community. Sports is a very niche industry and given the pandemic's impact on operations for teams and leagues, opportunities were most prevalent later in the year (i.e. just-in-time recruiting). There was more uncertainty compared to the on-campus interview processes, but I ultimately found this path more rewarding as it allowed me to find an opportunity perfectly aligned to my career goals.
What CMC resources or programming were most helpful to you during your internship search?
ZT: The CMC as a whole was invaluable as I went through the recruiting process. I remember first meeting with my coach, Eva Lu Bonn, in the fall and telling her I had one objective: to work in a strategy role for the NFL. She was honest in telling me that the process would be challenging and that I'd primarily be looking at an off-campus recruiting process.
Eva worked with me to build out a recruiting strategy and timeline that worked with my overall goals. She helped me reconfigure my resume, write my cover letter and sharpen my elevator pitch. She even helped organize mock interviews with me to help me prepare for each round. I felt supported every step of the way.
BO: I utilized coaching sessions throughout the spring as my search was ramping up. These conversations were especially helpful in refining my target list and preparing for my interviews. The most effective session was focused on my pitch, since that ultimately helps set the tone in both networking conversations as well as formal interviews.
What was your favorite part about your internship?
ZT: My favorite part about working for the NFL and the International team was the opportunity and challenge to help grow the league's global presence. One of the most exciting projects I led was the NFL Africa project. Working directly with the COO of NFL International, I created the blueprint to export the NFL to the African continent. I met with the NFL's football operations and commercial teams, along with former NFL players to develop a two-pronged strategy that was presented to the commissioner and was approved to go live this Fall.
BO: My favorite part was getting to work on projects that I was passionate about! Elevate gave me the opportunity to shift into strategy while working for the teams and leagues I follow every day. It also helped that the Insights team was full of incredible individuals who personally invested in my growth and development — not something you find in every internship.
And what was your biggest challenge?
ZT: The biggest challenge came before the internship even started: the recruiting process. There's a good amount of uncertainty when you're recruiting in the sports industry — there are fewer roles available and timelines tend to be a bit later. For example, I didn't hear about my internship decision until April, while many of my friends had their internships locked up by the fall. As an MBA student interested in this industry, you have to be comfortable with ambiguity and be careful not to fall prey to the atrium effect.
BO: My role required me to learn to be a consultant on the fly. I didn't have previous consulting experience, and the pace of work (usually cycling through a new client and project every 2 weeks) kept things interesting and busy! But, even with the steep learning curve, the team at Elevate helped create a fun atmosphere with a great work/life balance.
How did your first year at Kellogg prepare you for your internship?
ZT: I think more than anything, Kellogg encouraged me to take risks. The focus of the school and the curriculum is to develop leaders who create lasting value, and I took that mentality into my role at the NFL. Throughout my internship I volunteered for projects that interested me, even when my limited organizational knowledge could have presented an obstacle. For example, when I helped lead NFL Africa, I didn't know how every lever of the league's football operations team worked. However, I took on the project and collaborated with team members when I encountered challenges or my own blind spots.
I felt confident in my ability to add value, which ultimately allowed me to be on multiple high visibility projects that are currently underway.
BO: Kellogg's diverse community is a huge asset and something that I have really benefited from. Having only worked in sports previously, I've seen the industry can become pretty insular with teams and leagues copying each other rather than innovating. However, there are so many other industries to study and learn from. Being immersed in a community like Kellogg exposed me to unique perspectives throughout my first year and pushed me to think about solutions beyond those prevalent in sports.
What tips would you give incoming students looking to pursue a career in sports business?
ZT: The same advice that was given to me: being a fan isn't enough. There are millions of fans who think it would be "cool" to work in sports. It's critical that you have a skillset that is valuable to teams or leagues and be able to easily communicate that value proposition to sports organizations.
I'd also stress the importance of being flexible and making sure you have options. If you want to work for the Los Angeles Rams' Marketing Department, that's great, but their hiring needs might not align to your timeline or experience. Instead, keep in mind the sports industry is huge and can include retail, gaming, apparel, tech, etc. There's value in applying to any roles you're qualified for and interested in. This will give you more options initially and help you to be in a better position when the "dream job" becomes available.
BO: Keep hustling and network. This is a really hard industry to crack, and it takes a lot of effort and some lucky breaks to get that first opportunity. It took many cold emails and a leap of faith or two to get that call, but if you have passion for sports business, it will shine through. I can't emphasize this last point enough. It takes more than just liking sports. You have to be able to articulate how your interests, skills and goals align with sports business in order to stand out.