Start of Main Content
Kellogg's 2Y MBA Employment Outcomes: Top Employers Seek Kellogg Leaders Across Industries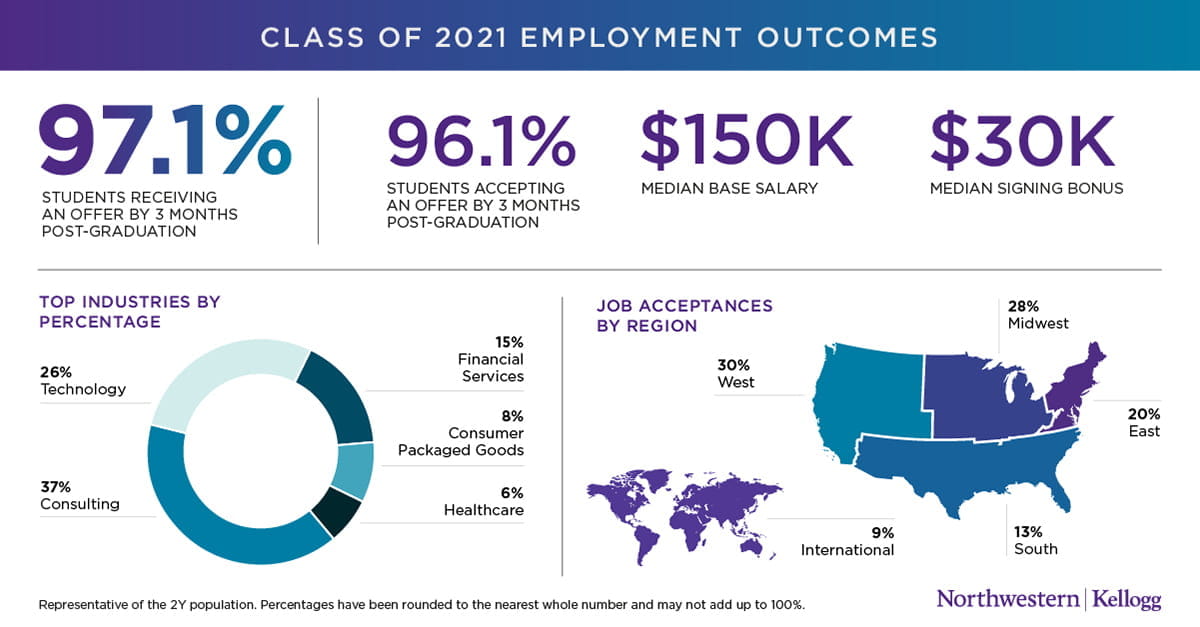 By Liza Kirkpatrick, Assistant Dean of the Career Management Center
I am thrilled to share the employment outcomes for our 2Y MBA Class of 2021. This is a class who, when confronted with the unprecedented disruption of a pandemic, persevered and ultimately made Kellogg history.
Not only did 100% of this class secure internships in the summer of 2020 but 97.1% of students received job offers for their full-time roles and 96.1% accepted job offers three months after graduation into a diverse range of industries.
Additionally, students received a median base salary of $150,000, reflecting continued year-over-year growth for 2Y students; students saw a $6,000 increase from 2020 and a 15% increase since 2018.
Kellogg students continue to secure jobs across a variety of industries and functions, with consulting, tech, and finance being the most popular. This year, 37% of 2Y students went into consulting, with a median base salary of $165,000. Top consulting firms hired 141 Kellogg 2Y students; employers included Boston Consulting Group, McKinsey & Company, and Bain & Company. In fact, this year McKinsey hired a record 50 students from our 2Y class — up from 30 students in 2020.
Up from 2020, tech remains students' second most popular industry, with 26% of 2Y students securing roles in big firms like Amazon, Apple and Microsoft Corporation, as well as smaller startups, like NerdWallet. We also saw an exciting increase in hiring from Google this year, hiring 14 2Y students, up from seven students last year. Students who accepted tech roles received a median base salary of $134,250.
Additionally, 15% of 2Y students secured roles in finance, with a median base salary of $150,000. Private Equity and Venture Capital remain top recruiting areas due to strong student interest and specifically a growing passion for startups and entrepreneurship. Our students landed roles in VC and PE firms, including Hearst Ventures, Urban Innovation Fund and Alpine Investors. Additionally, this year, Kellogg's team won the Venture Capital Investment Competition, the world's largest venture capital competition. The team delivered Kellogg's first global win —  beating out 84 teams from around the world.
Across industries, the feedback from recruiters remains consistent: top firms specifically seek out Kellogg students for their distinct strength as leaders coupled with their mastery of business fundamentals. This was reflected in recruiters' feedback from a range of industries, but I want to share the message we received from Joanna Walker from Evercore, an investment banking firm: "We continue to come back to Kellogg to find students who are curious, demonstrate their analytical and problem-solving skills and enjoy working on teams."
These qualities not only set Kellogg students apart during the hiring process but allow them to make long-lasting impact throughout their careers. And as alumni, they're committed to giving back. In fact, this year we saw a 34% increase from last year in alumni-sourced job opportunities on our Kellogg Job Board for second-year students. This increase in support from the alumni community is a testament to the strength and 'pay-it-forward' culture of the Kellogg alumni network — a key factor in students choosing to pursue an MBA at Kellogg.
While we will continue to see industries and firms adapt and change due to the ongoing pandemic and shifts in the broader business landscape, what remains constant is the caliber of our students. Kellogg students have the ability to adapt, an appetite for disruption, and the necessary skills to lead in an increasingly complex global economy. I look forward to seeing how they continue to make their impact as alumni, and pay it forward to the rising leaders at Kellogg.
Learn more about Kellogg's employment outcomes and how you can grow your career at Kellogg >