Start of Main Content
The Ever-Evolving Legacy I'm Carrying Forward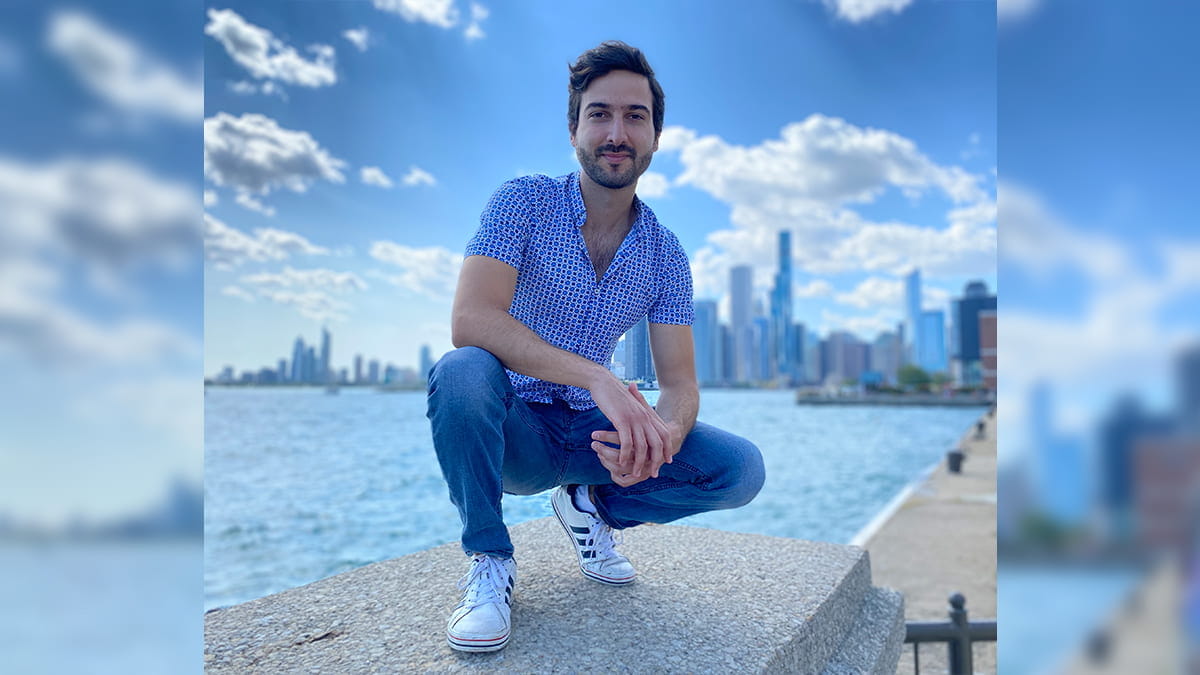 By Santiago Valdes (MMM, 2023)
Where I come from
It would be an understatement to say I've been blessed by an amazing family. I was born in Monterrey, Mexico, where I lived my entire life up until I entered Kellogg. From 1994 to 2021, I had the pleasure of living a traditional, almost movie-like, family dynamic: Sundays meant going to church, cramming 30 people in any of the previous generation's homes, eating a delicious meal, and spending an evening of quality time. This was not unlike some of my friends' Sundays, except for one "minor" difference: my parents and siblings alone account for 10 of those 30 people. Twenty-seven years in, I'm still not used to how much I love it.
Developing an interdisciplinary education
Together, my parents form an incredible team, with the clear purpose to provide their kids with the best life they could. While my dad had the courage and grit to build from scratch a business that provided for eight children, my mom lovingly left her promising career to pursue what she knew was her true vocation then. She owned the house management like no other, working 24/7 and covering multiple roles (my apologies, as a Mexican I too believe my mom is the best). "We figured, we could provide more allowance, more toys, more trips… or provide more siblings. It was a no-brainer," said Dad during a family lunch. They didn't just take it upon themselves to raise us as equitably and lovingly as they possible could; they also were keen on encouraging in us an interdisciplinary education. With time, I internalized their philosophy into a framework that involved spiritual, social, intellectual, artistic, and physical dimensions. This meant we were motivated to develop our religion (and mental health), our relationships, school, an instrument (or dancing, for example), and a sport. They were invested in this — attending every match, concert, or science fair. You know the drill.
This became huge for me. I liked and wanted to do everything. While I did try a bunch of sports, liked every class, and wanted to befriend every classmate, one thing was a constant: drums. I became obsessed with them. I saved since I was 10 to pay for my professional drum set in high school, and by then, I'd spent an average of six hours a day practicing. I was all in. But when the time came to study and become a professional drummer, something just didn't click. Where were the rest of my dimensions going to go? What would success look like? I decided to switch gears: let the drummer in me out of the spotlight to continue to develop my other dimensions. It was the perfect deal, I've been reaping the rewards of the excessive drum practice ever since, while growing in other areas.
To my luck, I didn't know how to pick among all the subjects that interested me, and so I chose the only undergraduate program in Mexico that let me cherry-pick my subjects. I studied mechanical-electrical engineering, with a minor in innovation and development. I wanted to become an entrepreneur like my dad and help the world in the process. I did a bunch of entrepreneurship competitions, but nothing really "clicked" in terms of vocation. After a year in an automotive trainee internship, I realized something was indeed missing. So, I sought more tools, exposure, and perspective to be ready for when I found it.
Bringing my creativity to a business context
Out of undergrad, I joined consulting — first, a boutique firm and then, Boston Consulting Group. In came an avalanche of challenges, intellectual stimulus, and introspection. I wanted to find out where my place was sooner rather than later. Two years into BCG, something was still missing. I was ready to get hands-on. Moving to the entrepreneurial ecosystem — first, at a business accelerator and then, at a FoodTech startup — I found myself more in sync. Quite similar to how I worked with different musicians in concerts, I started to work in cross-functional teams to delivering a product, an experience. I could talk to the end-users, hear them, understand them, and watch their excitement when we delivered the experience they were longing for.
After reflecting on this, I came to it: I needed to bring the drummer in me to work. I've witnessed infinite evidence of how non-professional skills and diverse backgrounds add value to everyone's jobs, but I left a big chunk of my background out. So, I decided to bring my whole self to my vocation. I was lucky to get into Kellogg's MMM Program, a dual-degree which mixes Kellogg's MBA and McCormick's MS in Design Innovation. With its strength in whole-brain thinking, I'm now bringing the creative and the rational sides in me to the business context. After business school, I want to manage tech products to bring my whole self towards creating experiences, just as I do through drumming.
The heritages and stories that define us at Kellogg
Coming to Kellogg has been one of the most daunting yet rewarding decisions of my life. Kellogg provides a plethora of courses, clubs, activities and people. As a Mexican from a non-particularly diverse city, I'm constantly fascinated by the diversity of backgrounds of my classmates. Where they call home, and how they define it. Their story, and how it shaped them. The use of their language, and their cultural norms. Heritage, a word we rarely use in my city. To be clear, I'm a proud Mexican, but in a city of almost only Mexicans, why even state it? Kellogg has shown me why digging into it adds value to everyone.
At our introductory conferences, Professor Nicholas Pearce made the case that diversity catalyzes innovation. More diverse ideas equal increased group innovation. We cannot have too much of that. Tapping into our contexts helps bring the entire permutation of backgrounds each of us have, it expands our "individual diversity". One that will add to the diversity of others, in this virtuous cycle of becoming more collectively than what we can become on our own. If you ask me, there lies the importance and value of surfacing everyone's roots.
I'm sitting in my apartment in Evanston, looking at my grandfather's book. In this consolidation of his thoughts meant for his grandchildren, he spends the better half talking about "where we come from" — his grandparents, his parents, our family history. I remember reading it carefully and proudly picturing how far my family has come; how we've multiplied in numbers, in experiences, in impact, in diversity, and in our heritage. Consequently, he played a key role on how I was raised. In many ways, my parents combined the best of their parents' philosophies, and added their twist while cascading them to us. This awakes in me a calling to transcend, to go beyond myself and leave an ever-evolving legacy, albeit modest, for the ones that come next.