Start of Main Content
Hispanic Heritage Month: Siempre les voy a dar la mano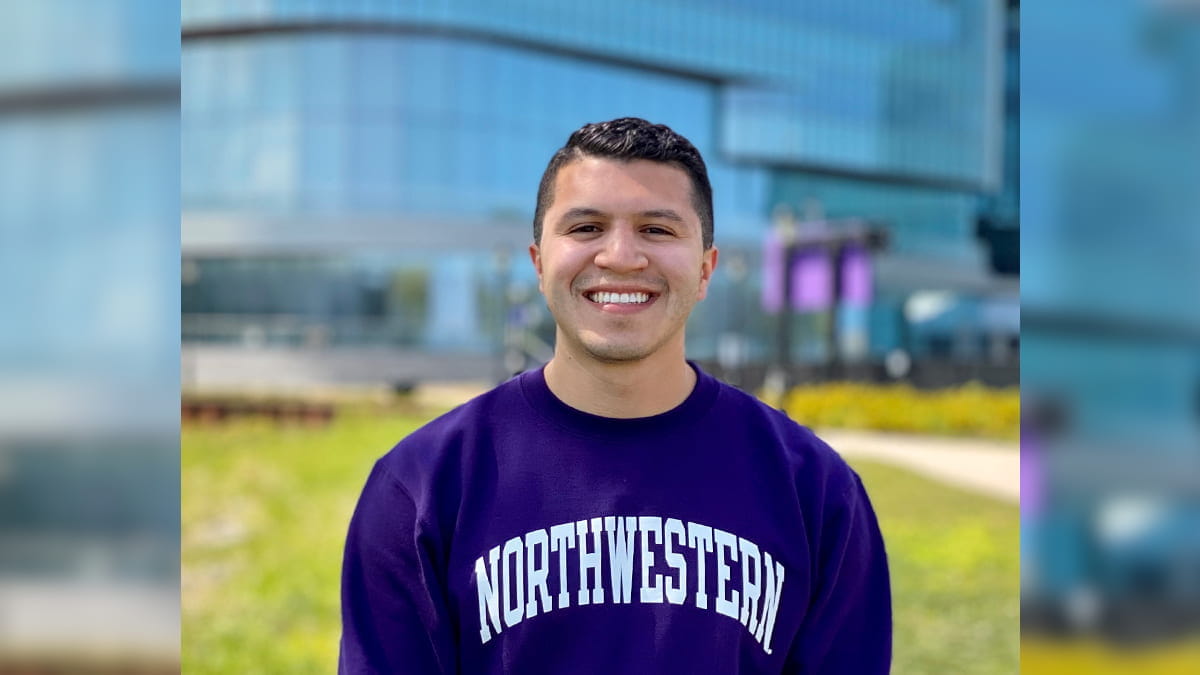 For Hispanic Heritage Month, Joel Salgado (2Y, 2023) reflects on his career, his sense of belonging at Kellogg, and his intention to pay it forward.
Tell us about your journey leading up to Kellogg.
My journey to Kellogg started at the University of Central Florida as a first-generation college student. Attending college was an incredible stretch experience for me as I took on leadership roles in several student organizations and graduated magna cum laude in economics, all while working 20-40 hours a week. But approaching my senior year, I wasn't entirely sure what I wanted to do with my life. So, I found an opportunity to work part time as an English teaching assistant in Spain, and in my free time I delved deeper into my interests. I studied to become a Certified Cicerone (an expert beer sommelier), visited countless breweries and wineries, and traveled throughout Europe. It was during those two years in Spain that I decided to transform myself into a food and beverage professional so that I could combine the work I did with the things I was passionate about. After returning stateside, I worked for a Hispanic Chamber of Commerce and then for the Boston Beer Company for three years, moving up from Brewery Representative to Market Channel Manager.
What made you want to pursue an MBA? Kellogg?
At Boston Beer, I co-founded a DEI-focused employee resource group and got to work with the brand teams on multicultural marketing initiatives. I really enjoyed this experience and it inspired me to become a marketer. So, that's when I decided to get my MBA to learn the quantitative aspects of marketing and business, but also to develop as a leader since my long-term goal is to become a food and beverage executive. When it came to which schools were best for both the hard and soft skills required of future business leaders, Kellogg was the clear winner. As someone passionate about diversity, equity, and inclusion, Kellogg also had excellent courses, professors, and a new DEI Pathway that really intrigued me.
What was the admissions process like and why was Kellogg ultimately the right fit for you?
I am a Management Leadership for Tomorrow (MLT) Fellow, and their resources were incredibly helpful to get me and other underrepresented minorities into top business schools like Kellogg. MLTers atKellogg representing BMA and HMA helped me with my essays, resume reviews, and even mock interviews. I also got connected with Kellogg alumni that gave me great advice on making a successful career pivot and getting the most out of my MBA experience. The way the Kellogg community was so eager to help me as a prospective student was an important factor in deciding if this school was right for me.
Are you reflecting on anything in particular this month?
For Hispanic Heritage Month, I have been reflecting a lot on my experience as a Hispanic in the MBA community. I understand how much of a challenge it was for me to get here: to be the first with a college degree, the first with a white-collar job, and soon, the first with a graduate degree. As hard as it was for me, I know there are many other underrepresented minority/first- generation/immigrant students struggling to get to this place, too, and they are going to need my help. "Siempre les voy a dar la mano" means "I will always give them a hand," because although I may be a first, I know I won't be the last. (Thank you Jackie Vargas, 2Y 2022, for the inspiration!)