Start of Main Content
First Day of (B) School: Paras Midha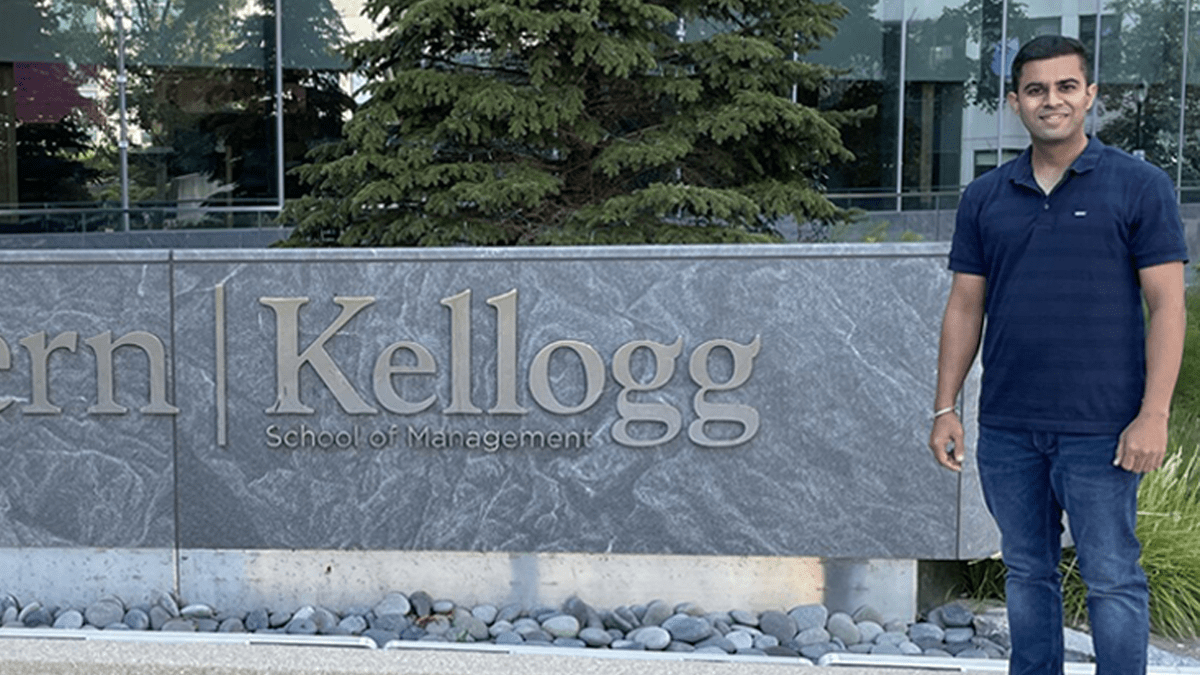 Today marks the first day of the Fall Quarter and we're thrilled to welcome returning and incoming students back to campus. In this series, we're introducing members of the newest class as they share with us a little about their background, why they came to Kellogg and what they're looking forward to this quarter.
Paras Midha (2Y 2023) answers our questions!
Tell us a little about yourself
I grew up in Malout, a small town in Punjab, a state in Northern India. I was highly inspired by my parents and subconsciously emulated the values that they live by. My father worked as a Civil Engineer in the Irrigation Department and went above and beyond to help poor farmers in the area earn a sustainable living. My mother teaches science and ensures that poor students get equal opportunities to succeed and break socio-economic barriers.
Their focus on personal and community success has continuously motivated me to give back to the community. Early on, I realized that attaining a quality education would enable me to do that. So, I majored in petroleum engineering from IIT (ISM) Dhanbad and worked in the Oil & Gas Industry before Kellogg. During this time, I was also exploring future careers of potential interest, and while doing so, I got interested in management consulting, especially the sustainability practice. During my time at Kellogg, I intend to develop the skills to venture into this role and space.
Outside work, I enjoy traveling, especially meeting new people and experiencing new cultures and cuisines.
What's a fun fact about yourself?

I have worked in some of the most unusual and geographically diverse places in the world. While I would have typical days delivering presentations to the firm leadership, I spent weeks at a stretch living and working from scorching deserts, remote locations, rigs and desolate platforms in the middle of vast oceans (often limited network connectivity). The longest time that I spent away from land was for 40 days last year, at the peak of COVID.
What did you do before coming to Kellogg?
I worked as a petroleum engineer in oil and gas service companies, such as Baker Hughes India and Weatherford UAE.  I helped major clients in UAE and India, such as Abu Dhabi National Oil Company (ADNOC), Oil and Natural Gas Corporation (ONGC), Shell (British Gas India), Cairn India Ltd, etc. tackle their oil productivity issues, redesign old oil/gas wells and complete new wells. My job required me to interact with clients daily, analyze their diverse data and propose innovative solutions to their challenges to revive oil production.
I have always been interested in the social impact space. Last year, I got a wonderful opportunity to work at the Quality Council of India (an autonomous body under the government of India) on social impact projects. My team carried out an independent on-ground evaluation of the government's social impact scheme aimed at providing financial assistance to migrants and repatriates affected by wars, riots and terrorist activities in different states across the country. Working closely with migrants towards their rehabilitation has been a transformative experience — giving me a new perspective and making me more appreciative and grateful towards life.
Why did you decide to come to Kellogg?
The academic and non-academic resources at Kellogg are a perfect fit for me to achieve my post-MBA goal of transitioning to management consulting. Having worked as a petroleum engineer on rig sites and solving real-world challenges faced by oil companies, I loved the fact that Kellogg lays a lot of emphasis on experiential learning.
It was also of utmost importance for me to find a school with a collaborative community with a growth mindset, and I was actively looking for people with whom I could genuinely connect. While applying to business schools and during my conversations with Kellogg students, alumni and members of the admissions team, I perceived that the student-led culture at Kellogg is based on transparency, collaboration and teamwork. And having a month of being a part of this community behind me, I am delighted that my conviction has been proven true.
What are you most excited about in the first quarter?
I came to Kellogg knowing that there are a plethora of exciting things to experience and be a part of. And the past month of engaging with the exceptionally diverse community here — during KWEST, CIM and even normally on a daily basis — has been a tremendously remarkable experience. I am excitedly looking forward to growing and learning along with this community of impact-minded individuals and being a witness to my cohort's achievements and contributions. In the first quarter, I am looking forward to being actively involved in some professional clubs such as Kellogg Consulting Club and Kellogg Energy and Sustainability Club that are about to kick off.