Start of Main Content
First Day of (B) School: Kelsey Kimball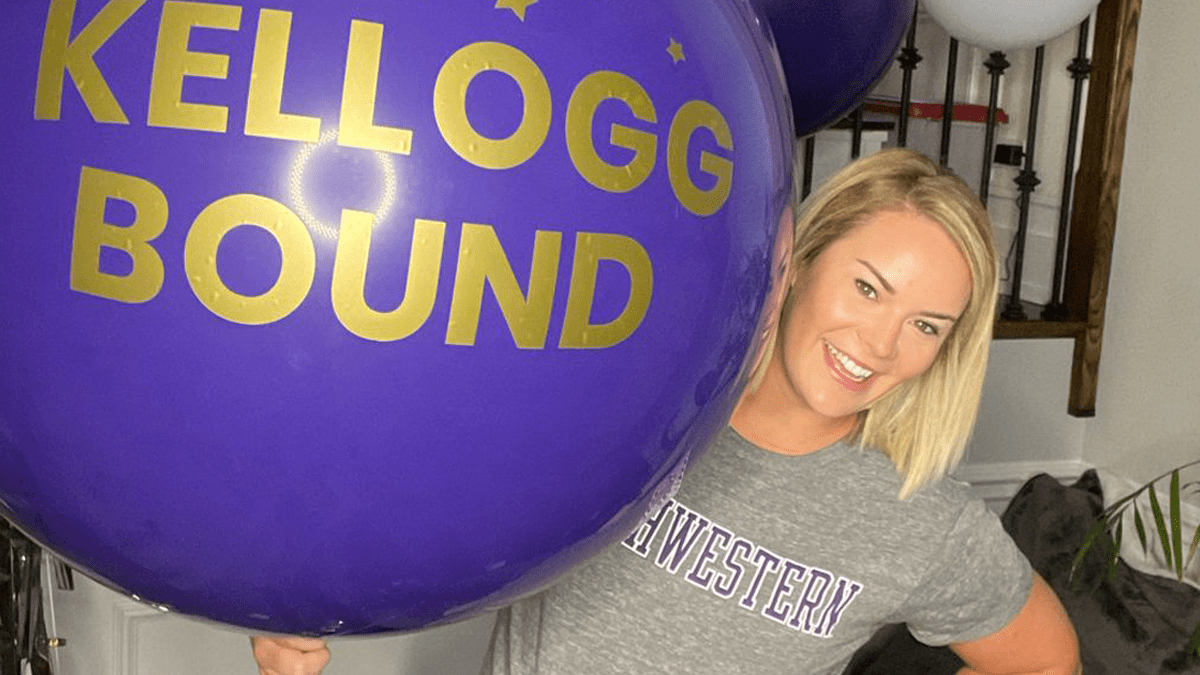 Today marks the first day of the Fall Quarter and we're thrilled to welcome returning and incoming students back to campus. In this series, we're introducing members of the newest class as they share with us a little about their background, why they came to Kellogg and what they're looking forward to this quarter.
Kelsey Kimball (E&W 2023) answers our questions!
Tell us a little about yourself.
I'm a Denver native who found myself in NYC after graduation from CU Boulder in the world of sports production. I pivoted into advertising and then tech and relocated to Chicago in 2018. I'm a dog mom to Goose and married to my husband of three years, Patrick (who happens to attend the EMBA Program at that school down south).
What's a fun fact about yourself?
I'm an epicurean and love to cook. My current obsessions are my air fryer, sous vide and Trager smoker. I live for the snark in the comments section of the NYT cooking section. This year, I planted a full rooftop garden consisting of peppers, tomatoes, squash and various herbs. I also enjoy peloton classes and running. I ran the Chicago marathon in 2019 and hope to do another, but was lucky enough (sarcasm) to experience a herniated disc during COVID, so I am currently rehabbing that.
What did you do before coming to Kellogg?
I worked at an ad-tech startup for five years that was (and continues to be) in hyper-growth mode. It was so exciting to be a contributing member at a company that enjoyed that amount of success so early on. It was a fantastic learning opportunity and helped lay the foundation for a career I am passionate about.
Why did you decide to come to Kellogg?
The thing that stood out to me most about Kellogg was the overwhelming generosity of every person I interacted with as I was going through the application process. It was obvious that every student and alumni took their commitment to represent the Kellogg brand seriously. I loved that about the program. The pay-it-forward attitude is palpable, and I consider myself so very lucky to have received the encouragement and enthusiasm I did throughout the process.
What are you most excited about in the first quarter?
I'm excited to learn from my classmates and world-class faculty. I'm a curious person, so getting to sit in a room with so many intelligent and interesting people is truly a dream come true. If CIM was any indication of how my Kellogg experience is going to go, I already feel so lucky.