Start of Main Content
First Day of (B) School: Bharti Sharma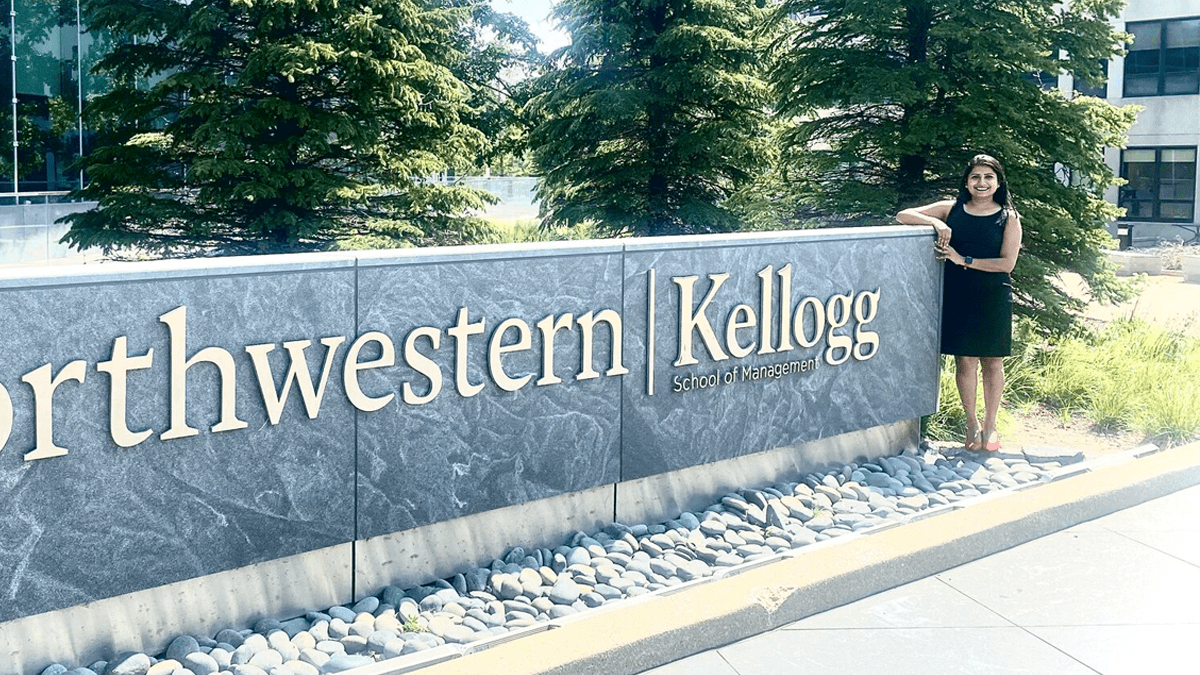 Today marks the first day of the Fall Quarter and we're thrilled to welcome returning and incoming students back to campus. In this series, we're introducing members of the newest class as they share with us a little about their background, why they came to Kellogg and what they're looking forward to this quarter.
Bharti Sharma (MBAi 2023) answers our questions!
Tell us a little about yourself.
My name is Bharti Sharma. I grew up in Saharanpur, Uttar Pradesh, India. After working in India for a few years, I moved to the US in 2014 for work. Since then, I've lived in San Diego and Seattle and have absolutely loved the west coast.
What's a fun fact about yourself?
I learned how to ride a motorcycle when I was 12. Unfortunately, I had an accident and my parents never allowed me to ride after that. Buying a motorcycle is the next thing on my bucket list.
What did you do before coming to Kellogg?
I've spent the last decade working for some of the biggest US semiconductor companies, such as Intel and Qualcomm, where I led teams to commercialize modem chipsets in the North American market by working closely with large product companies. Before coming to Kellogg, I worked for Apple as a software engineer and helped in the commercialization of Apple's next-generation products.
Why did you decide to come to Kellogg?
The essential thing in deciding on a school for me was a cultural fit and community. The conversations with Kellogg alumni, students and faculty helped me understand how Kellogg's culture was the perfect fit for me. I was amazed to see Kellogg's tight-knit community and how Kellogg focuses on building a diverse and inclusive community.
Another factor that stood out to me was Kellogg's inaugural MBAi Program, a joint MBA from Kellogg and the Northwestern's McCormick School of Engineering, with a focus on artificial intelligence. I've always wanted to work at the intersection of business strategy and technology, and this program perfectly aligns with my career goals and aspirations.
What are you most excited about in the first quarter?
I am most excited about getting to know my classmates from different parts of the world and with impressive backgrounds. I am looking forward to building strong relationships and long-lasting friendships during the first quarter. Also, I can't wait to start the unique core curriculum offered in the MBAi Program.