Start of Main Content
Part One: A Kellogg Startup from Seed to Sale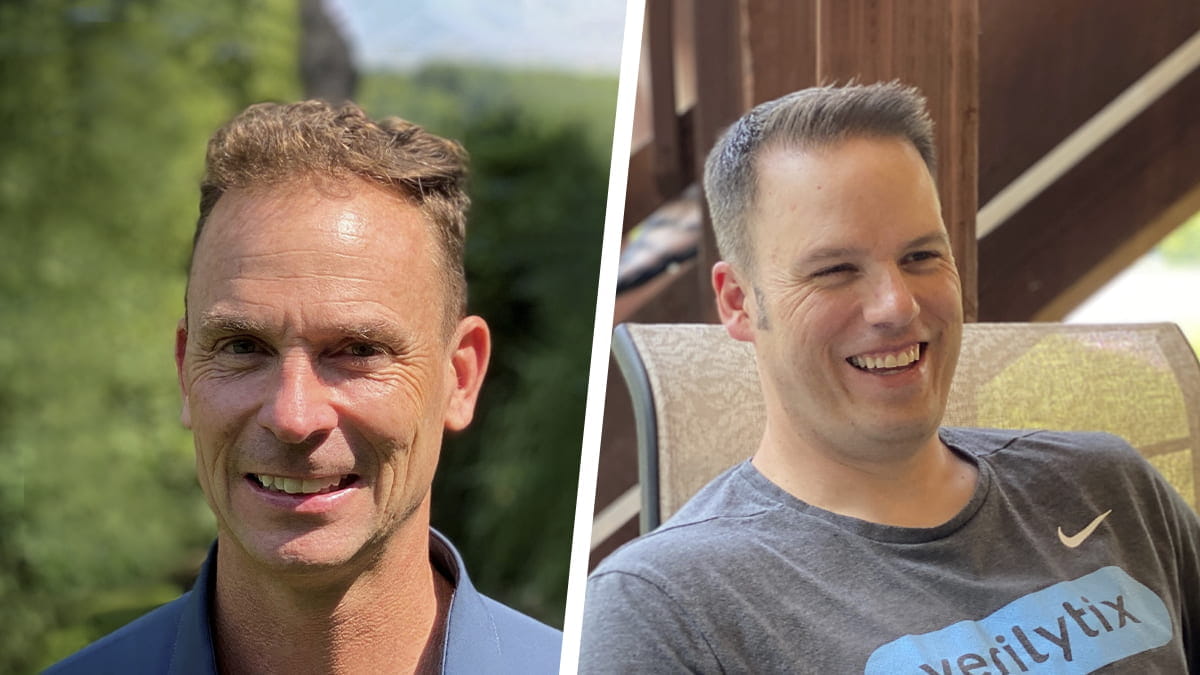 In the first part of this two-part post, Toby Velte, PhD (EMBA 2021) shares how he and Quinton Krueger (EMBA 2021) co-founded Verilytix — and found their first customer in another fellow EMBA student, Rachael Speegle (EMBA 2021).
By Toby Velte, PhD (he/him), EMBA 2021
The filthy door of the local dive bar in rural Minnesota swung open on a frigid February day and in walked EMBA Cohort 122 student, Quinton Krueger. The stubble, oversized sweatshirt, and jeans raised no alarms from the locals. I was there to meet 'Q' to explore potential business synergies. It turns out of the half dozen active EMBA students in the land of 10,000 lakes (about 6M people), we both lived in the same small suburb of St. Paul. His background was in places like Raytheon and the U.S. Government, where he focused on operations, automation, and figuring out ways to break into the Pentagon, secure transportation hubs, and rescue international hostages as a hired problem solver. I came from high tech with stints at Microsoft, Amazon, and Google. Our paths would have never crossed other than being put into the startup primordial soup at Kellogg.
We were there because we both wanted more than our corporate jobs and thought the EMBA experience would be perfect for helping us get into the 'launch' state of mind. I asked Q if he thought small and medium-sized manufacturers could benefit from cutting-edge technology like IoT, cloud solutions, and artificial intelligence. I had made a career of bringing these solutions to big corporations to reinvent their businesses, but I also knew the price tag was hefty, and Fortune 500 companies had teams of people to tackle the tech. I suggested a much cheaper and faster way to help these companies without needing a team of experts. Q agreed that they did not have the capital nor the talent to do this in-house. OK, we have identified a potential opportunity. Now, all we needed was a customer to agree with us. We pondered this conundrum over another beer.
Finding the first customer in Kellogg's EMBA Program
I was sitting at my desk when I received a text from Q, "Hey, I think I found our first customer!" OK, I will bite. "There's a woman in my cohort who is the CEO of a manufacturer in New Mexico, and she's interested in getting some help." I texted back, "That's awesome! What does she make?" Short pause, then, "She's running a fully integrated medicinal cannabis business. From seed to sale." OK — wasn't the kind of manufacturing business I had envisioned, but we decided to learn more. So, to check for mutual fit, we traveled to New Mexico to better understand Rachael Speegle's (EMBA 2021) company, Verdes Foundation. She was glad to have a fresh set of eyes to look at her business and provided complete access to all her people and operations. We had read countless business cases in our first year and a half at Kellogg, but this was a living case study -a real challenge to unravel.
After our visit, we sent Rachael a list of ideas to improve operations using our experience, learning, and some new AI tools. She was 100% on board and asked when we could get started. At that point, Q and I knew we needed to get this business up and running quickly.
Check out Toby's second post on how he and Quinton leveraged Kellogg's resources to launch Verilytix and meet the business needs of Rachel's company, Verdes Foundation!