Start of Main Content
Entrepreneurship Series, Part Two: Kellogg Co-Founders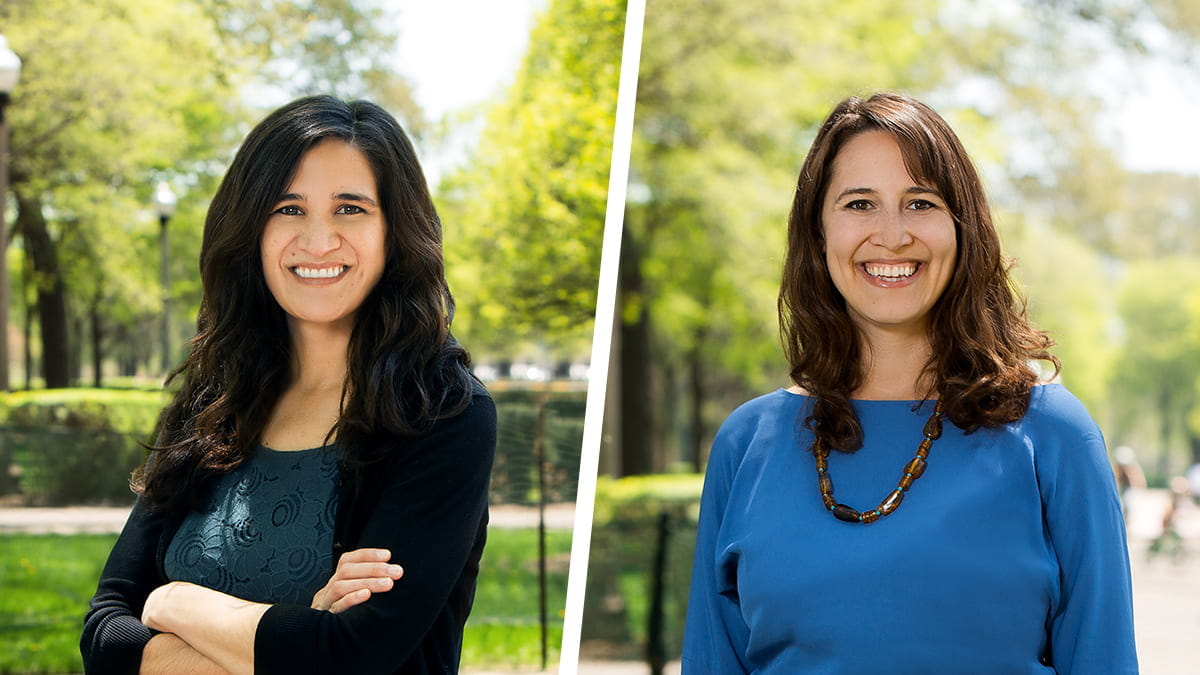 Inside Kellogg recently connected with Nicole Chavas '15 and Laura Brenner Kimes '15 on co-founding their startup, Greenprint Partners, and their paths in entrepreneurship. Here's what they had to say.
Tell us a little bit about yourselves and about Greenprint Partners?
Greenprint Partners is a green infrastructure project developer and advisory firmthat works at the intersection of climate resiliency and equity. We provide planning, development, design andproject management services that help cities nationwide equitably implement community-driven stormwater solutions through sustainable green infrastructure projects on public and private property. Our team is made up of project managers, engineers, community organizers, landscape architects, and finance professionals, all of whom are on a mission to get the most good out of green infrastructure.
Laura: I would describe myself as a founder, an operations maven, a policy translator, and ESG connector. I spent the first decade of my career focused on climate mitigation solutions — using state policy and energy utility programs to build the renewable energy and energy efficiency industries. When I cofounded Greenprint Partners seven years ago, I shifted my focus to climate resiliency and climate justice, but was still working at the formation of a new industry with water utilities and municipal policy as the market enabling factors. Mid-2020, I made the choice to step down from my executive role to let the company grow in new ways. I'm still very connected to the company and now work as a senior advisor to the team.
In this new phase of my career, I've enjoyed taking the bigger picture of climate change, DEI and ESG in my advisory work for Greenprint and my other clients. Through my career, I have led programs and organizations by making connections and building solutions that manage energy, water and capital in new ways with a large impact. I believe that our climate crisis requires the full force of government policy to make markets, philanthropic capital to support fledgling organizations and shovel-ready predevelopment, creative financing to build the solutions, and community-inclusive planning every step of the way. In this new career phase, I'm consulting, advising startups, looking for new roles and sussing out future Board opportunities.
While at Kellogg, I spent a large focus of my time on social entrepreneurship, as well as nonprofit management through the Board Fellows program. Prior to Kellogg, I received a BS in Environmental Science & Policy from the University of Maryland College Park. I live with my 2 children and husband in San Diego.
Nicole: Prior to founding Greenprint, I spent my career in investment management, doing due diligence on private investment funds. After the 2008 financial crisis, I became motivated to find a way to better align my work with my values, and became interested in the emerging field of impact investing. What was clear was that while there was a lot of interest, there was not a lot of investable opportunity. I went to Kellogg because of its demonstrated leadership in impact investing, with a clear goal of using my time there to both meet like-minded professionals and explore ways to create scalable business and investment models to help solve some of our most intractable problems. While at Kellogg, I realized that nature-based solutions have incredible power to address both environmental challenges and create real human impact, and it became my personal mission to find a way to unlock that power.
Did this idea originate while you were at Kellogg? How did you come to be partners?
Laura: Yes, Nicole and I were at a party hosted by a Kellogg friend where Nicole convinced me to take Professor Dave Chen's Impact Investing course. Little did I know she had been scoping out teammates with environmental expertise (me) to join her team for a class project. Our third co-founder, April Mendez, was also a member of that class project group. We applied to the Kellogg-Morgan Stanley Sustainable Investing Challenge in 2014 and won that year with the v.1 business model for the company. We spent many weekends as evening MBA students camped out in front of a whiteboard, working on our pitch and business model. As founders and Kellogg students, we would also often coordinate what courses to take that would help us build Greenprint. We also had many weekend team retreats where we really did the hard work to gel as a really close-knit and high-performing team in spite of the many demands on our time.
It's been a year like no other. What skills and/or principles have helped you navigate this year?
Laura: As a leader throughout this year, I supported the teams I led by removing as many roadblocks I could, amplifying quieter voices, providing context, honoring others' boundaries, and being a coach and friend. As an entrepreneur this year, I think it's incredibly important for entrepreneurs to seek out trusted peers for camaraderie and support — this is something that's perhaps easier to do with COVID. On an individual level this year, I had to take a huge step up and think about my legacy and what leadership looks like in this unprecedented time. Ironically, it looked like stepping back. The seismic global changes of COVID in some ways made it easier for me to see that bigger picture, and easier to make the brave choices for the company.
It indeed has been a year like no other. When the COVID lockdown first started, no one could quite believe the projections that things would be shut for "months" were true. Last March, we had 20% of our small team on parental leave, we were negotiating for some important financing, were leading a strategic planning process which would ultimately significantly change the executive team and board, were not yet sure if our industry would be considered essential or if business would halt, and I was about to go on parental leave in two months.
Nicole: Teamwork and proactive problem-solving were never more important than in 2020. Every day, it seemed there was new information we had to take in, evaluate, and incorporate into our decision making, which had to be done quickly. There's no way we could have navigated such a challenging environment without a "we're all in it together" collaborative mindset.
What specifically from your Kellogg experience has made a lasting impact on you and your company?
Laura: The company exists thanks to our Kellogg experience, so that's important to mention. I think a lot about non-market strategy and change management frameworks and how they apply at different levels in a growing organization in an early industry. I think a lot about governance and organizational design as the company has entered this next phase of its growth. And, of course, there's a particular Kellogg brand of leadership that I think permeates the culture of our organization.
Nicole: So much of what has become Greenprint evolved from the foundational thinking that was developed at Kellogg, with the support of our professors and classmates. I return to many of those professors andclassmates for advice to this day.
How have you been able to grow and scale Greenprint Partners?
Nicole: As a for-profit impact company looking to change the way infrastructure is delivered (sustainably and equitably) we have leveraged impact investment to support our start up and early growth as we have refined our business model and started to build out our project portfolio and client base. Foundations and family offices that share our mission have been our most effective partners as they are more patient and risk tolerant than traditional investors.
What is your advice to social entrepreneurs?
Laura: In our careers, when our personal values and strengths align we have almost limitless potential; where we find our personal values not aligning with our career choices, we find ourselves unfulfilled or unhappy even at the top of our careers. Working in social impact for me is quite simply a way to have my personal values align with my career. I want to help people have thriving and happy families, enjoy nature, and protect our earth for future generations. I have designed my life in such a way that this alignment is front and center. It's just an efficient way for me to live my values while also supporting my family and lifestyle. And I know I'm making an impact because my work is my values (and also I measured the impact for our investor reports!).
Another thing I'd like to mention is building a network to learn your way into entrepreneurship. Seasoned entrepreneurs speak starry-eyed about their first pitch, first hire, their first acquisition, how little we had and how little we knew. The hardship becomes part of the lore, but the humanity is often left out of the story. If we want to encourage a diversity of founders and social entrepreneurs, build an inclusive society, and encourage new types of ventures to take big risks to solve climate and equity challenges of the day, we need to talk about entrepreneurship in different ways.
Progress, to me, looks like this: entrepreneurs talking about the shared experience in a new way, normalizing the challenges — as they happen, and as messy as they can be. Progress looks like sharing experiences with a small circle of trusted peers even in the midst of big events. Progress is acknowledging that not everyone will have a deep network of mentors who have had this experience, and progress is stepping in to be that for each other. So my advice to social entrepreneurs is to find or build your tribe as you build your company — this is the job of all founders regardless of role or company size.
Nicole: Often, social entrepreneur focus too much on the Big Problem — climate change! — and not enough on an actual customer problem that, if you solved, would unlock investment in solving that problem. For Greenprint, there are so many big intractable problems we are trying to solve by scaling equitable green infrastructure —our big vision is to make more climate resilient cities that work for everyone. But an example of a specific problem we are solving that addresses a customer pain point is that water utilities that want to invest in green infrastructure are struggling to source projects and, as a project developer that specializes in green infrastructure, we can develop those projects for them. Trying to solve big environmental and social problems feels daunting and paralyzing, but solving a specific pain point that unlocks solutions to those big problems is motivating and achievable.