Start of Main Content
Entrepreneurship Series, Part One: Kellogg Co-Founders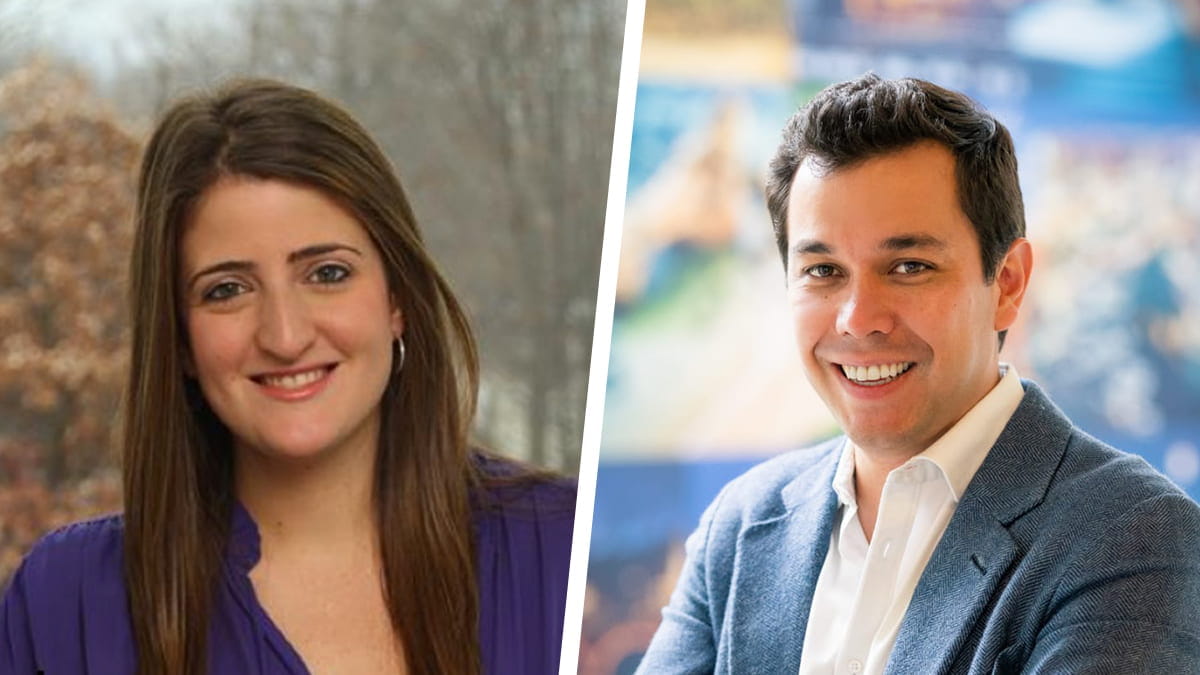 Inside Kellogg recently connected with Florence Frech '15 and Camilo Martinez '15 on co-founding their startup, Leal, and their paths in entrepreneurship. Here's what they had to say.
Tell us a little bit about Leal?
Leal was launched in Colombia back in 2016 as the first loyalty points aggregator app for consumers, enabling them to save money in their everyday purchases.
Today — almost five years later, more than 130 employees, 2.7M registered users, operations in five countries, and partnerships with over 500 brands — Leal is LATAM'S fastest growing rewards platform and #1 shopping rewards app in Colombia and Central America.
See below for our full bios!
Did this idea originate while you were at Kellogg? How did you come to be partners?
In August 2013, we both started our 2Y MBA at Kellogg. I (Florence) was open to new opportunities, keeping in mind that I wanted to return to Latin America. I (Camilo) wanted to start a company again back in LATAM post-MBA. We became partners after representing Kellogg at the MIT Latin American Start-up Competition where, after failing to win, we learned our values, interests and skill sets complemented each other very well. Although I (Camilo) came from investment banking, my approach has always been commercial and strategic, aimed at the origination of deals. While I (Florence) had an approach where I was focused on numerical analysis, operations, and execution. Moreover, coming from the same industry, we both identified the great problem brands face in Latin America as they were splurging money on massive marketing campaigns that were not necessarily measurable or effective.
This lack of focus on data-driven decisions inspired us to start Leal.
It's been a year like no other. What skills and/or principles have helped you navigate this year?
The Covid-19 pandemic brought about many challenges, as well as opportunities. For us, it was the ideal opportunity to rethink our long-term strategy and shift from having a B2B product with a good market-fit to developing a B2C solution and shift our focus to the end consumer. Because of the immediate change in consumer behavior from brick-and-mortar to digital, we accelerated the implementation of our vision to become Latin America's preferred app to shop and get rewarded/earn cashback online and in-store.
There were many learnings the covid pandemic brought to start-ups. For Leal, the following were crucial to ensure we navigated the uncertain times:
Communicate a clear, consistent and coherent plan to get through the uncertain times. Communicate the short-term sacrifices that have to be made in order to ensure long term survival. Communicate a clear vision for the future. Communicate your expectations about the next day, month and quarter. Set daily check-ins and check-outs to really understand the daily hurdles of the team's new way of working. Don't be afraid to over-communicate.
Make the tough calls. When the business is growing, it's easy to put off the hard choices, it's easy to drag the hard decision one more week, it's easy to "wait and see". However, when a company is faced with the year that we've all endured, leaders can't afford to lose sight of the trade-offs that have to be made. Shut down operations in a country that isn't growing exponentially. Let go of the bottom performers. Rethink your marketing investments. Measure the ROI of every dollar out the door.
What specifically from your Kellogg experience has made a lasting impact on you and your company?
Kellogg was an incredibly humbling experience that has had a tremendous impact in shaping the company culture we've intentionally built at Leal. From the trips and cultural experiences, to the five different start-up competitions we participated in (and didn't win), to the network of friends, mentors and professors we currently still reach out to for support. All of these experiences shaped us to be who we are today and to figure out how we want to have a lasting impact. All of that has resulted in a company culture we are proud of — a culture of autonomy and responsibility, that thrives on innovation and encourages learning from experimentation. We hire metric-driven and data-driven leaders that value performance as much as cultural fit.
What is your advice to future entrepreneurs?
Entrepreneurship can also be the thing we do to solve problems in our day-to-day life. Finding an "idea" is usually not enough, but solving a problem that is itching inside may be the beginning of something big. Spending the time to truly understand the problem you are trying to solve is worth avoiding many future mistakes. Also, surround yourself with people who will question your solution but trust your ability to deliver one. And once you launch, be frugal.
About Camilo Martinez & Florence Frech
Camilo Martinez is originally from Bogotá, Colombia. He is an Industrial Engineer and Economist from Universidad de Los Andes. As a college student, Camilo began his entrepreneurial pursuits creating the first tours & activities e-commerce in Colombia, Impulse Travel. During this first entrepreneurial experience, Camilo learned the valuable lessons and challenges of starting a business such as the right timing- since at that time he launched tourism was still non-existent in the country. Thus, before graduation he decided to join Bancolombia's (NYSE:CIB) investment banking division, where he led the origination team of M&A deals in the food & beverage and retail industries in LATAM. Meanwhile, Camilo impatiently waited for the world to discover what he believes is the world's best kept secret: Colombia. Today Impulse Travel is one of the leading tour operators in Colombia and it's been recognized by Booking.com and the UN as a world leader in sustainable travel.  
Florence Frech was born and raised in El Salvador. She majored in finance at the University of Notre Dame in Indiana, USA. Her professional career began with HSBC's 2-year Financial Management Rotation Program in Chicago, and then as M&A senior associate at The Network Company, a boutique investment bank in El Salvador where she focused primarily on retail and energy deals. Growing up with a family business with over 100+ years in the retail industry, Florence understood very well the intricacies and problems the consumer industry has faced in the last few years. With a passion for creating, and a need to satisfy her curiosity, Florence launched herself into the entrepreneurial world after her Kellogg MBA.