Start of Main Content
A Startup Fostering Belonging Through Fashion
A Note from Inside Kellogg: This interview with Karen Desai (2Y 2022), co-founder of fashion startup, LUKH, originally appeared in Daybreak, Kellogg's student-run newsletter.
What inspired you to start LUKH?
KAREN DESAI: Back in 2019, my husband and I had a traditional Indian wedding. Many of our family and friends were not Indian and struggled with what to wear to each event. Meanwhile, my Indian guests didn't want to repeat outfits or spend hundreds of dollars on new dresses for this multi-day marathon. I realized from the guests' frustrations that the retail experience for Indian fashion was broken. A traditional Indian wedding is 3-5 days long, but the problem is that each event requires an individual outfit that can cost at least $500. Plus, Indian clothes are simply hard to find in the U.S. If you're lucky enough to live near a "Little India," like Devon Street, you can find options, but they're usually poor quality or not trendy.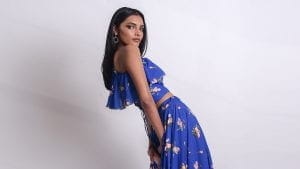 This experience inspired my co-founders and I to build LUKH, an online rental service dedicated to democratizing Indian fashion in the U.S. With a love for our South Asian heritage, Rajul Parekh, Kinney Sheth and I hope to create confidence and belonging through cultural guidance and fashion rental. Since launch, we've learned that 80% of Indian weddings are now interracial, intercultural, and interfaith. As a result, we offer tons of education on what to wear to each event and why.
LUKH recently placed third in Kellogg's Venture Challenge. Can you share a little about your experience competing in the challenge?
KD: My team and I were so grateful to be one of the eight participants and to place third in this year's Kellogg Venture Challenge. Through the process, we learned how to effectively build our pitch deck, position our business and field questions. I think the most valuable part of the competition was the Q&A, where we received questions and feedback from three, incredibly talented judges. I truly believe that the feedback has helped make our pitch stronger and has better prepared us for future meetings and competitions.
How have you navigated the challenges presented by COVID?
KD: We launched in January 2020 and have been so grateful for the support and excitement from our community. However, with COVID, events were postponed and dress rentals were cancelled for most of 2020. Since then, we have focused on engaging our digital community. We have offered virtual styling consultations to our customers and hosted multiple Community Series, inviting wedding, fashion, and beauty experts from the South Asian community on Instagram Live that brings together 100+ people weekly.
We also had to pivot our product offerings and launched glamorous face masks and postponed wedding care packages for customers (primarily wedding guests) to send to their bride friends during these tough times. As 2021 kicks off and vaccines roll out more broadly, we are hopeful that events will return and that this will become the year where all the postponed events come back!
Which Kellogg resources have been most helpful in launching LUKH?
Since starting my first year at Kellogg, being part of Kellogg Entrepreneurs Organization and Entrepreneurship and Venture Capital Club has provided many meaningful connections across the Kellogg entrepreneurship community. Having a group to ask questions to and commiserate with has made this year so impactful for LUKH. So far, New Venture Development has been the most helpful resource for our launch. This class has helped us test new marketing strategies and learn how to quickly iterate and improve our product, with support from Professor Rick Desai, along with Isa Artiles. And, most importantly, I'm so grateful for my amazing Kellogg team (Roshni Shah, Katie Andrew, Linda Pan and Purvi Vyas) that has joined me on this journey!
What's one piece of advice for other Kellogg students who are considering launching a startup?
Talk to as many prospective customers as possible! It is wildly helpful to hear authentic perspectives on what customer problems are, why, and what solutions they wish were available
Where do you see the company in five years?
I'd love for LUKH to be the one-stop shop for all things related to South Asian cultural guidance and fashion! Follow us on Instagram (@lukhstudio) or visit lukhstudio.com to learn more!