Start of Main Content
Lessons Learned and a Lot of Gratitude: An EMBA Alumnus Reflects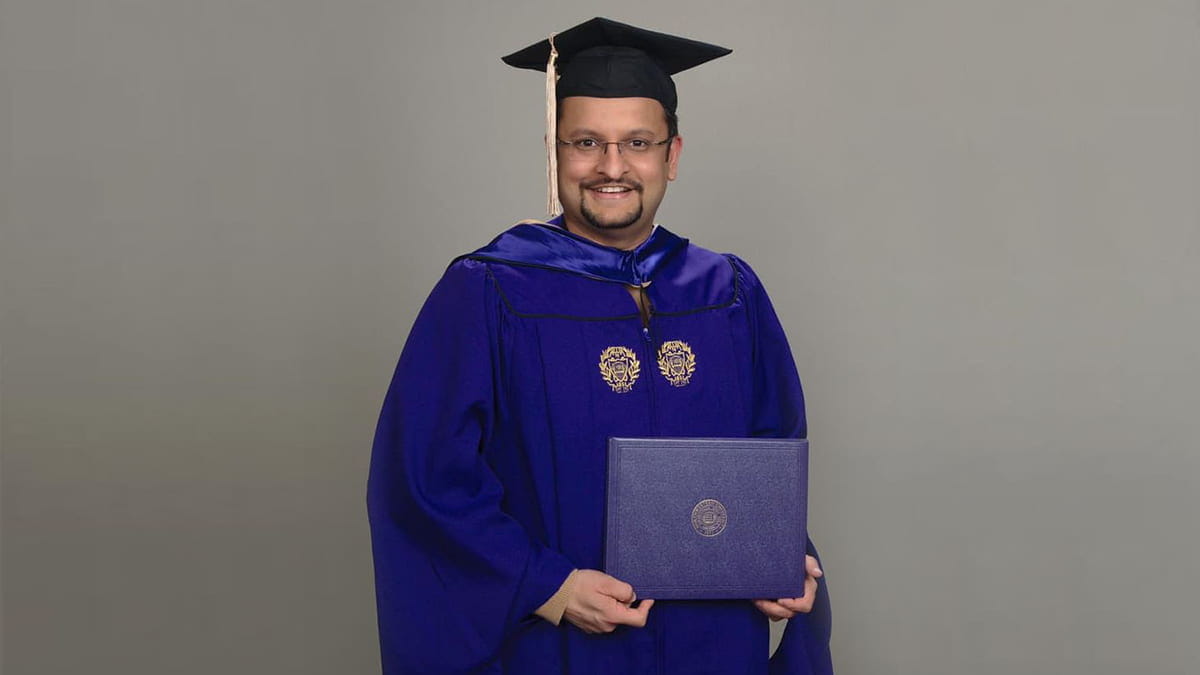 Check out Akshar's first blog post from when he was just starting the EMBA Program, where he shares the factors that led him to pursue his mid-career MBA at Kellogg.
By Akshar Awalgaonkar (EMBA 2020) 
It feels serene to reminisce on my truly special two-year journey. I would be remiss if I don't share my learnings and reflections with you all and especially those who are still considering if they should go for an MBA or not. As a Kelloggian and as a leader, it is my responsibility and desire to give back and pass it on.
Three key learnings from my EMBA experience
It depends: When you have a limited toolkit, you fall in the trap of quickly picking a side of right or wrong. But this experience encourages you to think holistically and then you realize 'it depends' upon many more factors.

Strategy is deciding what 'not' to do: It is not just a mere to-do list but instead, it is an act of consciously choosing where not to invest time and resources. As a leader, you must understand the trade-offs while deciding and then, give it the necessary time to flourish. You can't keep changing it everyday.

You can't make everyone happy and it's okay! : It is so true, right? So why even bother? Choose the right target segment (or right priorities) and give it everything you have. Less is more in this case. Become the best in the segment/priorities you are serving and make that your competitive advantage.
Three key 'aha' moments
There are 24 hours in a day: That is a whole lot of time. In fact, you quickly realize how you had been 'wasting' your time on non-value add things. If planned right, you can maintain a decent (not ideal) balance on the work, study and family fronts.
You are not alone: You don't need to have an answer for everything. Through your global network, you will always know a guy or gal who knows a guy or a gal. This helps you breathe, since your network has got you covered.
Learning is fun: Being surrounded with diverse mindsets who all are trying to learn and collaborate is a whole lot of fun. It is not about the grades at this point in your career. Rather, it's more about understanding and applying the concepts you learn in class. My cohort members, through their experience and stories, taught me equal to or more than what the classes covered.
Three key resolutions
Connecting my profession & actions to a bigger purpose in life: Through this journey, I have gotten greater admiration for the fact that life is too short to be mere materialistic. Personal actions, as well as career choices, should reflect a very strong connection with the social or environmental cause one genuinely believes in. After all, one's legacy won't be measured by how much wealth she/he accumulates, but the impact they leave behind on society or the environment.
Dance as if no one is watching: Doesn't matter what people think (barring the loved and close ones, of course). Perception is critical, but if its burden is making you do things that are unnatural to you, then what's the point ? Do what you feel is right and always be humble enough to reflect on if your right is 'the right'.
Be the change you want to see in the world: The world needs more people who can be change agents and who lead by example. Be authentic, be passionate, be focused on doing the right thing and driving the right change. To drive such change — big or small — one must be willing to invest time to do so, no matter how challenging the journey might end up being. Be the guiding light for others who are in need.
Gratitude during this moment
My Cohort: Without the amazing and compassionate EMBA Cohort 118, I wouldn't have been able to pull it off. This group of 'high impact, low ego' leaders will continue to lead the way. These 70 cohort members are genuinely amazing human beings who I call my family. Huge shout-out to my group members: Velisha Haddox, Eric Hanson, Dan Manojlovski, Yuanyuan Jia (all EMBA 2020). They made me better and tried hard to make me wiser. Lastly, it was an honor to be the elected Cohort Ambassador for our amazing cohort along with my dear friend, Al Johnson (EMBA 2020). Being honored with this responsibility truly was a highlight of my journey.
My Team: My very talented team at AbbVie stood behind me and allowed me the time to focus on being a better leader. More critically, they gave wings to my dreams as a leader who was eager to implement the key learnings. They also provided ample encouragement every time I needed it — and all of this while delivering record-breaking performance on almost all fronts of the enterprise expectations.

My School: The world-class faculty, best-in-class program administration, and with a secret recipe with which Kellogg chooses complimentary skilled, diversely-styled cohort members who have a similar, foundational value system makes this the world's #1 ranked Executive MBA Program. I had only applied to this program and would have kept applying until Kellogg accepted me, but I got lucky the first time : ) Despite COVID -19, the Kellogg team under the very able leadership of Greg Hanifee, associate dean of degree operations, and his amazing team members Colette Feldges, director of EMBA for the Evanston Campus, Chris Bray, director of EMBA academic affairs, and others were able to provide a world-class experience to us. I am honored to have had this opportunity and will stay forever grateful to the school.

My Family: Without my mother and father's relentless confidence and investment in me, which enabled me to dream big, this feat wouldn't have been possible. Making them proud was a very strong sentiment with me throughout this journey. My kids — who helped me pack my bags every alternate weekend as I headed out for classes and those late-night video calls urging me to come home soon — were the emotional anchor for me. My in-laws were exceptional as they came to our rescue as my wife, Prachee, and I were delivering our lovely daughter. Finally, and most importantly, my wife and my best friend, Prachee, who stood behind me throughout this journey. Despite her own professional commitments, she not only filled in for me with the kids but was there to encourage and motivate me throughout. She truly has been the wind beneath my wings. This truly is a FAMILY degree and when one decides to sign up for this,  it is absolutely important that the entire family is on board, since their sacrifices are going to be lot more significant and harder than yours.
This journey is filled with self-reflections, deep thinking and learning that will stay with you forever. It truly is an investment in yourself to discover your passion and then it enables you to put an action plan to convert that passion into a reality.