Start of Main Content
By Alexandria Blue (MMM 2021), Hannah Mitchem (2Y 2021), Olaniyi Jinadu (2Y 2021), Jessi Daniels (2Y 2022), Amber Washington (2Y 2022), Kyron Whitfield (MMM 2022)
Each year, future business leaders come together to apply human-centered design to solve complex, customer-facing business challenges confronting a forward-thinking partner in the Kellogg Design Challenge (KDC) organized by the Kellogg's IDEA club. KDC is the world's largest MBA design challenge.
The 2020 KDC sponsor was Exelon, the largest electric parent company in the United States and an industry leader in energy delivery innovation.
The prompt: How might we engage with energy customers in urban areas to reduce demand when the grid is overwhelmed?
Out of over 31 teams applying to compete in KDC this year, only six teams were selected as finalists. The top three teams in the event crafted innovative consumer-facing solutions for Exelon, impressing the panel of judges comprised of top leaders from across the innovation & design space. This year's winners were:
1st Place: Elasticity of Peak Demand (Tepper)
App-based solution built into existing Exelon mobile app, showcasing energy usage, curating a demand response plan, determining savings, and allowing consumers to donate a percentage of those savings to customers in need. Team: Jon Holman, Hensley Sejour, Eric Hager, Hannah Zhang, Chanson Kuo, Stephen Chen
2nd Place: Blynergy (Kellogg)
Three-pronged solution with personalized guidance to educate customers on energy optimization, tools & information to simplify behavior change, and a reward system for engagement. Team: Alexandria Blue, Hannah Mitchem, Amber Washington, Kyron Whitfield, Olaniyi Jinadu, Jessi Daniels
3rd Place: Magic Hour Solutions (Kellogg)
Mobile solution to visualize energy usage, set personalized daily goals (think Apple Watch rings), and receive notifications and act on the go. Team: Danielle Rosenberg (2Y 2022), Grant George (2Y 2022), Chris Gunther (MMM 2022), Alyssa Marcus (MMM 2022), Davey Holmes (2Y 2022), Maddy Matthews (MMM 2022)
Team Blynergy's KDC Experience
Tell us about the prompt for this year's challenge and how your team worked together towards a solution.
Alex Blue: The Kellogg Design Challenge was such an engaging experience that enriched my MMM learning. It allowed me to hone my design skills in a fast-paced, but fun environment in an unfamiliar industry. I'm always looking for ways to get more reps in practicing this process and methodology, and I loved doing so in a problem space that impacts the daily lives of so many of people across demographics.
Working with a team of such diverse backgrounds provided the opportunity to learn from my classmates' strengths and experiences and challenged my thinking. It also allowed me to try my hand at teaching my favorite aspects of design thinking and to serve as an evangelist for this way of problem solving.
When you think of design thinking process, people often image sticky notes galore. How did your team adapt as a result of the ongoing COVID-19 pandemic?
Olaniyi Jinadu: Mural and Canva blew my mind. I think I have been living under a rock or something because I did not know that these tools were available until we participated in this competition.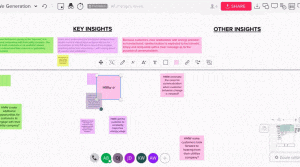 It was the way we used them for ideation + design thinking, and to present our ideas that blew my mind. Alex did a great job leading us through the design thinking process, while Jessi is a Canva guru!
Jessi Daniels: Doing some of the brainstorming/working sessions virtually did pose a challenge at times but MURAL was a neat tool that facilitated collaboration relatively easily.
What were some of your key learnings from approaching the prompt with the design thinking process?
Hannah Mitchem: As someone not familiar with design thinking, it was a great learning experience. Design thinking focuses on a human-centric analysis and solutions. Having had competed in case competitions in the past, I appreciated this different approach to solving problems. I look forward to adding these frameworks as a tool to leverage in my work as a management consultant.

Olaniyi: The design thinking process is very structured, like most problem-solving techniques I have used in the past. The one key difference is how human-centric we had to be in our analysis and solutions. We had to translate conversations and survey results from different people into values, activities and pain points. Then these observations had to be synthesized into patterns to find commonalities. These trends drove how we thought about solutions, and how we tested these solutions.
Kyron Whitfield: As a first year MMM student, I was excited to dive into the design thinking methodology. One of my biggest takeaways is that solutions must be comprehensive yet communicated simply – what motivates different users, why should they care, how do you get them to change behaviors. We were focused on each component. This focus, our unique blend of synergies and energy, and the fact that we had fun is what I believe made us successful in the end.
Tell us about the experience of presenting to the client and the feedback that you received.
Amber Washington: When presenting our team's solution, it was imperative to display the emotional connection and personal motivations of our primary users and how the solution connected to each of them. We used surveys, social listening, and interviews to provide more insights into how the business problems impacted people, families, and communities globally.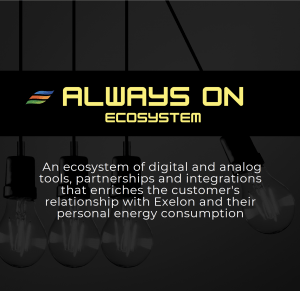 Leveraging the key insights from our customer research, we chose to present our solution ecosystem in a three-pronged approach that addressed the key drivers or hesitations our primary personas had regarding energy consumption:
Educate customers on how their actions create a lasting impact on their community and the world more broadly
Empower customers to change their behaviors with easy-to-use and smart tools
Entice customers to adopt these behavioral changes permanently with incentives and rewards
Kyron: From the beginning, we were intentional about creating a solution that was not only comprehensive, but we wanted to create a solution that was accessible and inclusive. While we could have thought about an app or hardware focused solution, we knew this would miss a significant portion of the population — customers across the digital divide and those who have low trust in technology, for example. To that end, we combined traditional communications like radio ads and redesigned paper billing with more innovation tools like apps, gamification and smart devices.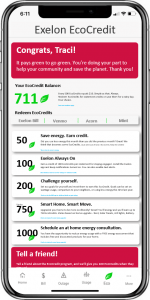 The KDC is filled with workshops and opportunities to connect with field experts. Did any workshop or conversation stand out in particular to your team and inform how you approached the prompt and/or how you might approach design in the future?
Jessi: While we learned from each workshops, I really enjoyed the Storytelling Workshop that was put on by Moonshot IO. They provided a storytelling framework broken down into nine parts and this really drove how we crafted our presentation. Mike Kim, the head of Product Management for Moonshot, even spent some one-on-one time with me, assisting with how to paint the opening picture for our audience. His feedback led us to dive into the social media of Exelon and its subsidiaries. This provided a compelling, emotional opening for our presentation and an additional point of market research as we were able to use words from actual consumers to highlight key pain points.
This year has been a particularly challenging year on all fronts. After such hard work, it must feel great to have this second-place win. Any closing thoughts?
Jessi: In engineering, we use design thinking loosely, but the way we approached it for this project was very structured. I was always pleasantly surprised when our initially vague, nebulous ideating sessions led to comprehensive, methodical outcomes. Also, being on an all-Black team was extremely powerful. Our meetings were always filled with laughter, community and fellowship that I rarely experience in other project groups.
Kyron: Throughout the process, I really enjoyed speaking with customers and industry experts, synthesizing information and then designing solutions. Beyond the process, it was the people that I was able to work with that made the experience that much more fun and meaningful.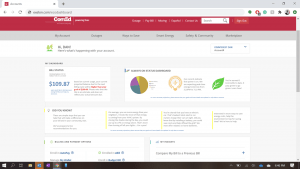 From Olaniyi's organized and thoughtful approach (with an accent that makes everything just seem right) to Amber's willingness to roll up her sleeves and dive right in on all aspects of the challenge, I'm so grateful for the opportunity to work alongside a team of people with diverse professional backgrounds and had shared experiences as Black persons. Our success was validating in that representation matters and you're able to do your best work when you can bring your full self to the task at hand.
We'd like to thank the organizers of the Kellogg Design Challenge, our client and sponsor, Exelon, the workshop leaders and judges, the interviewed customers and industry experts, as well as our friends and family for ongoing support. Thank you!
Check out Blynergy's full presentation!
About the Team Members
Alex Blue (MMM 2021, Military USA)
I grew up in a military family, moving every 2-3 years, interacting with different communities and cultures. I developed a fascination with understanding human behavior, which I pursued in my work as a management consultant, focusing on human capital and customer experience design. The Kellogg Design Challenge represented exactly the type of opportunity that brought me to Kellogg — a chance to further explore my passion of applying a human-centered lens to real world problems.
Olaniyi Jinadu (2Y 2021, Lagos Nigeria)
I grew up in Lagos, Nigeria. I have a background in Electrical & Telecommunications Engineering and, prior to Kellogg, worked as a radio frequency engineer, leading the deployment strategy and implementation of cellular networks. I decided to do this challenge because case competitions provide the opportunity to learn about a new space/industry, solve problems in an innovative way and forge deeper connections with and learn from formidable teammates. The prize was an added bonus.
Hannah Mitchem (2Y 2021, Northern Illinois)
I grew up in northern Illinois and spent time in St. Louis, Chicago, and New York City after graduating from the University of Missouri with a degree in civil engineering. I was eager to participate in the Kellogg Design Challenge because it provides a unique opportunity to apply design thinking to a complex business problem with classmates from diverse backgrounds.
Amber Washington (2Y 2022, Florida)
I'm originally from Jacksonville, Florida and have lived in Chicago for six years. Prior to Kellogg, I worked in sales and marketing within the tech industry. I wanted to participate in the Kellogg Design Challenge because it was an opportunity to drive and create a real solution to a complex business problem that impacts our society more broadly. Additionally, I had minimal exposure to design thinking prior to Kellogg and was excited about the opportunity to dive deeper into this space.
Jessi Daniels (2Y 2022, Chicago Suburbs)
I was born and raised in the south suburbs of Chicago but, over the past 10 years, I've lived all over. I have a background in biomedical engineering and this challenge was intriguing because I saw it as an opportunity to utilize my engineering design skills in a novel, business-oriented setting while incorporating concepts from Kellogg classes. The fact that we had a team comprised of all BMA members was the icing on top of the cake.
Kyron Whitfield (MMM 2022, South Carolina)
I grew up in a smaller town in South Carolina where I developed a passion for technology through joining the robotics team and courses like mechatronics offered in high school. I came to Kellogg after spending six years working across sales and marketing roles at Lenovo, a large technology company in Raleigh, North Carolina. I was excited to participate in the Kellogg Design Challenge for the opportunity to lean into my passion for innovation, learn about a new industry and apply design thinking principles to solve problems that matter with a creative team.