Start of Main Content
Reflections from Our Full-Time Female Veterans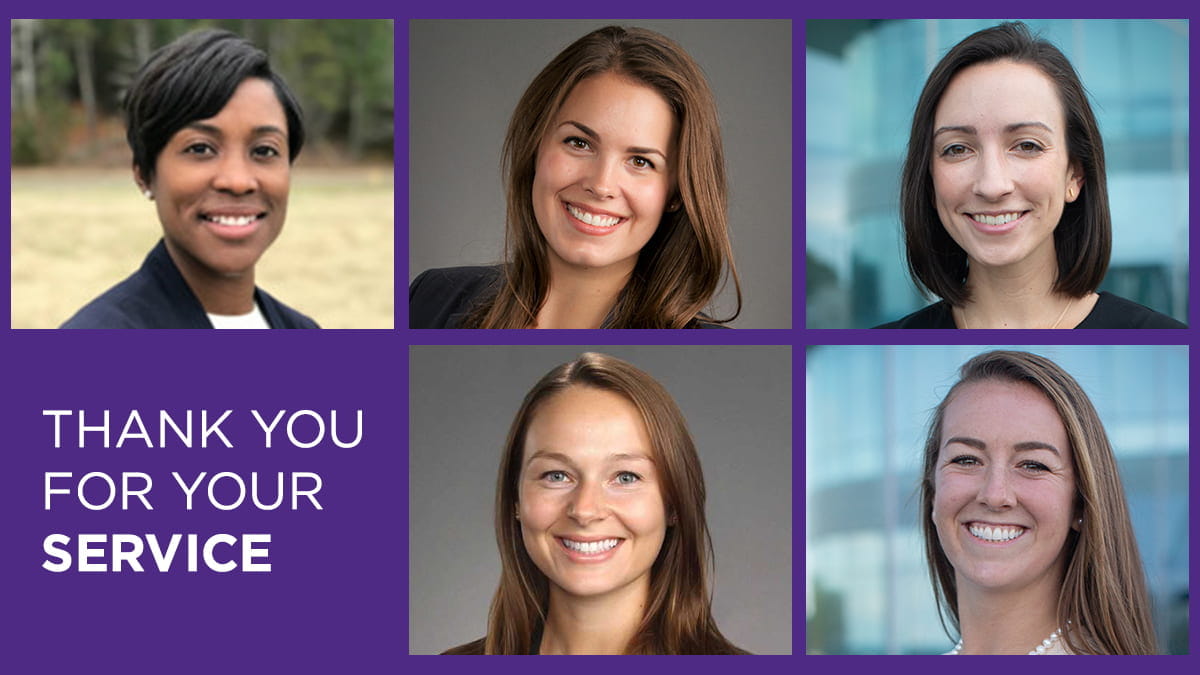 Each year, Kellogg joins the Kellogg Veterans' Association (KVA) in a week of programming celebrating Veterans Day. As we continue to celebrate, we wanted to highlight some of our female veterans at Kellogg and share how their time in service has influenced their lives as students here at Kellogg. From left: Tracey Fetherson (2Y 2021), Caroline Kurtz (2Y 2021), Caroline Sadler (2Y 2021), Elle Taylor (2Y 2022) and Sasha Sibilla (2Y 2022). Below are their reflections. 
Tracey Fetherson (2Y 2021)
U.S. Marine Corps, 8 years

When I left the Marine Corps, I didn't know what to expect. I had hoped that coming to business school would allow me time to grow personally and learn more about the industries I had never been exposed to. Kellogg gave me that, and more!  It wasn't until I was fully immersed in the collaborative culture of Kellogg that I realized how valuable my time in the military was to my future. Working with people who have a familiarity or expertise in a given function or industry is very similar to how I worked with Marines from various job specialties to complete the tasks I was given. I learned the value of working across expertise, age, job function and backgrounds early in my military career and it was reassuring to see that it was a critical skillset for success outside of the military. Kellogg students, staff and faculty have welcomed me and my fellow veterans like any other student each day I've been here. That consistently validates the value my past experiences bring to the classroom and, eventually, the work force. I am grateful for everything the Marine Corps taught me and the way in which my Kellogg experience has brought those things to life outside of the uniform. I look forward to entering my next job fully prepared to work with others towards success!
Caroline Kurtz (2Y 2021)
U.S. Air Force, 8 years

I have been part of the military family my whole life: I grew up in a family in which every member served, spent 12 years of my young adult life in uniform and am now a military spouse. To say that it has left a mark on me would be an understatement. More accurately, it has been the most formative of experiences, influencing not only what I do today but also what I hope to do in the future. Two military values close to my heart that have influenced my time at Kellogg are the importance of being a good teammate and the value of service. As an officer and now a student, I believe that no matter what I am personally responsible for, it is my duty to accomplish it to the best of my ability — not for my own personal benefit but because others are counting on me. Sure, within the classroom, no one's life actually depends on the correct answer to a business case, but this isn't a switch that you can just turn off! Additionally, my desire to be of service didn't just disappear on my last day of active duty. Service to others has influenced how I spend my time at Kellogg, the extracurriculars that I join, and the full-time employment opportunities that I pursued. My time in the military has helped me prioritize, ignore the noise and push through the tougher times here at Kellogg. My life at Kellogg and the military both complement and reinforce each other in more ways than I expected, and I am grateful to have been a part of these two families.
Caroline Sadler (2Y 2021)
U.S. Navy, 6 years

Leaving my career in the U.S. Navy was bittersweet. Despite my excitement to start the next chapter at Kellogg, the Navy had become part of my identity in so many ways. For the previous 10 years, my professional development, personal relationships and sense of purpose were all tied to the Navy. Starting business school provided time for reflection on who I am as an individual and what path I wanted to take next. Fellow student veterans offered much needed camaraderie and understanding as I navigated a new world. I'm grateful I faced this major life change with the support of the community at Kellogg where I could continue to explore new career options and interests.
With no formal business education or previous corporate experience, I embraced the MBA as an opportunity to learn business fundamentals, grow as a leader and find work that continues to provide a sense of purpose. Frequent relocations and demanding schedules in the Navy taught me to adapt to new environments quickly and lean on the strengths of those around me. I continue to use this mindset as I approach new challenges at Kellogg, like unfamiliar course material and peer leadership positions. In a low-stakes environment, Kellogg has empowered me to push the boundaries of my comfort zone in and out of the classroom as I prepare to bridge my veteran skillset to a corporate career.
Elle Taylor (2Y 2022)
U.S. Army, 5 years
I graduated from West Point and served as an Army HR Officer from 2015-2020 where I was predominantly stationed in Hawaii. First quarter at business school is a whirlwind balancing networking events, classes and interview preparation groups. I feel accustomed to managing and prioritizing these competing requirements as I did every day in the military and my time at West Point. I also feel like the Army threw a lot of changes and different jobs at me, which has given me the agility to learn and understand roles in business industries faster than I expected. I am probably most thankful for the Army engraining a sense of curiosity to better understand the diverse backgrounds of those around me.
I'll end by saying that most veteran clubs of the MBA programs that I applied to told me that, on the first day of school, veterans are always the first to show up to class and this was 100% true. In fact, my first day of class I panicked because I thought I was going to be late and ended up showing up 15 minutes early. The funny part was that I was greeted by two other veterans, who also showed up early, and we were all there before the professor! The Army's saying "hurry up and wait" will always be with me, I guess!
Sasha Sibilla (2Y 2022)
U.S. Navy, 5 years
Although a ship driver by trade, I had the privilege to lead a disaster relief preparedness mission in South East Asia towards the end of my service in the Navy. During this time, I worked closely with U.S. and international medical teams to set up screenings and trainings, treating a wide range of illnesses from tuberculosis to malnutrition. As I witnessed the profound impact our healthcare initiatives made on the local communities we served, I discovered a passion for healthcare. At Kellogg, these experiences influenced my decision to pursue employment opportunities in the healthcare space so I can continue making an impact in a meaningful way.
In the Navy, I was also fortunate to find a strong community of women that supported and lifted each other up. We relied on each other to get through challenging times and cheered each other on when one of us succeeded. At Kellogg, I was hoping to find a similar community and so I decided to join and get involved in the Women's Business Association. Women supporting women is exactly what the business world needs, and I am confident that the amazing women at Kellogg will be at the forefront of that movement!
Please join us in saluting all of Veterans of the Armed Forces!