Start of Main Content
Allyship in Action: Pride Week is an Invitation to Learn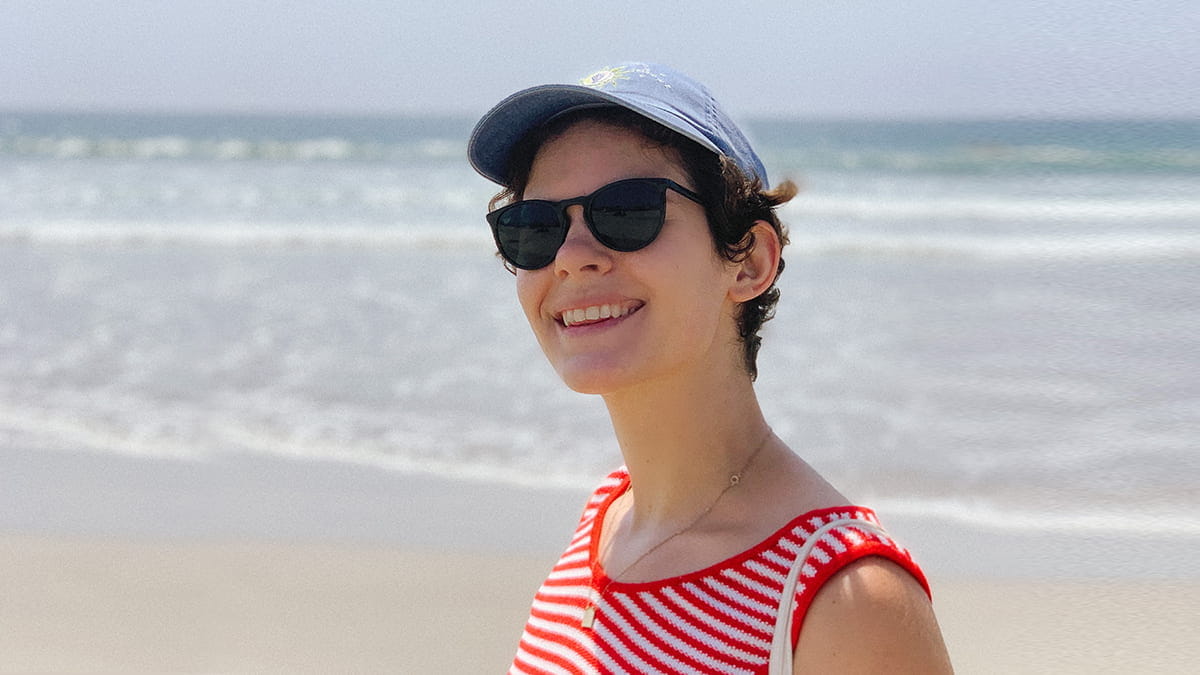 As part of Pride Week 2020, Annie Vought (2Y 2021) produced and moderated Allyship in Action, a conversation in which six Kellogg students discussed the importance of lifelong allyship, shared the highs and lows of their own journeys and reminded the Kellogg community that there is no such thing as the perfect ally. Here is her story leading that panel and experience during Pride Week. 
I got involved with Pride Week's Allyship in Action panel not because I raised my hand to do so, but because I received an invitation from the Pride Week co-chairs.
That point will become relevant — I swear.
When Adam Wolford and Jamal Little asked for my support with this panel, I ultimately said "Yes" because all the reasons that I desperately wanted to say "No" just weren't good enough.
…I  don't know that much about the topic!
…I have no relevant experience!
…I'm awkward and I fear public speaking!
While factual in my case, those objections are also all terrific excuses to avoid having hard conversations.
Avoidance is the opposite of Pride Week's mission, which is to educate the Kellogg community about the LGBTQIA+ experience, grow P@K's ally base, and celebrate Pride with the goal of making Kellogg a welcoming space for all.
Empowering people to go out on a limb, starting difficult conversations, showing up for others and asking more questions are all crucial to fostering that welcoming space. Pride Week is an invitation to do all of those things, and more. So why not start by accepting that invitation myself?
Becoming a stronger ally
Taking this event from Adam's initial vision all the way to fruition pushed me further out of my comfort zone than virtually any experience I've had at Kellogg to date. It also brought me so much closer to Kellogg as a whole, to the P@K community, to the speakers who spoke so bravely and candidly about the power of allyship in front of their classmates and to my own identity as a bisexual woman.
For me, our participants and our audience members, this conversation helped place Pride Week in the context of a much broader conversation about ongoing and ever-evolving allyship. While I won't be sharing names or specific details about our panelists on this blog as part of the spirit of this event, I would like to share a few of our collective learnings.
What was learned from Kellogg's Pride Week
One refrain we heard repeatedly from our ally and queer panelists alike was the importance of simply trying.
This rings true in any context, whether you're acting as an ally to the LGBTQIA+ community, acting as an ally within that community or acting as an ally towards any individual or group relative to whom you hold some degree of privilege. It's about making an effort and being willing to try again even if you stumble. It's also about sharing the burden for others.
Our panelists also discussed the delicate balance between holding ourselves accountable for continued self-education, while also giving ourselves grace in understanding that we'll never be perfect.
As my co-organizer Kristen Klein wrote in the fantastic Allyship Toolkit  she created to accompany this conversation, "nobody knows everything, but together we know a lot!" Pride Week showed me just how true this is at Kellogg.
From the First-Years strutting their stuff in heels and rainbow wigs at Drag Showcase, to the Hear My Story participants erasing bi-invisibility one stunning story at at time, to the international students describing what queer life is like in their home countries or even being out for the first time here at Kellogg, Pride Week is as much a process of education and self-discovery as it is a celebration of how far we've all come. I'm proud to be surrounded by so many classmates eager to push that learning forward.
If you are considering Kellogg and would like to learn more about Pride@Kellogg's supportive community and impressive leadership opportunities, visit the P@K website for prospective students.
For more insights into this year's Pride Week, check out our post from its co-chairs!