Start of Main Content
Now More Than Ever: Five Learnings from Kellogg's Virtual Social Impact Days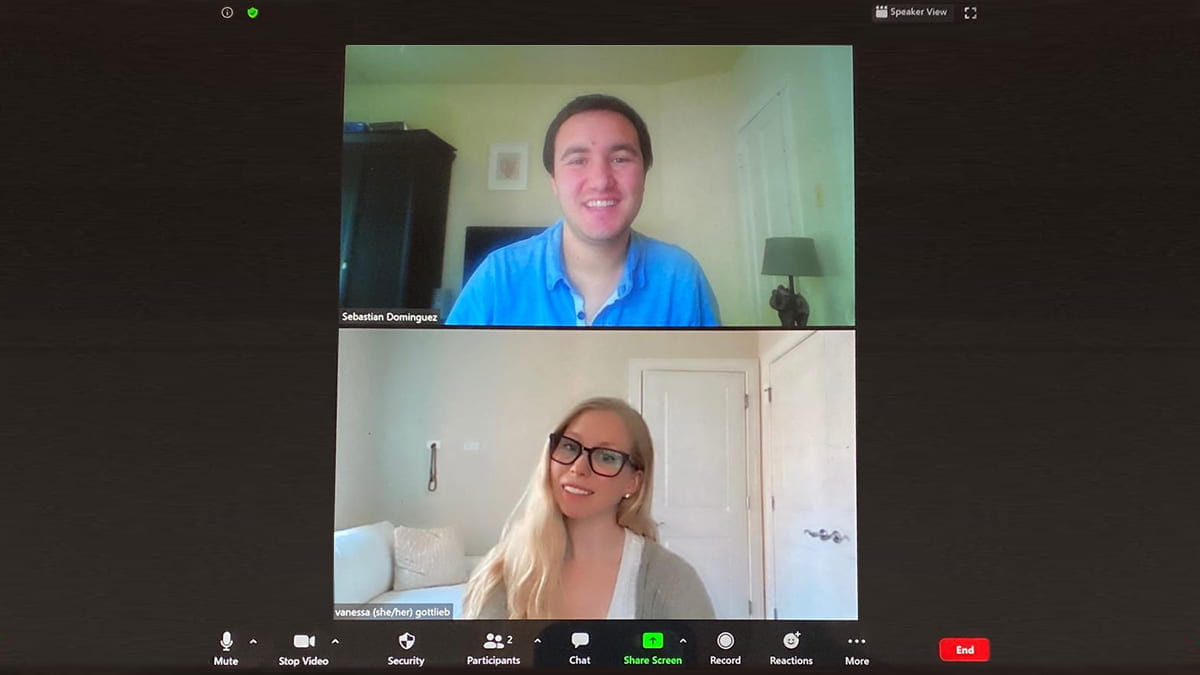 By Vanessa Gottlieb and Sebastian Dominguez Marchant (both 2Y 2022)
As Sebastian and I (Vanessa) sit here trying to figure out how to co-author a post about Social Impact Days 2020, it dawns on me that this moment really exemplifies what it means to be at Kellogg. We are two former strangers coming from very different pre-Kellogg jobs, with different native languages, Zoom-brainstorming across continents and time zones, virtual bonding over our eagerness to make a lasting social impact and to share our experience forgoing one of our last weeks of summer for a rigorous 3 days of impact-oriented learning, relationship building and teamwork. 
Social Impact Days (SI Days) is an annual event for incoming students interested in engaging in and learning about social impact at Kellogg. Over the course of an immersive multi-day event, students interested in creating impact come together, learn from incredible speakers, and work in teams to design innovative approaches to real social challenges. SI Days culminates in an intense team pitch competition – many students' first. It's a whirlwind.
This year we had another variable thrown in the mix, COVID-19, which meant that we had the singular experience of being the first ever incoming class to participate in SI Days entirely virtually over Zoom.
A virtual, three-day, interactive event
This was not exactly the experience either of us envisioned when we marked our calendar for SI Days back in April. Both of us came to Kellogg specifically for social impact, and as it became clear that we would not be participating in this traditional opportunity to bond with our socially-minded peers, we were a bit apprehensive. Would we form real bonds? It's harder to forge connections with new people virtually. Was giving up our last free week to sit in front of a computer really worth it? It's difficult to create compelling content on Zoom. And were they serious when they assured us that we were going to be able to work together virtually to craft a go-to-market impact strategy, deck and pitch in 2 hours?
The answer is yes, to all of it. We know that an all-virtual, three-day, interactive, experiential learning opportunity might be hard to imagine (it was for us), but it looked like this:
Over 150 incoming students were assigned in advance to groups of 4-5 students (pitch teams) across 4 areas of impact (healthcare, education, corporate innovation and sustainability) based on indicated preferences.
We logged into Zoom on Day 1 not knowing what to expect. But Professor Megan Kashner exuded energy and warmth, and, as she welcomed us, our nerves quickly turned to excitement. After an overview of the next three days and social impact at Kellogg, we joined a few different, small breakout groups to network (read: speed date) with socially-minded classmates who were diverse, interesting and engaged. The day ended with speakers adeptly bridging academia and real world experience in engaging talks with a very timely theme: racial injustice.
Day 2 we were divided into 4 large groups based on our selected impact area and heard from area experts, like the Associate Director of UNICEF USA and the Manager of Global Responsibility for Starbucks, before joining our pitch teams in the afternoon where we were completely immersed in problem solving, brainstorming and developing a compelling pitch. And Day 3 we got to pitch to our groups and listen to our peers' pitches. It was impossible not to be roused by the diversity of ideas and the thoughtful, elaborate (and really cool!) solutions we were all able to craft when immersed in such a rich environment.
Our top five learnings from Social Impact Days
Sharing all that we learned would seriously exceed our word limit, so we're containing ourselves to our top five learnings from the first-ever virtual SI Days at Kellogg.
Kellogg shines in times that demand innovation. Creating a Zoom conference that rivals an in-person experience is no easy feat, and we may be partial but we can't easily imagine another institution pulling this off – from speakers who made us cry to Professor Kashner dancing during breaks to the genuine curiosity students brought to awkward virtual networking sessions. This is a strong, vibrant, dedicated community uniquely positioned to tackle challenges, including global pandemics.
Flexibility and open-mindedness are key to thriving as a modern business leader. On our teams we had folks still juggling jobs, others who were in summer courses, and students around the world trying to secure visas, all working across at least 3 different time zones and with varying levels of internet connectivity at a given time. The gap between expectations and reality was not insignificant – but we're glad we leaned in. If we had listened to our apprehension and skipped it, we would have missed a really great experience.
None of us alone is as strong as all of us together. Each of our teammates brought diverse backgrounds, perspectives and ideas that enhanced innovation and strengthened our final pitches. For example, I (Sebastian) brought a government perspective, I (Vanessa) brought speech writing experience, others brought experience with corporate vision, medicine and even gamification.
Get comfortable with discomfort (that's how you grow). It was chaotic (even stressful) to work with a group of strangers, introduce yourself, your background and your skills, come up with a feasible, go-to-market impact idea and craft a 3 minute startup pitch complete with graphically-pleasing deck over Zoom in 2 hours. At times it felt impossible to pull off – but it was a ton of fun and we both feel it was where we learned the most. Trying foreign things that you might not excel at is part of MBA metamorphosis, and there's no better place to try and fail than in a supportive community of smart, non-judgmental people.
The (business) world needs more of this. The class of 2022 is beginning our Kellogg journey during a time of unprecedented challenge – widespread fear of economic depression on the horizon, the renewed salience of racial injustice, a global pandemic unlike any in modern times. And to top it all off: murder hornets. Now more than ever we need business schools dedicated to creating leaders who lead from the intersection of business and society, comfortable with both the synergies and the tensions, able to boldly champion effective, sustainable ideas and practices that help leave this world better than we found it.
Kellogg students come here for the culture and the community, and SI Days exemplified both. Professor Kashner and team made sure that, despite unique challenges, we would emerge from the experience better equipped, inspired and connected. Overall, this was a phenomenal way to start our time at Kellogg, and if any part of your career or personal goals includes leaving a positive and lasting impact on society, we highly recommend you take advantage of this uniquely Kellogg opportunity next year.