Start of Main Content
Zoomies and Roomies: The Hybrid Classroom Experience at Kellogg this Summer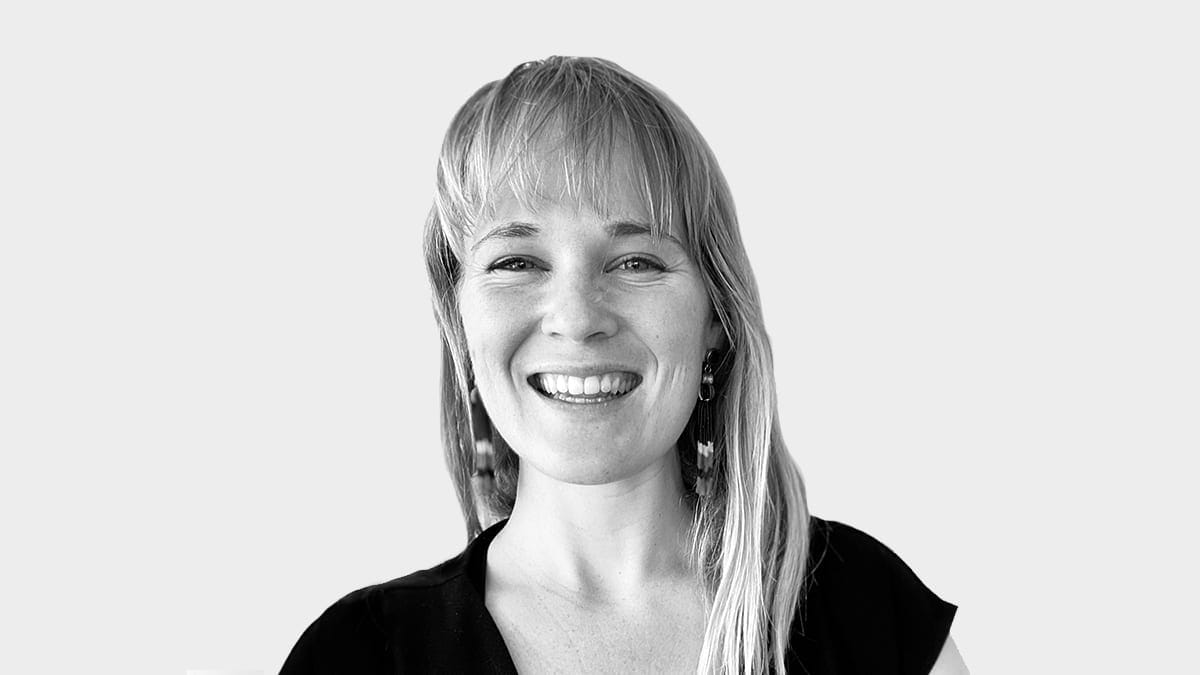 By Sarah Pinner (MMM 2022)
This content was originally published in Poets & Quants.
Pre-COVID I applied and was accepted into Kellogg School of Management's MMM program. The six-quarter program integrates business education with a strong foundation in design innovation. I will graduate from the dual degree program with an MBA form Kellogg and an M.S. in Design Innovation from the Segal Design Institute at the McCormick School of Engineering and Applied Science.
Despite the COVID impact, I decided to proceed with my business school plans with the understanding there would be uncertainty, but confidence in the program Kellogg would deliver pivoting and building on key learnings from the virtual Spring Quarter to hybrid learning. I reminded myself that the current reality was temporary. Preparing in this way allowed me to better appreciate the unique nature of my actual experience this summer.
Within this hybrid environment, which at Kellogg is defined as a course where a professor and a subset of students are in a physical classroom together while another group of students participates remotely, Kellogg's true challenge was learning how to design a compelling, engaging, and safe MBA experience amid a global pandemic. As an MMM student, I viewed my hybrid experience as one big design exercise as the administration and students created and tested new ways to effectively socialize, learn, teach, and collaborate.
At the start of the Summer term, I arrived at the Global Hub with my mask in hand, scanned my ID card to enter the building, showed my daily health check bade at the door, and took a seat at my socially distanced, assigned desk. The hybrid experience began immediately with our MMM orientation, which incorporated a mix of virtual and in-person speakers, as well as synchronous and asynchronous events.
To foster inclusion and collaboration in the classroom, Kellogg adopted a "Roomie and Zoomie" approach consisting of a cohort of in-person students (the "Roomies") and a cohort of virtual students (the "Zoomies"). As an in-person student, I was able to interact with my virtual classmates at all times via a gallery wall of Zoom displayed at the front of the class, and I collaborated with them in frequent breakout rooms and polls. Professors, who were in the physical classroom with the Roomies, were able to view virtual students on their screens as well, and a separate "Virtual Classroom Monitor" (i.e., virtual TA) helped facilitate questions and participation from the Zoomies.
As such, and in true MMM form, I have framed a few key takeaways from my experience as a student in this hybrid classroom environment within the context of core design principles:
Allow constraints to fuel creativity: Constraints force designers to look at a problem differently, sparking ideas for creative solutions. In the same way, the constraints of the pandemic sparked the creativity of the Kellogg community, both in and out of the classroom. For example, constrained to Zoom when presenting our final projects, groups brought in eye-catching elements, like project-related virtual backgrounds or costumes, and utilized Zoom polls to spark engagement. While presenters lacked the opportunity to engage in-person with the audience, I cannot imagine that under "normal" circumstances students would have come to class in Hawaiian shirts or passed around a poll. The creativity of the community was also abundant outside of the classroom. For example, our student-run Summer Experience Committee hosted a virtual "International Grocery Tour" in which a few of our fellow students took the class on a tour of markets in Taiwan, Singapore, and Thailand. This was a unique experience that I would love to do again and that would likely never have been created if not for COVID.
Iterate, iterate, iterate: Candidly, I have described my MBA experience as meeting "the man behind the curtain" right as I entered the Emerald City (to reference The Wizard of Oz).  Usually, MBA students enter a polished, shiny experience without much understanding or acknowledgement of what goes on behind the scenes. The disruption of typical programming and processes pulled the curtain back a bit on the inner workings and brought students into the day-to-day operations.  As the first students on campus, we had the unique opportunity to help test new modalities, classroom techniques, and teaching tools. For example, one challenge this summer was to ensure Zoomies could hear questions posed by in-class students. In the spirit of rapid experimentation and iteration, in one session of our Business Analytics we tried a different method whereby each student unmuted themselves and used their computer mic instead of classroom mics.  After class we quickly shared our insights with the administration via a survey. This is an example of the unique opportunity that we now have as students to be involved in designing the classroom experience.
Keep empathy at the center: When I told worried friends that I still planned to start school despite the disruption from COVID, I pointed out that if anyone is equipped to adapt to disruption it's likely those leading a program grounded in human-centered design. While this assumption has proven true on behalf of the administration and faculty, what I have been most inspired by is the way in which my fellow students have kept empathy at the center of all decisions. One challenge this summer was that many international students were not able to be in Evanston due to visa processing delays. With this, the Section Experience Committee made it a priority to design every virtual event at thoughtful times to be as inclusive as possible. Beyond this, one student took it upon herself to send cards to all international students signed by those of us in Evanston. These are just a few examples of the empathy and strength of the Kellogg community.
This summer quarter was not seamless, nor was it the experience that I had originally envisioned when applying to Kellogg. It was, however, full of creativity, experimentation, and empathy (oh, and masks of course). I am grateful for this unique opportunity to be a part of shaping the future MBA experience and am excited to continue my journey.