Start of Main Content
A 1Y Shares Kellogg's Collaborative & Inclusive Approach to Hybrid Learning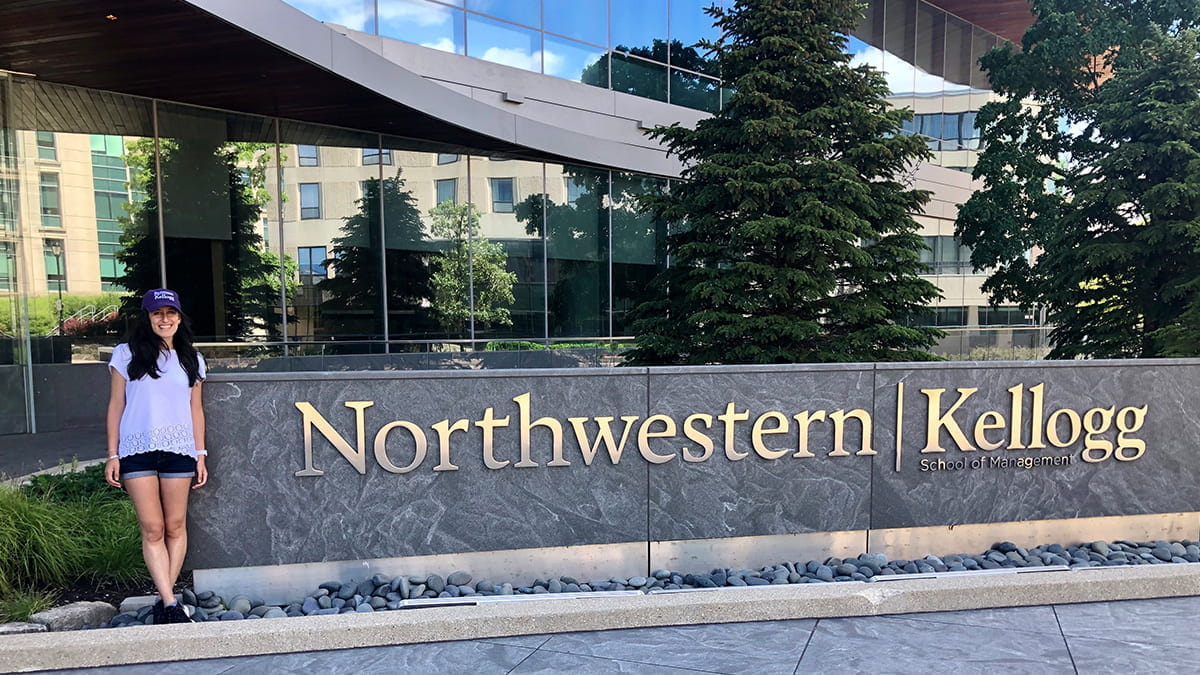 By Alyssa Posklensky (1Y 2021)
When I applied to business school last September, it certainly never crossed my mind that I'd start during a pandemic. I had chosen Kellogg's One-Year accelerated MBA program (which spans from June to June) because I was not switching careers and wanted to get a top MBA without taking two years. As the world shut down around us all in mid-March, it felt like there was still plenty of time before the start of Summer Quarter and my Kellogg experience.
Fast forward to May — everything was still shut down and Kellogg announced a delayed Summer Quarter start date, as well as a hybrid learning model. I'd never done hybrid learning before and was feeling the anticipation and excitement about the whole experience. There were so many questions: How often will we be able to go to class in person? How long will hybrid last? Will our International classmates arrive in the U.S.? Will it feel the same?
Summer is always unique for the 1Y class, since we are one of the two full-time MBA programs that start our Kellogg experience this quarter. Program alumni had emphasized to take advantage of this special quarter, but I highly doubt any of them ever had pandemic learning in mind!
On the first day of class, the thing that struck me most was how normal it all felt. Yes, we were wearing masks and sitting six feet apart. But at the core, we were in a classroom (and some of us were on Zoom), trying to get to know each other and have a productive conversation about strategy, finance or accounting.
As we head into the Fall quarter, my classmates and I feel like professional, hybrid learners. We now know to complete the daily health app to get our badge to enter the Global Hub and that computers and headphones are necessary in every class to join Zoom meetings and breakout sessions. If I had to distill my key takeaways from the summer hybrid experience into three main points, they would be:
1. Professors are committed to figuring this new system out
My classmates and I continue to be impressed with the professors' ability to quickly pivot and adapt their plans to meet the needs of students. During this initial Summer Quarter, Kellogg faculty proved to be wholly committed to figuring out the best way to deliver their content in a hybrid learning model. Just like students, they adapted quickly and collected feedback through surveys from students to make their classes work for everyone, whether they were teaching in-person or virtually. This, combined with the help from the Virtual Course Moderators to ensure engagement with both in-person and at-home audiences, helped pave the way for fall quarter plans.
2. Student feedback and constant iteration is more important than ever
I'm so proud of how my classmates took it upon themselves to optimize the student experience. When we noticed room for improvement during the first few weeks, we organized a small group who brought new ideas and proposed solutions to the administration, like updating microphones in some classrooms, opening Zoom meetings early to allow for virtual pre-class chatter and partnering to understand best practices for breakout group discussions. This ongoing dialogue about what was and wasn't working was vital to continuously improving the Summer Quarter, which will translate into the fall.
3. By leading with empathy, the Kellogg community can work together to improve the experience for all 
As a class, the 1Y cohort was determined to make the best of our experience for all students – whether they were in-person or virtual. Almost everyone wore their Kellogg name badge, usually reserved for more formal events, around the Global Hub. With masks on, this was extremely helpful in knowing who was who, and forming connections with new classmates early on. We also wanted to keep our virtual counterparts in mind, which meant stating your name and leaning into the microphones when attending class in person. Lastly, we determined that students who were in class should not turn their Zoom video on to avoid clogging up the gallery view for virtual students and enable any raised hands to be seen easily.
Now that we've successfully completed Summer Quarter, we've learned a lot, and worked with the administration and professors to optimize the experience. While change will certainly come in the fall, I think we've all proven we're resilient, adaptable, up for the challenge, and ready to show the rest of our classmates how it's done.