Start of Main Content
Two Evening & Weekend MBAs, Two Careers, One Family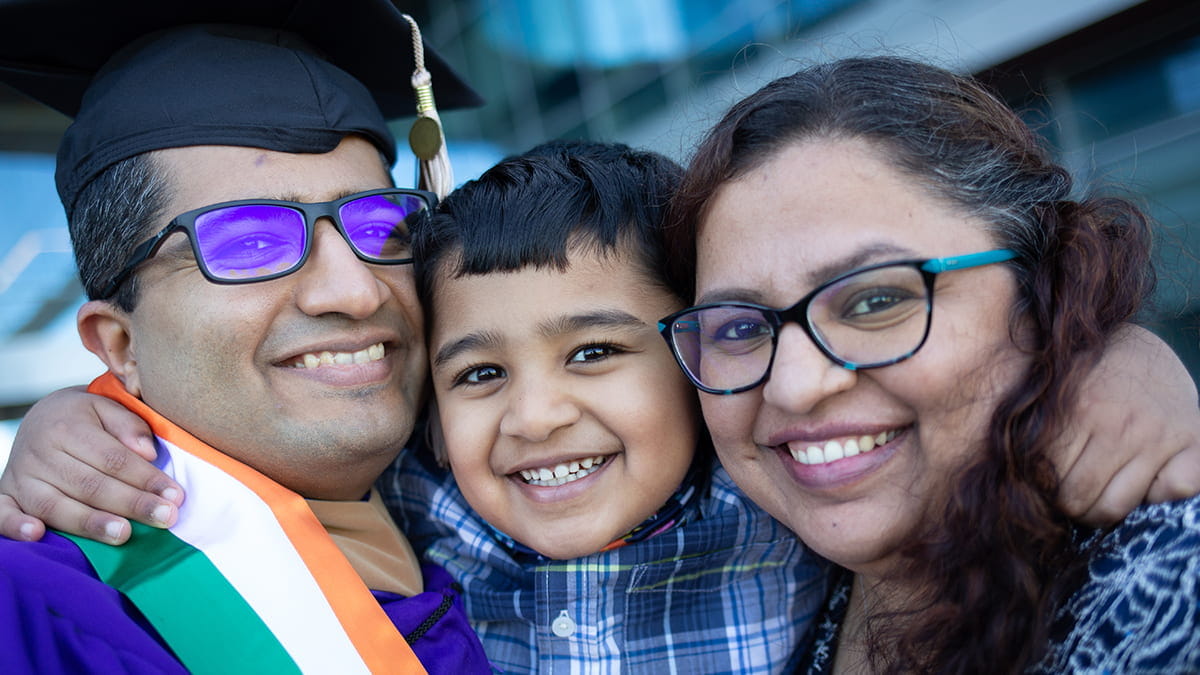 Rashmi Babtiwale (E&W 2021) and Nikhil Jalgaonkar (E&W 2020) are a Kellogg couple with a five-year-old. During their time in the Evening & Weekend Program at Kellogg, they have both led student clubs and Rashmi has ventured into entrepreneurship, starting a medical diagnostics company with another Kellogg student and securing early scholarships through Kellogg. Concurrently, Nikhil pivoted his job from Engineering to Management Consulting through recruiting opportunities offered by the school. Here is their account of their growth and learnings from their Kellogg MBA experience.
Choosing to get an MBA, choosing Kellogg
 Nikhil: It was winter 2016, a snowy morning. I was changing Neer's (our then-two-year-old) diaper when Rashmi, my wife, stormed into the room and said, "Nikhil, enough is enough. We HAVE to start working on getting our MBA now!" I turned around with sleep-deprived, groggy eyes and my son in my hands and said, 'What??' An MBA was a long-cherished dream for both Rashmi and me. Having had great local and international opportunities in our careers, we had procrastinated on this dream for a long time and now, with a kid at home, our life's priorities had changed. Was this even possible at this time for both of us? Three years later, I graduated with a successful career pivot, Rashmi is one credit away from graduating and has started her own venture, and together, we successfully led two student clubs, raised our now-five-year-old, moved houses twice (having been a landlord for two years coupled with a successful real estate sale). We can now say it was possible! Looking back, we are surprised at what we could accomplish!
Rashmi: While Nikhil wasn't fully convinced of the thought of an MBA from a practical point of view, I knew it was a passion for both of us and it felt right at that moment to get mobilized on that front. Over the course of the next six months or so, both of us studied for and took our GMAT. After the GMAT, we began our search to find the perfect B-school that fully met our needs. We preferred schools with easy access from the Chicagoland area as we didn't want to be traveling with our five-year-old at home. We were both lucky to have admits from a couple of great schools in the area. After a lot of thought, talking to alums, friends and participating in various events, it was clear that Kellogg was the school for us. Its community that prides itself in being 'High Impact Low ego' and the world-famous collaborative culture that was evident through all our interactions tipped us in favor of the school. Looking back, we are so glad to have made that call! Given the stage of our lives, the part-time Evening and Weekend Program seemed to be the best choice.
Starting the MBA
Rashmi: To take things one step at a time, without fully understanding how taxing it would be both financially and to our daily schedule, I encouraged Nikhil to start his MBA. Having not been in academics for a long time, adjusting to classes and exams and the new schedule with the kid took a little while. Soon Nikhil was two quarters into the program and the MBA life had become our routine. With the long holidays over Christmas, we started thinking about my MBA. We had started with the thought of Nikhil completing his MBA before I began. That, however, would mean that we'd have the academics extended for about 5+ years and run into our son getting started with his school. It was critical for us to be dedicated to him in the building years of his life. So, we decided I would jump in mid-way and we'd do the program together–but what were we thinking?!
While going through our MBA, both of us had very different expectations from the program. I really wanted to explore entrepreneurship and start my own venture, while Nikhil was pretty sure of taking his career up the corporate ladder. Kellogg offered us academic courses as well as experiential opportunities to do both. As we made our way through our journey here are a few key learnings that we have:
It takes a village
Rashmi and Nikhil: Doing an MBA together along with managing our full-time jobs and the family front with a toddler was definitely a daunting challenge. It definitely took a village to get us there. First, the flexible curriculum offered by Kellogg helped us plan our courses so that one of us could manage the home front while the other attended classes. Our friends helped us tremendously during the times when both of us had to be attending classes at the same time. We cannot give enough credit to both our parents, who were our pillars of support during these MBA years. They were instrumental in helping us keep the house front running when we were neck deep into the program and they also helped us manage the groceries and take care of Neer. We're forever indebted to them to help us get to where we are.
It takes meticulous planning
 Nikhil: Having a toddler to take care of while doing our MBA posed major challenges, especially on the time front. The mornings always ran by the minute, with me taking care of breakfast and Rashmi getting Neer ready for daycare. Once the three of us were in our individual locations, we then tried to manage our time as efficiently as we could to ensure most of our work got done during office hours. Our employers were very supportive on the time management front as well, allowing us to work from home as needed. We needed to plan every evening based on who had classes, homework or other project-related work. We wanted to make sure our son's development was not compromised in any way. So, we put him in a few preschool classes for reading, math and swimming. That meant even more meticulous planning around his and our schedules!
While doing all of this it is critical to take breaks when you are absolutely doing nothing. Taking a short vacation in between quarters was sacred to us. It always helped us rejuvenate and maintain our bond as a family.
It takes some compromises
 Nikhil: While all of this is possible, there are compromises that you have to make. We lost a lot of time that we used to spend together. Watching Bollywood movies the day they were released in theaters was something that Rashmi absolutely loved and that had to take a back seat. We had to cut down on extravagant expenses which we could have otherwise made. That meant keeping our 13-year-old car running as long as we could with worn out seats and questionable sounds that it would make. We missed a few birthday parties to which our son was invited. As far as our son was concerned, though, we ensured that we focused on quality time with him rather than quantity.
Making the most out of their journey
Rashmi: When you are managing so many things, it is easy to get into your cocoon and do the minimum needed to get you the degree. The issue is you lose out on your experience and personal development. We wanted to avoid that and ensure we immersed ourselves. So, at the cost of stretching ourselves thin, we jumped in. Being interested in Tech, Nikhil led the Tech Club and I led the Entrepreneurship and Venture Capital Club at Kellogg, with my passion in setting up my own venture. We also co-founded the India Business Club for the Evening & Weekend students to ensure we could bring that focus into the program. We ensured we participated in as many experiential opportunities as we could. I focused on the entrepreneurship coursework, going through various ideas through different classes, from New Venture Discovery to Nuvention-Medical Innovation with great guidance from Professors Jeff Eschbach and Pete McNerney, and the entire KIEI team. Nikhil, on the other hand, focused on corporate innovation and marketing consulting experiential courses, where you work with clients on actual growth projects.This helped him understand the nuances of strategic thinking in the for-profit sector and helped with pivoting his career.
Going through the experiences together
Rashmi and Nikhil: One big advantage of going through this together was that it created a different bond, as we shared in our experiences together with our friends and professors. One such experience to highlight was our self-exploration through a class called Personal Leadership Insights. While we both took the class at different times, we had the same professor (Dr. Paul Corona, one of the top 50 coaches in the world as highlighted by Marshall Goldsmith). The class goes through understanding your values, your strengths, your weaknesses and bringing out your authentic self as you develop yourself to be a leader. It was amazing going through the exploration journey with each other and our friends. Having Paul as a common thread helped create common memories and common thought processes.
It is all worth it in the end
Rashmi and Nikhil: Kellogg provided us with opportunities which we otherwise wouldn't have had. We had the most eventful years here. This wasn't easy by any stretch of imagination; it took a toll on us, our kid and our parents. However, our son saw us in some of our most transformative times and now understands the meaning of perseverance and sincerity. He wants to do his "abhyas" (meaning "study" in our native language) and become successful. As for our parents and family who endured through this, it is very satisfying to see their admiration and pride for us, which is very humbling. Kellogg also gave us lifelong friends who we really treasure. We look forward to spending more time with them for years to come.
We feel fortunate to have had the privilege of this opportunity in our life. This story, though, is by no means a depiction of a stand-out effort, because when you look around Kellogg, there is always someone who's going through more challenging times than you are and crushing it. We just hope this inspires those who, like us, may just need a little nudge in taking that next step–be it in education or life in general.
For our life post-Kellogg (and COVID-19) we anticipate a lot more family time and vacations. On the professional front, we look forward to our new engagements, hoping to live true to the additional responsibility we now have as Kellogg alumni.