Start of Main Content
A JV Shares Lessons Learned from Kellogg's Classrooms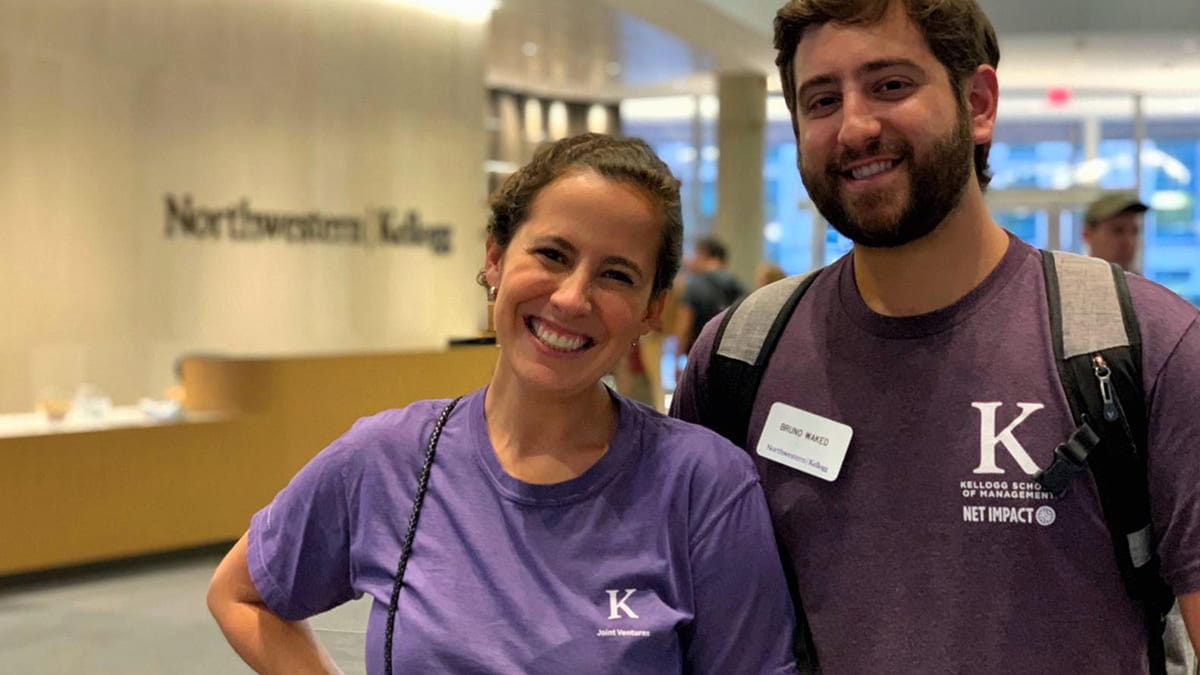 By Maria Quadra (JV 2020)
Honestly, I had never imagined myself taking an MBA class. The opportunity came with my husband's experience as a student in the 2Y Full-Time Program. To keep families closer to the community, Kellogg allows the students' partners (aka Joint Ventures, or just JVs) to audit classes.
Coming from a non-business background, I confess that I was nervous with the idea at the beginning. I was afraid that I had little to contribute or simply that I wouldn't fit in, but it only took one class to make all these worries disappear. Soon after, it became a habit of mine to examine my husband's class catalog every quarter looking for interesting and exciting courses.
After two years, I must say that this experience was one of the highlights of my time abroad. Despite seizing incredibly useful lessons in business fundamentals, the most important learnings I took from Kellogg went beyond any classroom content.
Key lessons and values from the classroom
1. Diversity matters
Enriched debates and diversity walk hand in hand. No doubt, the best classes that I audited were the ones with a diverse student group – different nationalities, academic backgrounds or career paths. It's amazing how diverse perspectives can deepen a simple case study or a group project. I remember noticing in one class discussion the incredible range of opinions. It was inspiring to see how students' different life journeys impacted how they saw the world. Every experience brings something to the table and the more diverse an environment is, the more everybody wins.
 2. Curiosity enhances social skills
I've always considered myself a social person. However, I realized that it takes more than being friendly to master social skills. It requires time and technique, like any other ability. In addition to tactical networking hacks, like written thank you notes or LinkedIn etiquette, I learned that the best strategy is simply to "be curious about the world." Keep track of what's happening around you, especially beyond your own interests. Read a book or watch a movie that you normally wouldn't. Don't be shy to ask about something you don't know and give others the opportunity to share. The best way to be interesting is to be interested.
3. Community spirit is key for belonging
In one of the courses I audited, the professor was giving away books about the topic we had discussed after the end of each class. "Don't forget to pickup your books, including auditors. We are a community, after all," he said. Something so small as offering books and making them available to auditors made a huge impact on my sense of belonging in that class. Building a community spirit everywhere we go – in our teams, our organizations, and even among our friends and families – should always be a top priority.
4. Learning is a lifelong habit
We are definitely living in an era of more doers than learners. "Who here has a to-do list?" asked a professor, followed by almost everyone raising their hands. "Ok, who has a to-learn list?" he asked again, this time with only three people raising their hands. Sometimes, we get so focused on getting the job done that we forget to pause and dedicate a little extra time to think about what we want to learn. A new language, a new skill, an instrument… Learning is not only about sitting inside a classroom or going back to school. Learning is something we can practice a little everyday – it's a habit that we should all keep.
I couldn't feel more grateful for all the opportunities and lessons (especially those beyond class content) that the Kellogg experience has brought to my life.