Start of Main Content
2020 Bollywood Bash Digital Dhamaka: Uniting a Community Over Zoom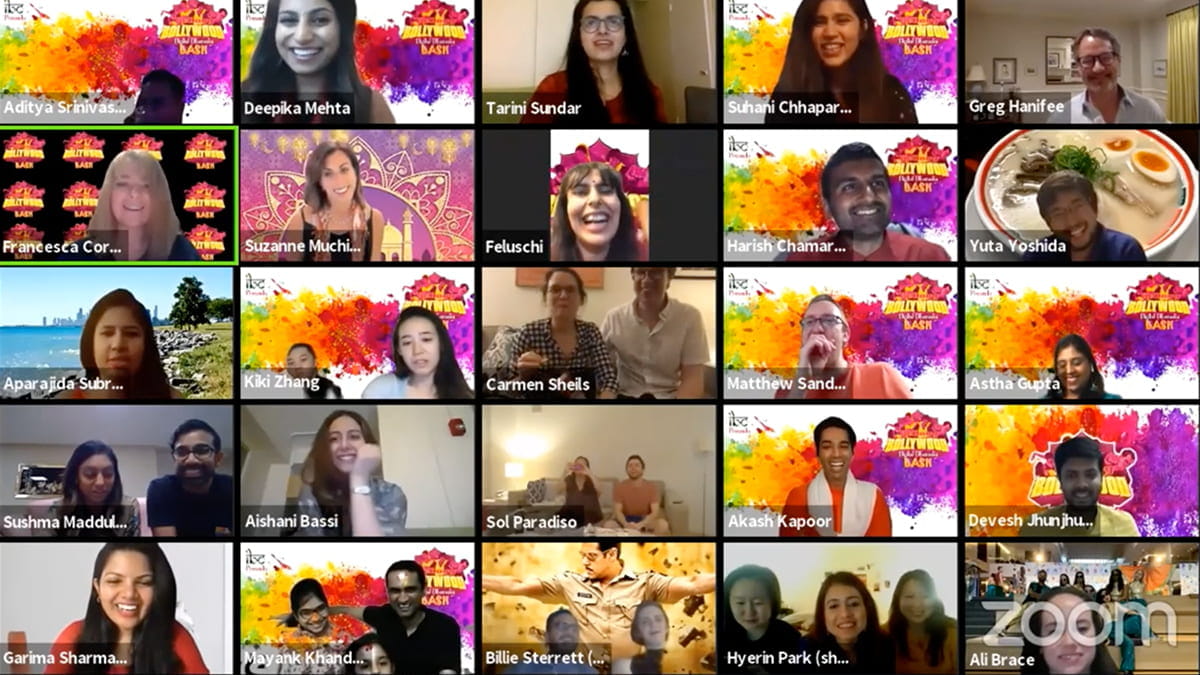 By Akshat Agarwal (2Y 2020), Achal Shah (MMM 2020) and Tarini Sundar (2Y 2020)
Bollywood Bash, an annual event hosted by India Business Club (IBC) at the Kellogg School of Management, is a melting pot of culture that celebrates the diversity of the student body through an extravagant display of Indian dances and short films. Our classmates from across the world spend several weeks learning dances, making short Bollywood movies and immersing themselves in a new world. This year however, with COVID-19 shuttering schools and universities across the world, the three of us were in a fix – How can we deliver a sense of community, belonging and celebration through a virtual platform?
We took the challenge head on by channeling Kellogg's most prized values – teamwork and brave leadership. With a little less than a month to transform the event from an in-person extravaganza to a Zoom 'Digital Dhamaka' (Digital Explosion), the IBC team worked with one clear goal: uniting the Kellogg community while preserving the spirit of Bollywood Bash, eventually delivering what is being termed by the students as  'the best Zoom meeting of the century' and 'the entertainment that 2020 needed.'
#MyKellogg
The cornerstone of any successful Bollywood Bash is active community participation and as we began to prepare for the virtual edition, we were unsure of how Kellogg would respond.
In a span of 15 days, various members of the community came together to host cook-alongs, Netflix watch parties and even a primer on the history of Bollywood; student choreographers worked tirelessly to transform in-person dance rehearsals to Zoom dance sessions, while 120+ students, across Full-Time and Part-Time MBA Programs, took out time on short notice for virtual dance sessions. We were awestruck by the empathy, flexibility and speed with which the Kellogg community rallied together to create a special #MyKellogg moment for their classmates.
In addition, as word spread about a virtual Bollywood Bash, we got significant interest from the extraordinarily talented Kellogg community that wanted to put up solo performances, ranging from Indian classical dances to elaborate remakes of popular Bollywood songs, showing not only their talent but also their commitment and efforts to entertain their classmates in this tough time. We would like to thank all the choreographers, performers and dancers for their dedication and effort in making these performances come to life!
Bollywood, however, goes down best with some delicious Indian food and beverages. We wanted to enable the student community to get the full experience of Bollywood Bash on their couch, so we had to think outside the box. We tied up with a home chef for delivery of delicious Indian meals, providing a small local business with 100 orders in a single night (Dean Cornelli tells us the food was awesome!) and also offered a crowdsourced list of Indian food recommendations and recipes to those who wanted to experiment on their own.
The showstoppers
A stellar lineup of performances and some great food to go along with it, what else does a virtual Bollywood Bash need? Well, unprecedented circumstances called for an unprecedented Bollywood Bash.
In a testament to the culture at Kellogg, some of our most prominent faculty agreed to step outside their comfort zone to put on a show for their students. A huge shout out to Professors Muchin, Hennessey, McTigue, Bassamboo and Calkins who busted out their best moves to retro Bollywood classics while Professor Dale even went the extra mile to do his cameo from inside the Global Hub! They were joined by all the deans of the school — Francesca Cornelli, Fran Langewisch, Mike Mazzeo and Greg Hanifee — in a true display of what it means to come together and support each other in tough times.
And as promised in the name 'Digital Dhamaka' (Digital Explosion), the night had a few blockbuster surprises in store. Kellogg has over 650 students graduating this year. With the current circumstances, the last quarter being made virtual and a delay to an in-person graduation ceremony, we felt that we needed to do something to commemorate our classmates' achievements. Through weeks of outreach to several celebrities, we managed to lock in surprise video messages from lauded celebrities like Aamir Khan, Kartik Aaryan, Vidhu Vinod Chopra, Sonam K Ahuja, Anil Kapoor, Sona Mohapatra and Anu Malik, completely bowling over members of the audience!
Overwhelming response both within and outside Kellogg!
The slack messages and instagram stories are just a small example of what the event meant for our school. The event struck a chord with all of us who have been feeling disconnected from our school in the last quarter of the year. While Bollywood Bash is obviously not a direct replacement for all that, it did go a long way in showing resilience and unity at Kellogg.  In fact, the event was also praised by multiple media publications, calling it the 'coolest online party' of the year.
All in all, the night was an example of how the values of the school shine through even in the toughest of times. Brave leadership from the whole team of organizers and teamwork across the school administration and faculty, all with the view to unite as one strong, united and hopeful Kellogg community even during a time of global crisis.
(We would like to thank all the members of the Bollywood Bash Digital Dhamaka organizing committee for their efforts in pulling this event together: Satvika Ananthanarayan (2Y 2020), Aditya Srinivasan (2Y 2020), Roshan Palli (2Y 2020), Harish Chamarthy (MMM 2020), Navya Bhat (2Y 2020), Shifali Gupta (2Y 2020), Suhani Chapparwal (2Y 2020), Sushma Maddula (2Y 2021), Deepika Mehta (2Y 2021), Akash Kapoor (2Y 2021), Mayank Goyal (2Y 2021), Palak Papneja (2Y 2021), Ayushi Bhatnagar (2Y 2021), Iffat Siddiqui (2Y 2021) and Gaurav Mokhasi (2Y 2021).)