Start of Main Content
Kellogg GIM Class Flies on Zoom Airways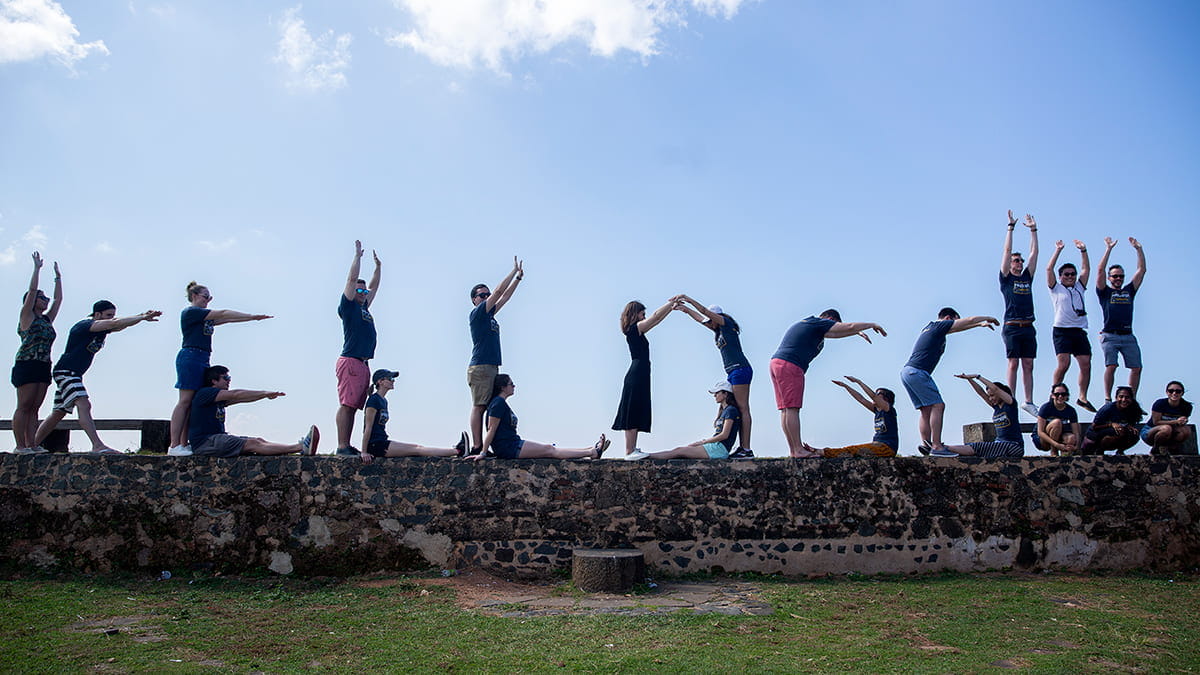 By Matthew Temple '93, Senior Director of Alumni Career & Professional Development
One of my great joys of working at Kellogg is that I've served as a faculty advisor for our Global Initiatives in Management classes for the last eight years. GIM is a cornerstone of Kellogg's International Curriculum and allows students to study the business and market dynamics of a region or country during winter term and then experience them first hand during a 10 day trip over Spring Break.
I've helped set up trips to Japan, South Korea, Vietnam, Myanmar, Cambodia, Sri Lanka, India, Israel, Jordan, and the UAE.  It's incredibly rewarding to travel with our Full-Time and Evening & Weekend MBA students and see a country anew through their eyes.
Virtual travel to Cambodia and Vietnam
Our trip this March to Cambodia and Vietnam was canceled during the COVID-19 outbreak, so we decided to board a Zoom Airways flight instead. We quickly pivoted and changed our company meetings from in-person to virtual. We had been fortunate on previous trips to meet with business and government leaders including the U.S. Ambassador to Vietnam, the Minister of Transport for Cambodia, and several CEOs. This year was no different. Our first meeting was with Henry Nguyen '01. One of the students in a previous trip called him the Mark Cuban of Vietnam. In addition to being the Chairman of McDonald's Vietnam and General Partner at IDG Ventures, Henry is the Vice Chairman and Owner of LAFC, the new Major League Soccer Team in Los Angeles. Henry explained to the students that he was awarded the Master Franchise for McDonald's in Vietnam only after 10 years of persistence or, in his words, "stalking" corporate HQ. It was fascinating to hear him describe the challenges of having to build a supply line for eggs in Vietnam to comply with the strict standards of McDonald's. Henry also explained how McDonald's has had to pivot to drive thru (motorbike) and take out during COVID-19 when customers cannot dine in.
We zoomed across Ho Chi Minh City the next day to meet with Anh Le '15. Anh worked in Strategy and Business Development for Cargill in Singapore before becoming the CFO of Seedcom a year ago. Founded in 2014, Seedcom is a new retail group that has grown by 150% each year in the last four years. Anh explained how their Coffee House chain has grown to 165 locations in less than six years to become the No. 2 coffee retailer in Vietnam. Their ordering app is very popular with Vietnam's younger consumers. In addition, Seedcom delivers over eight million packages per month.
Finally, we ended our trip in Phnom Penh, Cambodia where we met with Bora Kem '11, who is a Partner at Mekong Strategic Partners. Bora spoke about his journey from Cambodia to Dartmouth and Kellogg before returning to Cambodia. He talked about the investments his firm has made in financial services, technology, renewable energy, infrastructure, and sustainability. Cambodia's average annual growth rate of 8% over the last twenty years had helped lift many of the 16 million people out of poverty.
The students were divided into five research groups focusing on Consumers, Fintech, Ecommerce, Private Equity & Venture Capital, and Smart Cities in Frontier Markets. They did a great job of navigating language differences and time zones to conduct virtual meetings and interviews with business leaders in Cambodia and Vietnam. Their final presentations were excellent.
What was gained
Travel is perhaps the most immersive of all experiences. While Zoom is great, it can never replace going on a trip and exploring the monuments of Angkor Wat, taking a motorbike food tour of the back alleys of Ho Chi Minh City, ducking behind a grandmother to wade through the endless stream of motorbikes while crossing the street, shopping in the Ben Thanh market, getting a massage at the Lotus spa, or gathering for a late night drink in a rooftop sky bar overlooking the amazing skyline. There is an energy and sense of mission in Frontier Markets that can only be experienced in person.
However, Zoom enabled us to gain a much better understanding of the profound socioeconomic changes occurring in Cambodia and Vietnam. It provided a more comfortable platform to participate for some of our students who might have a preference for introversion. And while we didn't earn any frequent flyer miles, we also didn't create any carbon emissions. Still, when things return to normal, we all are looking forward to having a reunion on the third floor sky bar at the Five and Dime and admiring the Evanston skyline.