Start of Main Content
Students Organize the First Student-Led Trek to India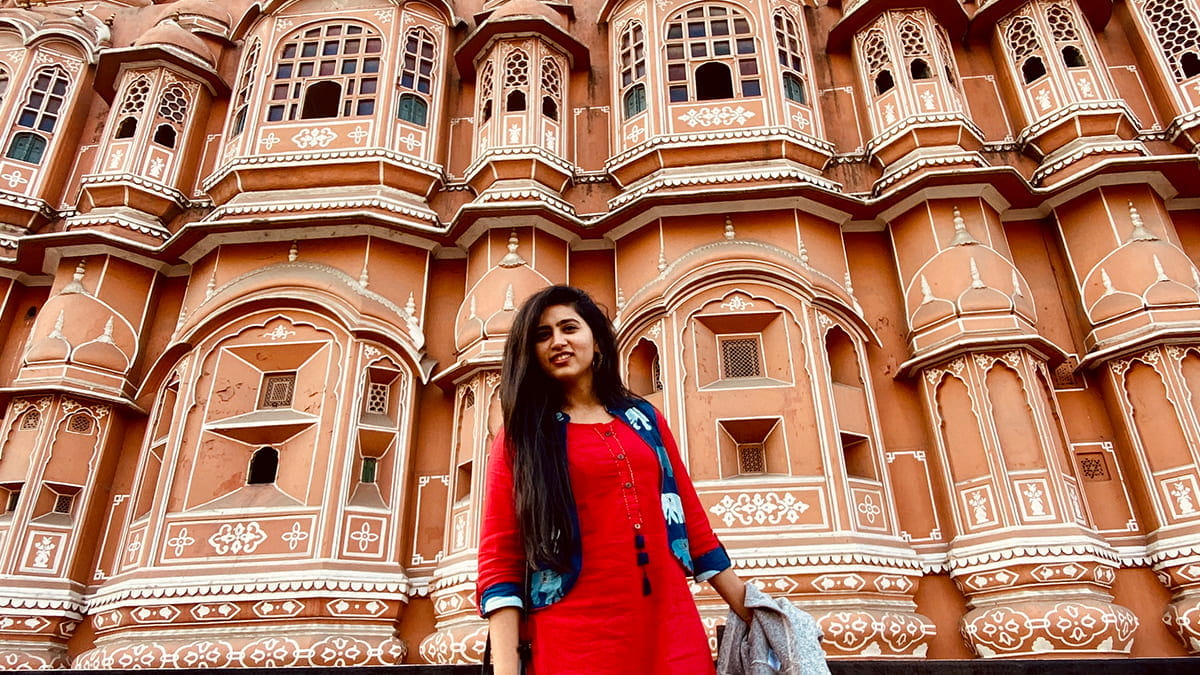 [As we at Inside Kellogg continue to bring you coronavirus-related coverage, we will also publish posts from current students that focus on events from before the stay-at-home order. We're looking forward to the day we're all back on campus together, and wish you health and safety for the time being.]
By Suhani Chhaparwal (2Y 2020)
"I'd love to go to India. I was raised in Texas and while I go to India often to see my relatives, I never see much outside the house." When a friend mentioned this to me in April 2019, I was intrigued, as our classmates had just returned from a successful China trek with a lot of appreciation for the fellow students who had curated the experience. In the eight months since moving to the U.S., I had gained a good understanding of perceptions about India and how intimidating some find it to travel there alone. I felt confident in the potential interest for the first ever student-led India trek.
Curating an experience
Our group of leaders (we called them "hosts" sometimes) came together quickly. The opportunity to introduce our country was exciting to many, and personally, heartening for me to have a group of friends to work with. Most leaders came from different regions within India, which meant we were creating an experience for say, Mumbai, by someone who was from Mumbai. With a committed team in place, we floated an interest survey to our classmates with our fingers crossed.
After a few months of planning and organizing, it was confirmed: thirty people had signed up, explaining their interest in the history, culture, food and modern life in India. Leading up to the trip, we organized meetups to celebrate Diwali (photo), to watch a quintessential Bollywood movie and spur conversation regarding what they would witness and experience. We even started a book club where many read "The White Tiger," a book best known for the social commentary on the many realities and complexities of life in India.
The trek takes off
The trek met in the capital city, Delhi, and went on to cover "The Golden Triangle," including Agra and Jaipur in the first leg. Despite the backdrop of an unfortunate smog and jet lag, the group was raring to soak in all the sights and information that we, as leaders, eagerly shared with them. Amidst stories and tours of Old and New Delhi, an introduction to religion in India through guided visits, a cooking class, shopping trips and rich North Indian food experiences, the upheld image of India was beginning to add dimensions. This was also the same time a nationwide protest was taking place over a new law in India and we made sure to include details, as well as our perspective, for the benefit of the group throughout the trip.
The Taj Mahal was a highlight for us befitting its "Wonder of the World" recognition. I had visited once before as a kid, but this time, it made a lasting impression. As we toured the monument, it became easy to grasp the riches, both actual and in skill, that once defined the land. Jaipur, in extension, included palace tours and a heritage hotel experience with folk dancers and henna artists adding to our celebration of the colorful Indian culture. By day six, one of our mates commented, "This is actually a food trek that happens to be in India," as she tried to finish her 'thali', a traditional platter with an extraordinary amount of food.
Next up, Kerala in South India. The beach resort in Kovalam was a two day respite for the crew to relax with ayurvedic massages and a very different cuisine. The down time was also meant as a chance for people to reflect and share their thoughts with each other. The diversity, which is oft-mentioned in the same breath as India, was evident to our group by now. The group had caught on too – every bus ride became an impromptu discussion about many aspects of life in India; and the best discussions were when the other Indian leaders and I often had differing viewpoints given our unique experiences across different cities.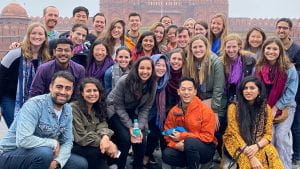 The last stop was my home, Mumbai, the metropolitan vibe that's been captured in books and movies before but can be felt only in person. The local trains, narrow-lane markets, nightlife, street food and, as one of our friends observed, the coexistence of slums and rooftop bars in the same block. The British influence on the country is best preserved in the architecture in South Bombay. But today, it's a melting pot of migrants from within India and i'ts reflected in the food and blend of people you see. I had tapped an old college friend to help organize a Bollywood dance class which was the fun, energetic ending we wanted for the trip. Our 'foreigner' friends who were visiting India for the first time now felt comfortable taking rickshaws and saying no to hawkers' first price even if by gestures! I could tell, they were more confident for onward journeys to Goa or other towns they were visiting, and I was content at this comfort with our country that we leaders had helped facilitate.
The value of cultural appreciation
Turns out, we also managed to fuel an interest in India that can sometimes only be achieved by understanding. Starting with the philosophy that a cultural appreciation is the precursor for business interest in India, I believe it is an enriching trip to take while pursuing global-mindedness during your M.B.A. We, as a group, continue to exchange thoughts on current events and culture – all united by our ten action-packed, information rich, and memorable days together on the trek. Most of all, I hope this sustains as a Kellogg tradition for any student who really wants to experience India.