Start of Main Content
EMBA Cohort Mobilizes to Protect Healthcare Workers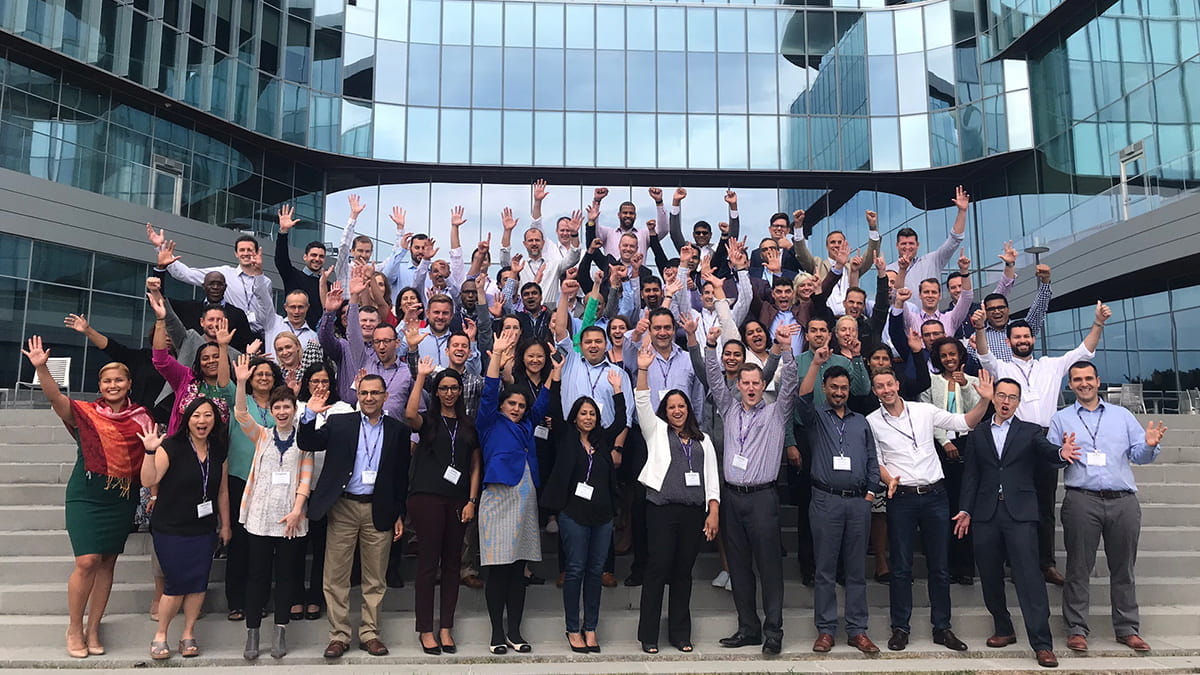 By Matt Castelli (EMBA 2021)
Written on behalf of EMBA Cohort 120
It started with a feeling of helplessness. Heeding the admonishments to stay the "bleep" at home, trying desperately to keep our businesses afloat confined to our couches, learning to teach our own kids. All to slow the spread and flatten the curve of the novel coronavirus, COVID-19. Not just to protect ourselves and our loved ones from infection, but to stem the tidal wave of hospital admissions threatening to overwhelm our healthcare system and risking even greater loss of life. And as we adjusted to this new reality thrust upon us, we watched as they continued to report to the workplace, uniquely putting themselves in harm's way.
They are our parents, our aunts and uncles, our brothers and sisters, our friends and neighbors, our partners and spouses, our Kellogg classmates. They are healthcare workers on the frontline in combatting the rapid and devastating effects of COVID-19. As they continued to show up for work, we grew anxious around reports of skyrocketing infection rates, of emergency rooms and intensive care units quickly exceeding their capacity, of critical shortages of personal protective equipment (PPE), and that healthcare workers themselves were falling ill, some even dying.
Despite certain risk of exposure, they continue to show up for work putting themselves in harm's way to care for us. Although one of the most important things we can do to help them is to stay home, it is at home where we felt most helpless. How could we possibly help protect these heroes that we love as they rush toward danger, to equip them to do their job, to take care of their basic needs all while confined to our living rooms? That feeling of helplessness can be justifiably paralyzing for most, but for leaders – it becomes a call to action.
Mobilizing
Kellogg's EMBA Cohort 120 is full of leaders. Mid-career professionals, current or aspiring executives, all balancing the demands of a full-time career with Kellogg's Executive MBA education. EMBA 120 comes from a diverse set of backgrounds and industries. From IBM to CIA to the NFL, from Pastor to Venture Capitalist, from Consultant to Educator, and of course – Healthcare Professionals. We have multiple frontline physicians and clinicians in our cohort. We also have many others in the healthcare and medical technology sectors, working to ensure that health providers have the resources necessary to provide care during ordinary times. But these times were far from ordinary.
From home, we organized a weekly, virtual cohort meeting to brainstorm how we might support healthcare workers on the frontlines. Our cohort's physicians and clinicians updated us on the significant challenges they were seeing on the ground in Chicago and Washington, DC. Shortages of PPE threatening the health and safety of frontline healthcare workers quickly became the central focus of our attention.
The value of a network
Two of our classmates, Drs. Smitha Arekapudi and David Press, had been exploring opportunities to get PPE manufactured but chasing down every lead on top of their critical work as providers often proved deflating after hitting dead ends in many of the rabbit holes they explored. That's when the cohort stepped up to help. We leveraged the collective engineering, program management, fundraising, and communications expertise to launch an initiative –Every Hero Needs A Shield. Our goal is to leverage the Kellogg network of students and alumni to get face shields to frontline healthcare workers through a dual-pronged approach.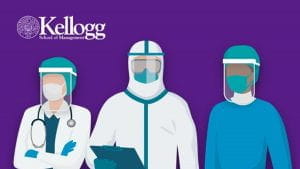 We are fundraising to source and distribute face shields for frontline healthcare workers. Face shields are being used in an essential way to extend the life of the dwindling N95 mask inventory, while protecting doctors, nurses, and healthcare team members from contamination. We have identified a supplier and are continuing to hunt down others to put donations to work that maximize the number of face shields we are able to source and distribute. We are also mobilizing the Kellogg network to get 3D printers and injection molding capabilities into the fight to produce face shields. Individuals and companies with access and expertise to 3D printing and injection molding can leverage the site to volunteer. From hobbyists to manufacturers, we'll get these volunteers a design and guidance on how they can produce face shields for us to distribute. To date, we've raised enough funds to source and distribute hundreds of face shields but we're looking to the Kellogg network of students and alumni to push that number into the thousands.

Returning to Kellogg principles
During launch week, our cohort established a foundation of key Kellogg principles as a commitment to our education and one another – Lead with Purpose, Achieve Together Through Collaboration, Promote Community Success, Deliver High Impact with Low Ego. Now, at this critical moment of crisis, we return to these principles once again for inspiration and guidance to uphold—rallying together to support healthcare workers in greatest need.
At a time when we might feel most helpless, Kellogg is always there to help.