Start of Main Content
Insider Application Tips for Kellogg's Executive MBA Program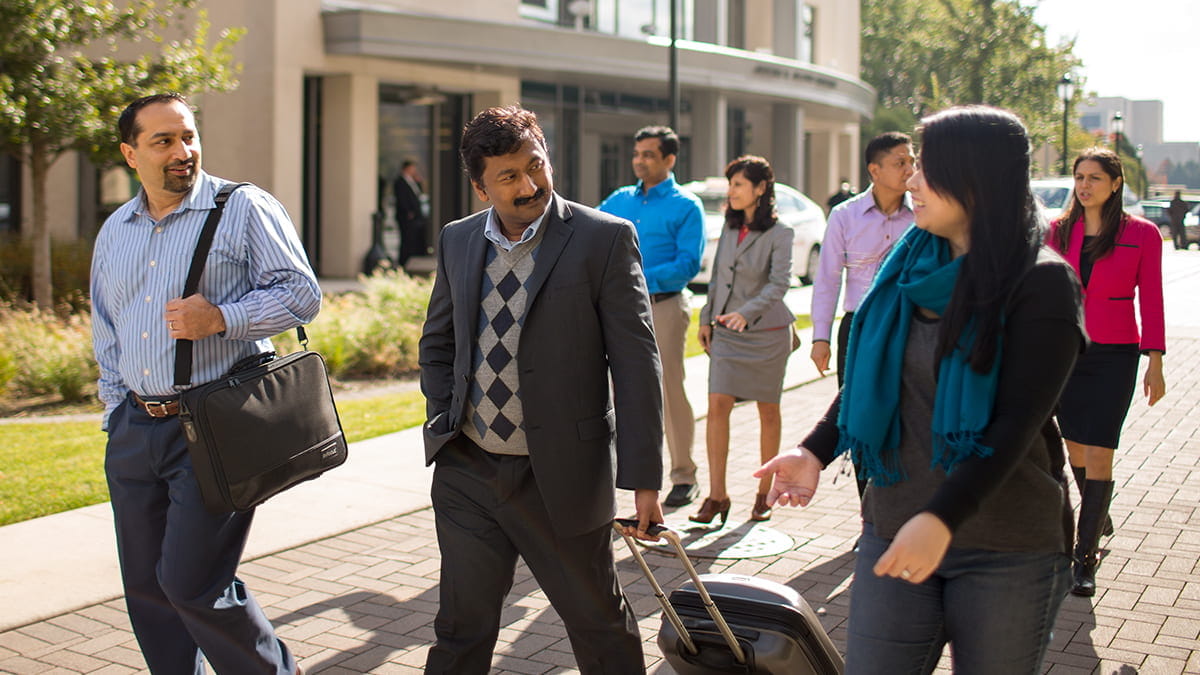 by Dustin Saunders, Director of EMBA Admissions
About to apply to the executive MBA program but want to make sure you cover all the bases? We are here to help.
First, a few suggestions on connecting with us and timing your application:
Schedule a resume review or admissions chat with our team to give you a chance to see if Kellogg is right for you and to get your specific questions answered before you even apply. It's a great way to really feel prepared.
Apply early. We offer rolling admissions. In each class, there are a limited number of seats and our admissions team handpicks students for optimum diversity of experience and expertise. Getting your application in early may help you stand out.
Plan ahead. We try to make the application process as smooth as possible, but consider the time it may take to obtain recommendations, transcripts, sponsorship and complete the essays. Most applicants prefer to have at least 1-2 months to complete an application.
Next, here are six key ingredients for a strong executive MBA application:
Engage your employer. Employer sponsorship is easily one of the most-asked-about portions of the application. You must provide a letter of sponsorship from your employer indicating that they will be supportive of your educational goals. This sponsorship means they will not try to keep you from class and will not ask you to use sick or personal days to attend class. Please note, this is a time-sponsorship letter. You are NOT required to have financial sponsorship.
Curious about how to make the case to your employer? Look no further than this helpful guide.
Share your story. We want to know who you are and where you want to go. Your essays, along with your resume, offer a great opportunity to for you to tell us about yourself. Since purpose-driven leadership is an integral part of the Kellogg experience, our first essay asks you about what you want to achieve in your professional life. Discuss specifics such as what you've already done to get there and how you think Kellogg can help you.
Go one step further and in the second essay, reflect on the values that have guided you in your life and work. What values are important to you and how have they influenced you?
We encourage you to offer details on your involvements and activities outside of work, such as passions, hobbies and interests. Who you are as an individual will inspire how you shape your time at Kellogg.
Provide your resume in the format you prefer. Your resume helps give us an understanding of your career path, so try to keep it high-level and avoid extremely technical language. Since your resume will be reviewed by the admissions committee and your interviewer, we suggest you make sure your bullets make sense to folks who may not be as intimately familiar with your job responsibilities.
Prepare your recommenders. We ask for two letters of recommendation. The first should come from your current supervisor; the second should be from someone senior to you who knows you and your work experience well. When you first reach out to the individuals whom you'd like to write your recommendations, indicate to them why you are interested in Kellogg and discuss your career accomplishments and career goals.
Don't forget academic transcripts. We ask that official transcripts be submitted to consider the application complete and ready to be reviewed. Depending on the undergraduate institution, this step can sometimes take a while. The upshot: Don't put this last on your to-do list. And standardized test scores are NOT required for our EMBA applications.
Be yourself in your interview. All applicants are interviewed after submitting their application. Culture and fit are two of the many important factors we take into consideration when evaluating applications, so it's important for us to get a better idea of who you are outside your application.
Now that you're equipped with these insider tips, we hope you feel ready to start your application with confidence. If you get stuck and want to consult with us at any point, please do not hesitate to reach out. We can't wait to hear your unique story!