Start of Main Content
Finding Footing in the Black Management Association at Kellogg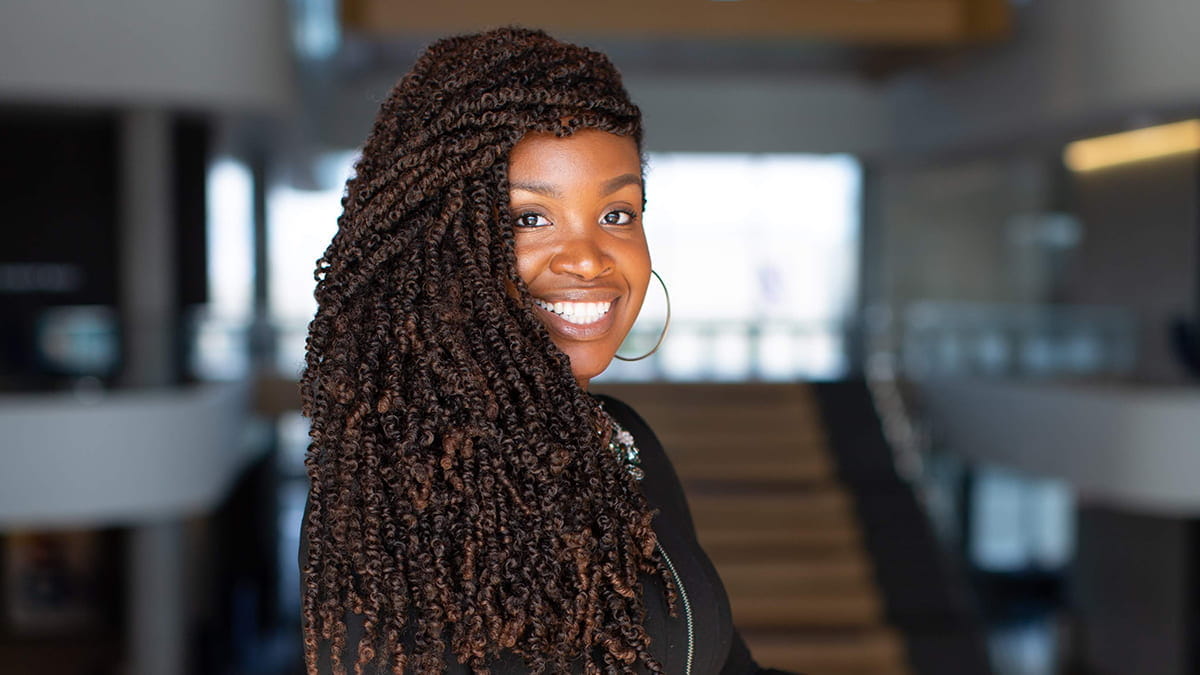 by Dabney Jean, MMM 2020
Co-president, BMA
The Black Management Association is the premier affinity club at Kellogg dedicated to the advancement of our current and prospective African American students on campus. The BMA does this in three buckets: socially, academically and mentally. Our members are the core of what we are on campus, and we strive to connect through frequent social activities to build and maintain relationships, providing opportunities to fortify learning principles for a successful classroom and job search experience. Lastly, we cannot forget the importance of mental health. Within the BMA, we've built a community that creates spaces to tend to the mental health of our members, ensuring we have the necessary tools and resources to give the right care to our members.
The Black Management Association: more than a community
Prior to Kellogg, I worked at a large financial services firm and constantly felt like I was gasping for air. Each day, I was trying to swim but always ended up in deep waters high and forceful enough to drown me. It was tough to succeed as I competed in an environment where I was the minority, both Black and female. I struggled to relate to my co-workers and although my work product stood for itself, I never felt "at home" at work and therefore spent six years at a job where I rarely ever felt comfortable. I needed a community and network that would help me acknowledge my flaws, fortify my strengths and build a level of confidence that would allow me to feel comfortable shedding the skin that kept me guarded for so long.
I got accepted to Kellogg in the spring of 2018, attended DAK II and was immediately connected with the BMA community. I was given a BMA buddy to meet at DAK, attended career prep calls over the summer, joined a BMA family and took on a first-year director role in the fall. However, I was heavily involved in the BMA not because of my affinity to it, but because of the community it provided and the people that genuinely supported me. I was able to be honest about my insecurities and how I wanted to change those insecurities so I can be an equipped leader post-graduation. In the BMA, I was not met with judgment but with people who identified with my struggle, offered advice on how I can overcome it and also put me in uncomfortable positions that would force me to change. The BMA to me was more than just a community, it was the stomping ground that propelled me to reach my personal goals, to acknowledge and accept the person that I am, but most importantly, build the confidence I needed to walk into any room and embrace the presence that I brought in. I'm indebted to the people and resources that the BMA gave me to get to this point.
Running for co-president
Ever since undergrad, I lived by the motto "Lift as you climb." I acknowledge and respect the platforms that helped me get to where I am, because let's be honest… no one ever does anything on his/her own. I've always given back to the organizations that invested in me, and in the winter of 2019, I decided I wanted to run for co-president of the BMA. I felt so strongly and positively about the BMA and wanted to focus on three things in my tenure: preserving the legacy of the organization on campus, increasing the BMA's visibility on campus, and, most importantly, creating avenues for our members to feel both personally and professionally satisfied.
I ran for BMA co-president because I wanted to support our members the same way I was supported, I wanted to create and preserve a community that helped me find some of my closest friends and I wanted to spread BMA across campus so that all of Kellogg could feel its impact, not just our members. As the BMA co-president, however, I got more than a title. As BMA co-president I got a role that allowed me to confidently use my voice as a platform to champion an organization and people that have the power to effect change and impact for years to come. I am so proud to be a part of this organization and can only hope that my legacy lies in the exhibited passion of both myself and the amazing executive board.