Start of Main Content
EMBA Students Preserve History and Nature in Miami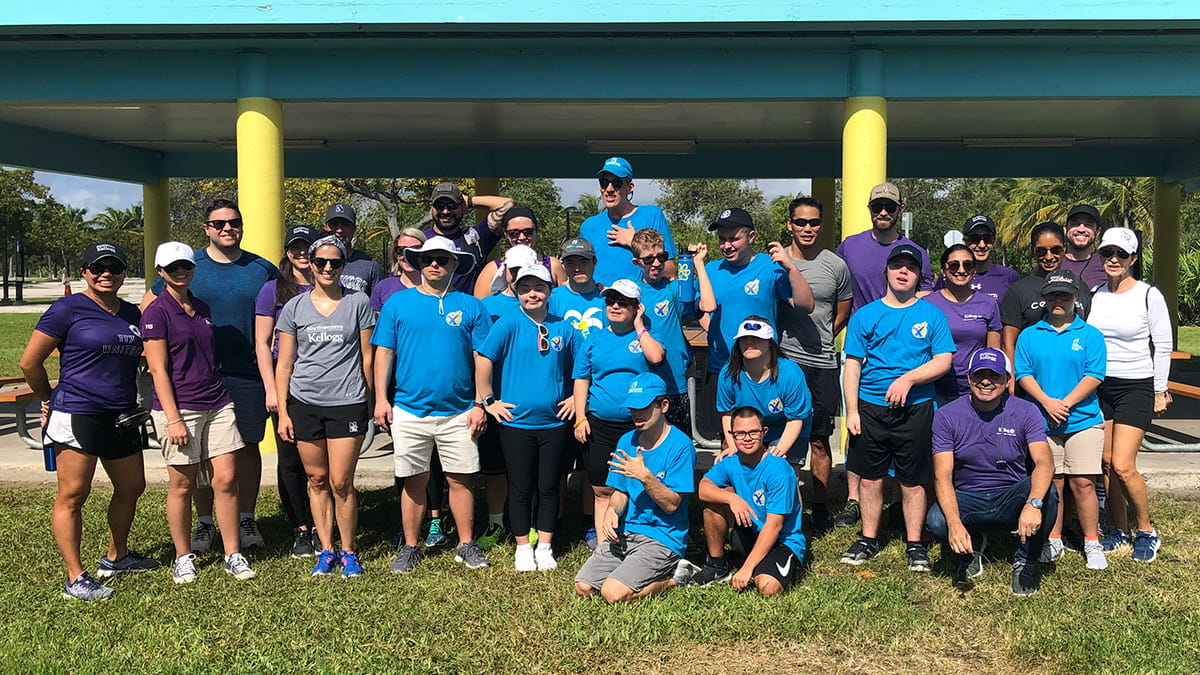 by Jinita Thakkar, EMBA 2020
Led by students from Cohort 119's community builder committee with enthusiastic participation from fellow Miami Cohorts 117 and 121, Kellogg Miami staff and students and faculty of the Miami Learning Experience School cleared nearly 70 pounds of debris from the beautiful shorelines of the Historic Virginia Key Beach Park in Key Biscayne, Florida as part of our continued effort to make an impact on our local community.
We selected Historic Virginia Key Beach Park for our beach clean-up partner not only due to its alignment with the Kellogg values: "Lead with purpose, promote community success, achieve together, and deliver high impact with low ego," but also for its rich history as an advocate for diversity in the local Miami community and beyond.  The park was founded in 1945 as the first beach for people of color after a series of wade-in protests that happened at Haulover Beach and Crandon Beach. Very quickly thereafter, the park went through a renaissance in the 1950s with the creation of amenities like a carousel, concessions stand and mini-train.
Sadly, and primarily due to local politics and divergent economic priorities, the park was shut down for 26 years from 1982 to 2008.  In order for the park to be reopened, citizens marched on city hall and demanded the beach be reopened to the public. Since then, the Historic Virginia Key Beach Park has transformed from a haven for people of color during a difficult time in American history to providing a safe place not just for humans but a variety of wildlife endemic to the coastal dune and tropical hardwood hammock ecosystems. This persistence and determination to maintain the park's existence and continue its beautification was truly an inspiration for the volunteers.
Moreover, including the Miami Learning Experience School — with whom Cohort 119 first partnered in July of this year through the Miami Nice Fundraising Gala — in this effort enabled us to bring together two great organizations providing essential services to the community. MLE is a nonprofit organization which provides education for children and adults with intellectual disabilities. It was truly rewarding to build on our partnership with MLE through another joint event creating what we hope to be a long-lasting partnership.
Together, we all enjoyed a beautiful Miami morning proudly embodying the Kellogg values we hold near and dear to our hearts. In the words of our host and the park's education and outreach coordinator, Charlie Weyman, the "Kellogg students came to the park with a positive and determined mindset to come help the historic beach. That resulted in the group picking up 70 pounds of trash! We could not be more pleased with the effort. Historic Virginia Key is looking forward to future endeavors with the Kellogg EMBA program and Northwestern University at large."
To our partners at the park, we look forward to the same and hope to make this an annual Kellogg Miami EMBA service event.