Start of Main Content
Kellogg's LGBTQ+ Leaders Reflect on Pride Week's Continued Success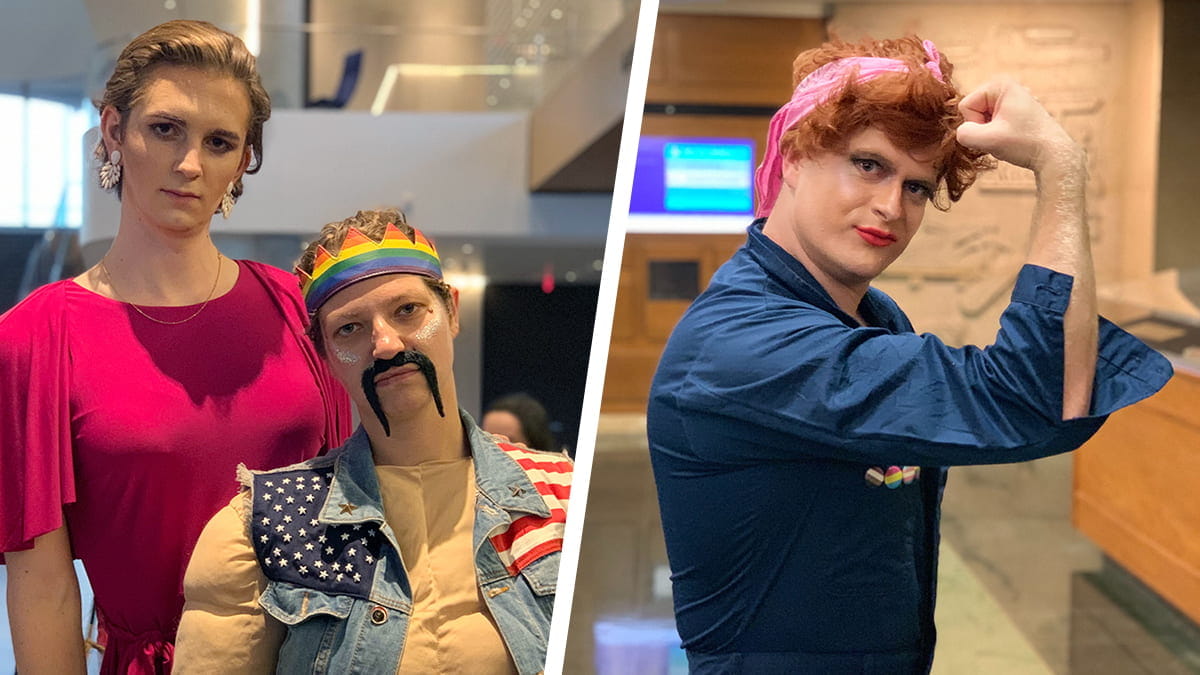 by Billy Sterrett, 2Y 2020, and Mark Odden, MMM 2020
Every October, the Global Hub dons the rainbow flag as the entire community comes together in celebration of its LGBTQIA+ members. In this post, two officers of Pride@Kellogg share the experience of organizing the event and being out and proud at Kellogg. 
Billy Sterrett, Pride Week Chair and P@K VP of Partnerships
When I came to Kellogg I wasn't sure how 'out' I would be. I had only just come out to my family and friends and wasn't sure if I was ready to be out professionally. Five weeks into the first quarter I found myself on stage in a floral jumpsuit pirouetting to 'Dancing Queen.' Pride Week was a celebration of something I had hidden in shame for most of my life. It helped me see the vibrancy and strength of the LGBTQ+ community and how strong of an ally community I had at Kellogg.
As a second year, I wanted to pay back the gift that Pride Week gave me by putting together a week that would make P@K members feel valued and give them a chance to share their experiences with the community. With the help of a HUGE team (at last count, 20+) we put together a week that explored and celebrated all facets of the LGBTQ+ experience and being a part of it has been one of the proudest moments of my life.
Mark Odden, Co-President of P@K
I remember my first Pride Week: Rainbow streamers catching the morning light. Every LGBTQ+ flag waving in Gies Plaza reflecting the energy of students bustling through the building. I had probably never seen so much pride outside of parades.
The decorative transformation is emblematic of a profound change that takes place at Kellogg during Pride Week. Perspectives are broadened, and students have fun and escapethe stress of early recruiting season. The week is packed (pun intended) with P@K programming — from a keynote speech to panels on BTQIA+ perspectives and intersectionality to the "Hear My Story" event centered around queer students' experiences from around the world. The week sets the stage for LGBTQ+ students to share their experiences and outlook with the broader student body and strengthen the amazing ally community at Kellogg. It also allows those who identify as LGBTQ+ to learn from each other and bond more tightly as a community. Our goal was to have everyone walk away from the week having discovered a new perspective and this year we certainly succeeded.
Pride Week culminates in one of the biggest student events of the entire year — Drag Showcase! — Where first year and 1Y sections compete to put on the best possible group drag performance and raise money for LGBTQ+ charities in Chicago. It's one of the first section bonding experiences and one of the most fun events of the Kellogg year (ask any student who went). Not only is it hilariously entertaining, it's also a learning opportunity for our allies.
Performers all attend a training session to highlight drag's history, importance to the LGBTQ+ community, and relation with gender identity. A favorite local drag queen teaches our fledgling kings and queens what it means to be respectful to drag as a performance art. Kellogg is one of just a few MBA programs with a long running drag event. Ours is intentionally focused as a learning opportunity as well as a night of frivolity. P@K Section Allies join in the promotion for the performances and share in educational outreach.
Pride Week embodies the supportive, pay-it-forward mentality of the school and gives LGBTQIA+ students a platform to highlight topics that matter to us as a community. I came to Kellogg to meet and learn from people who are very different from me. The flip side of that coin is being able to share my experiences with people who haven't looked at the world through my lens. Pride Week gives us that opportunity many times over.
If you are considering Kellogg and would like to learn more about Pride@Kellogg's supportive community and impressive leadership opportunities, visit the P@K website for prospective students.