Start of Main Content
EMBA Miami Cohorts Come Together for Hurricane Dorian Relief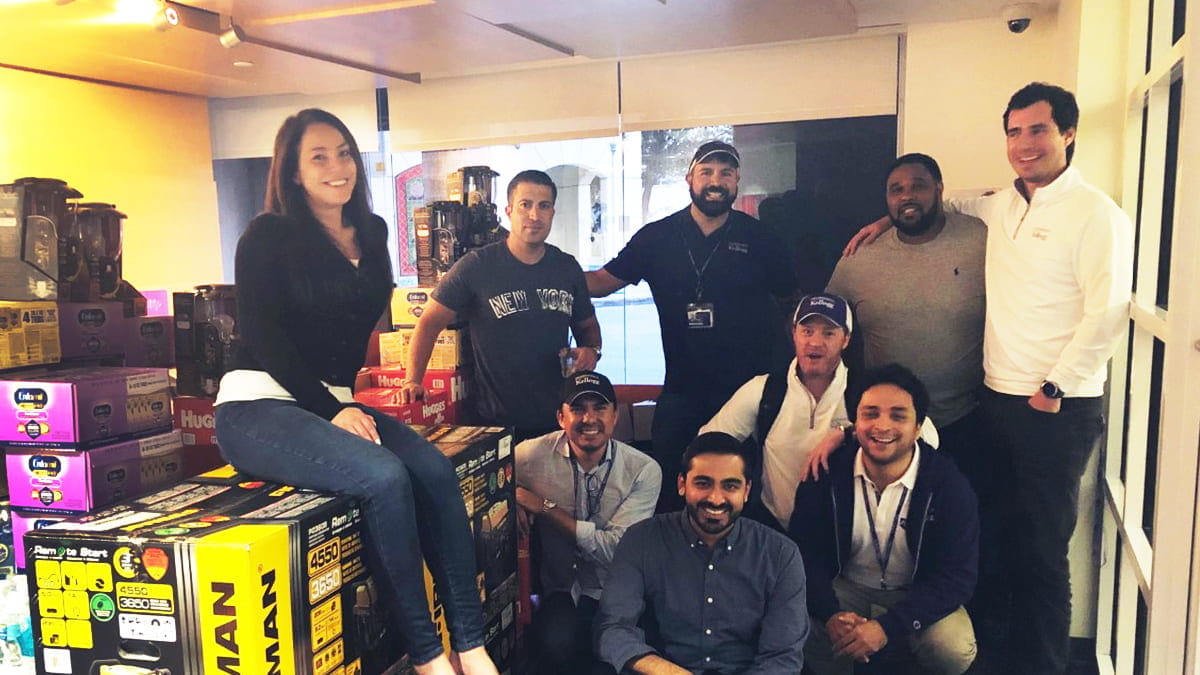 by Heather Gedman, EMBA 2020
Leading with a purpose, achieving together through collaboration, promoting community success, and delivering high impact with a low ego: These are our guiding principles. We thought, what better way to implement all of those four principles for a great cause?
Due to the Bahamas' close proximity to Miami, and its impact on the local community, we as Cohorts 117 and 119 felt obligated to help the impacted areas by Hurricane Dorian. Hurricane Dorian spanned more than 280 miles across at its peak strength, big enough to cover that distance and still wreak havoc in both places simultaneously. Dorian had wind gusts over 220 miles per hour as it essentially parked itself over the tiny archipelago that makes up the Abacos Islands of the Commonwealth of the Bahamas.
This small island paradise is frequently visited by Floridians for its picturesque white-sand beaches and crystal-clear blue waters. Tourism is its primary source of revenue and jobs. In early September, this idyllic island life in the Bahamas came to a halt when Dorian came bearing down on the nation and turned it into a disaster area.
As of October 3rd, the death toll in the Bahamas from Hurricane Dorian is 58 souls and counting. More than 600 people are still missing. I don't ever want to imagine the chaos that must ensue for 600 people to be missing for nearly a month. Homes have been leveled, buildings completely destroyed. Ports and airports are damaged. Hospitals are overflowing with injured people and short on supplies. How must the survivors feel? What can we do?
I've lived in South Florida my whole life. The Bahamas is a 50-minute plane ride from Fort Lauderdale. So much Bahamian influence exists in Miami and Florida that it's practically unavoidable. The Miami EMBA program is mighty, and I knew we had to make an effort to do something small to help our neighbors in this dire time of need.
We came to class on September 5, a mere three days after Dorian made landfall in the Bahamas, after days of uncertainty as to whether Dorian would hit the Florida coast as well. I reached out to several classmates about what we could do, and we agreed to focus on a fundraiser and drive to collect disaster relief supplies for the Bahamas. After some scrambling, in about 48 hours, Miami EMBA Cohorts 119 and 117 raised over $4,500 for the Bahamas Dorian victims, but the magic didn't stop there.
Five of my amazing classmates grabbed two SUVs and went to the store and bought everything photographed from the lists of required supplies: generators, diapers, baby formula, batteries, water, non-perishable food and flashlights. Then, half a dozen students from both cohorts came back to school with four personal SUVs and transported everything to the City of Coral Gables Fire Department to get the supplies to their pickup point. We were told by the City of Coral Gables that our donation would fill about one-half of a rescue relief plane headed to the Abacos.
I couldn't be more proud of the quick action and amazing teamwork of our cohorts, as we serve to live the mission statement of Kellogg for building our community and practicing what we preach with high impact and low ego. There's certainly more work to do, and we encourage everyone to donate their time or a few dollars to any number of the reputable organizations helping with Bahamas Hurricane Dorian relief efforts.
For more information on how you can help victims of Hurricane Dorian, visit the American Red Cross.