Start of Main Content
Jimmy John Liautaud Shares His Story with EMBA Students in Miami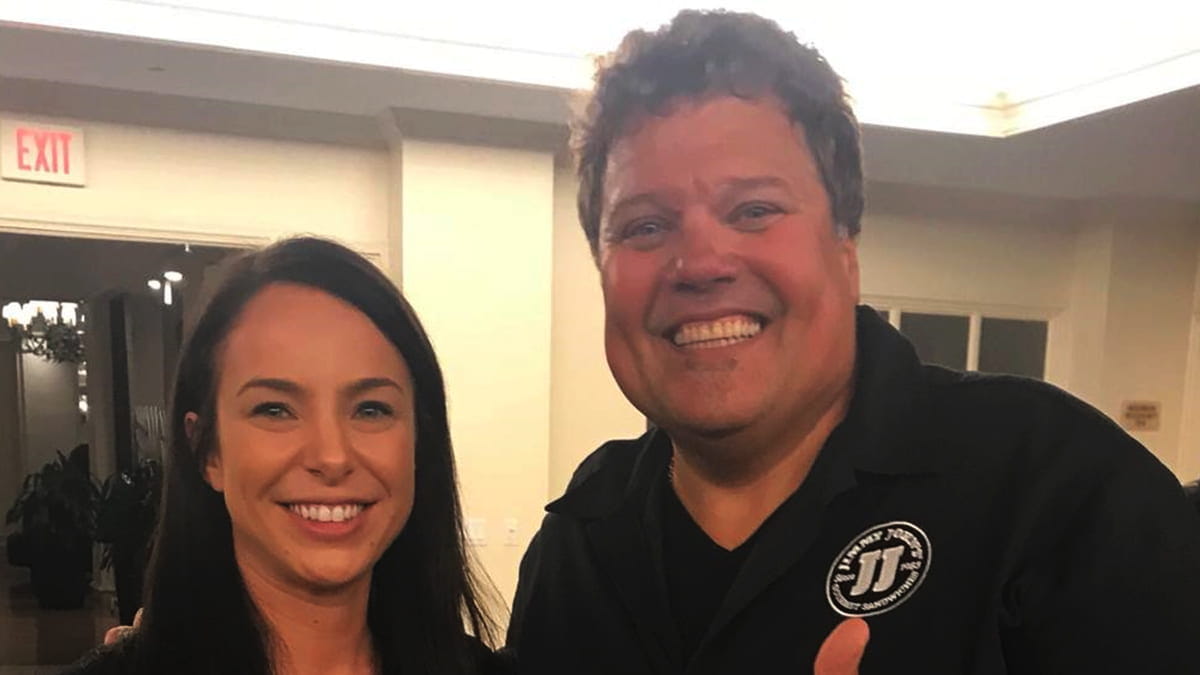 by Megan Lamparski, EMBA 2020
On March 7, Jimmy John Liautaud, founder, owner and chairman of Jimmy John's, spoke to Kellogg Executive MBA students in Miami. He shared his story and how he grew the Jimmy John's company from scratch. Jimmy's casual high-energy style offered our MBA group a combination of real-life business lessons and edge of our seat anecdotes, including some of his most memorable milestones and deeply personal experiences.
Jimmy gave us a two-hour journey into his life wearing his heart on his sleeve. I found Jimmy to be a dynamic speaker who kept us thirsty to learn more. He found a way to take us on his journey in his humble and genuine style, sharing both his vulnerabilities and his successes.
Jimmy's goal is to be known as the "best not the biggest" sandwich shop in the country. He described in detail how system and procedures became the basis of his overall success from the very beginning. With a focus on his employees and Jimmy John's owners, he explained, the "secret sauce" behind a consistent, high quality franchise ranked at the very top in its category. Jimmy John's Freaky Fast! Freaky Fresh!® motto, he explained, guides every decision made, training and the culture throughout the organization.
Topics ranging from the early days of his business, the growth, scaling the business and strategy dominated the first half of his presentation, followed by a highly engaging Q&A session that revealed a genuine honesty-driven charisma, likely responsible for his massive success. In one instance, he was asked about his decision-making process where he explained, how he surrounds himself with eagles and not ducks, passing the credit to those around him. That may be my biggest leadership takeaway from Jimmy's speech. Other key takeaways included core principles such as:
Develop trust: without it, you cannot function. Trust yourself, your team, and your customers and it will yield positive results.
Work hard for others' success: a critical ingredient for your team's success.
Avoid debt: Jimmy's zero-debt philosophy through the years gave him a tremendous competitive advantage.
Play where you can win: an important aspect of his decision-making process.
Hard work, discipline, and dedication has been the common denominator throughout Jimmy's life, all necessary for success in life. In addition, the importance Jimmy places on transparency, giving back, courage and determination all hit home for me. These are the standards that I strive for in both my personal and professional life.