Start of Main Content
Life on the Kellogg EMBA Miami Campus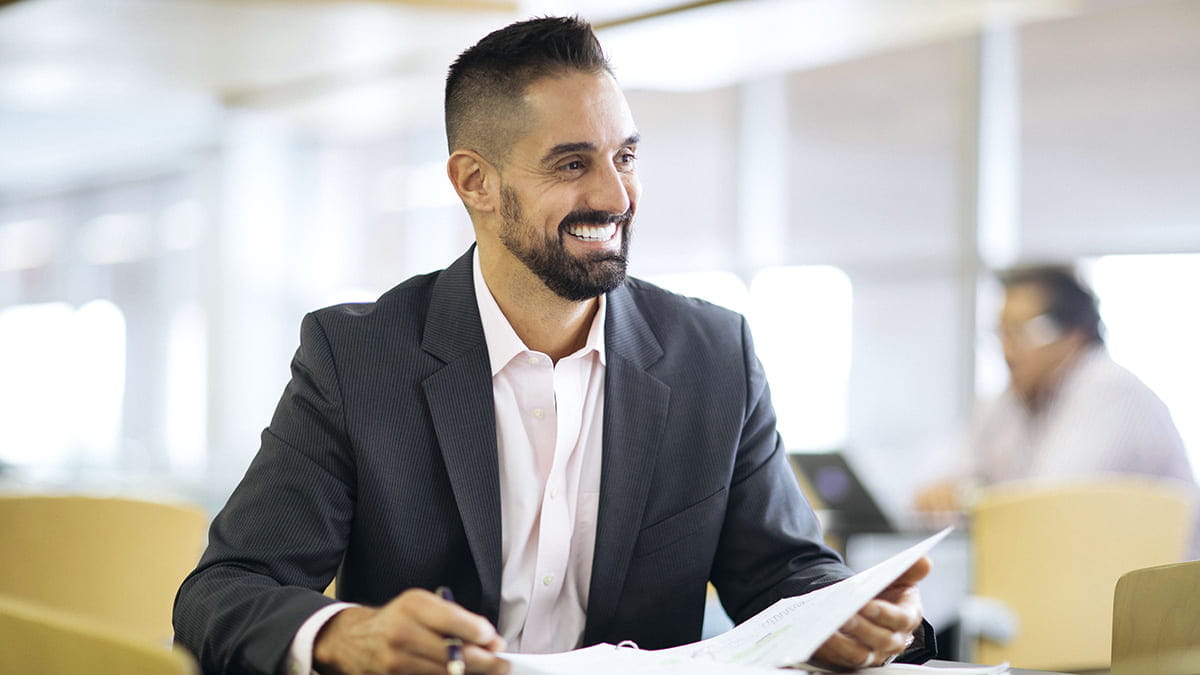 by Michael Labate, EMBA 2019
Nobel Prize winner Marie Curie wrote, "You cannot hope to build a better world without improving the individuals."
I can't agree more. Improvement is central to change, and an ability for one to effectively improve relies on a balance between institutional and life lessons. The act of continually improving is deeply intentional, fueled by insatiable curiosity and passion that yields the development and innovation Curie asserts.
Equally pertinent, too, are the associated methods and qualities for which one matriculates. Whether it's to become a more supportive spouse, a better friend, a stronger mentor or more effective manager, largely depends on how symbiotic one is within their learning framework. For me, I found the greatest compatibility for self-improvement by partnering with Kellogg.
The choice
So, you're considering an Executive MBA? As a mid-career executive, the decision to return to academia seeking an Executive MBA confronts three main interests: the purpose, the ROI, and the commitment. Selecting the right collegiate brand can make the difference between winning or losing at all three in my opinion. I chose Kellogg because of its devotion to grooming tomorrow's leaders with the self-awareness, resilience and creativity required to address new markets, disrupt norms and change the world. Kellogg isn't the only prestigious choice, but it is the only one I've found capable of connecting people across a borderless, global, network where diversity and inclusion is at the heart of its core values.
Mid-life dorm life
Life on the Miami campus is anything but mild. Miami's soil is enriched with Latin American zest, and every corner around campus hints at its remarkable influence. The music, the colors, the food, the festivities, the vibe, the people—it surrounds you in ways that accelerate orientation of your new beginning. Indeed, the Miami campus and surrounding city is well-suited for those seeking a lifestyle that allows you to combine personal and professional passions.
The cohort experience is of my fondest regards. During launch week in Miami you simply leave any reservations at home and allow yourself to transform among 50+ other like-minded and highly motivated individuals. By end of Week 1 you've established relationships that would later become some of the most important in your life, both professionally and personally.
As a person in their early 40s (as I am) adjusting to life on campus was interesting. Granted, the facilities couldn't be further from a dorm. Rather, the Hyatt Regency Coral Gables is a posh Mediterranean-style hotel that pampers you with a heated pool, fitness center, breakfast, lunch, dinner and snacks included. Having these amenities taken care of gives you a chance to immerse yourself in the EMBA experience, whether that's sharing a meal or drinks with classmates or faculty, or getting caught up in a late-night brainstorming session with your study group.
The faculty 
The first question I recall hearing during my first week was, "Is the faculty the same as in Evanston?" Not only is the faculty the same, but there's some additional value I've come to uncover. Kellogg faculty are known for being accessible and collaborative, so since the Evanston faculty travels to the Miami campus to teach, Miami students often get opportunities to connect with faculty throughout the weekend sessions more intimately than other campuses. This has helped me become better acquainted with several professors, with whom I stay in touch on a regular basis.
Conclusion
If you're on the fence contemplating, "Is it worth the $200K?" you're not alone. We've all been there. But if we rewound back to that moment, knowing what we know now, without question we would be heading straight to Launch Week all over again. It's absolutely worth the investment of time, money and personal sacrifice from my perspective. Is it easy? Not in any sense of the word. It's the most difficult thing my wife, Rachel, and two children, Lily and Leif, have ever underwent as a family. But it has been life-changing in the most positive way for all of us. Rachel started a WhatsApp group for spouses and partners to stay connected, which led to deeper relationships across families. And the relationships I've developed with fellow students and, lessons from faculty, have helped redefine who I am as a leader. I'm more confident when confronting risks, have a deeper and more appreciative understanding of world markets across industries and value the long-lasting relationships I've established across six continents.