Start of Main Content
The Moral Leader: Exploring a New Course at Kellogg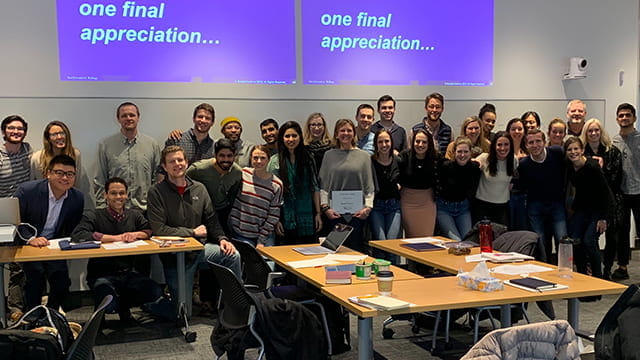 by Ali Kazmi, 2Y 2019 and Grace Babula, MMM 2019
The Moral Leader: Exploring Complexity Through Literature is a new course at Kellogg, offered for the first time this winter with Professor Brooke Vuckovic. In the course, we used literature to examine and prepare for the morally and ethically complex issues we will face as leaders.
Why we wanted to take it
Grace: As an avid reader, I was immediately interested in a course that would give me an excuse to read and talk about fiction with a group of equally passionate students. Beyond that, I believe in the power of literature as a tool to gain empathy and understanding for others. I was curious about applying that tool in the context of my development as a leader.
Ali: I dabbled in English literature courses while pursuing my undergraduate degree, and I found them to be some of my richest learning experiences. The study of literature helped me see the world in new ways, understand perspectives different from my own, and provided me with an avenue by which to reflect on my values and experiences. These are all critical competencies for a global leader – an idea that really crystallized for me at Kellogg – and I was thrilled to have the opportunity to further build them through The Moral Leader.
Content and learning
Each week, we read a short story or novel, such as Blessed Assurance by Allan Gurganus, Antigone by Sophocles, and, a personal favorite, Remains of the Day by Kazuo Ishiguro. The works we read represented many different time periods, cultures, settings, and situations and, through the eyes of the characters in these stories, we were able to delve into meaningful topics.
As these characters struggled with competing values and priorities, we explored the competing commitments in our own lives. We talked about the obligations our characters have to others, and what we expect to be held accountable for. We read about characters who struggled to make challenging decisions, while making a plan to manage future morally-ambiguous situations. Though the reading was fiction, our takeaways were grounded in practical application to the issues we'll wrestle with in leadership positions.
The in-class experience
Our class of 30 students was divided into groups of six that remained consistent throughout the year. Each class would start with an hour-long discussion of that week's text within our small groups; these discussions often centered on challenging topics and were without fail thought-provoking and insightful. Remaining in the same group throughout the quarter built a sense of trust, camaraderie, and mutual accountability that was essential to the learning experience. Each group had a rotating "facilitator," who would guide the conversation and a "recorder," who would summarize key takeaways and share with the class. Our share-outs illuminated the many different themes that emerged for different groups, a testament to the richness of the texts and the diversity of the class' experiences. We ended each session with a plenary lead by Professor Vuckovic, which crystallized the real-world leadership applications of the text.
Looking ahead: applications to the "real world"
Grace: One of the most important concepts I took away from the course is the value having a "chorus," or a group of people you can trust to challenge you and provide perspective when needed. Before the class, I recognized the importance of defining a moral code and using it to prioritize and guide decision-making, but I thought of working through moral challenges as a solitary pursuit. I saw the development of a moral code and the ability to reason accordingly as internally-focused activities. Through our readings and discussions over the quarter, however, I saw how having (and listening) to a "chorus" was often the defining factor in a character's ability to successfully navigate a moral challenge (and failing to do so led to many a character's downfall). Moving forward, I will strive to surround myself with a trusted "chorus" of people who I can trust to keep me in check when I'm inevitably faced with my own moral challenges.
Ali: The Moral Leader was one of the most impactful classes I've taken at Kellogg. It gave me an opportunity to practice engaging in respectful yet challenging conversations about difficult topics. It challenged me to deeply empathize with characters and perspectives from incredibly diverse backgrounds. It also provided a space to slow down and reflect on "big ideas," which is increasingly rare in today's "always-connected, always-on" world. One of my biggest personal takeaways was the ease by which we deceive ourselves into thinking we're acting in ways that are consistent with our values and morals. In many of the works we studied, we saw characters cling to apparent rationality when emotional stakes were high, telling themselves what they needed to hear in order to continue on a particular course without further uncomfortable examination. This solidified for me the importance of keeping morals top-of-mind and having a personal accountability board to make sure I'm remaining on track.