Start of Main Content
Six Strategies for Winning Case Competitions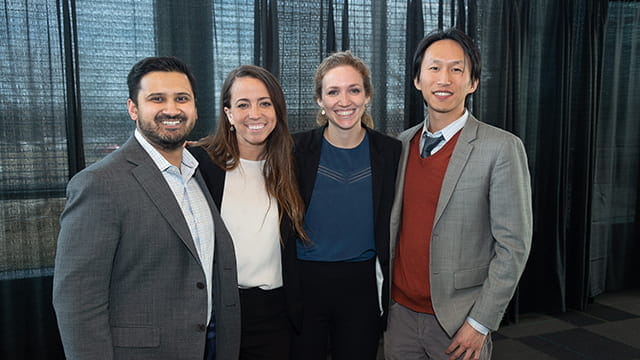 by Lauren Meyer and Sarah Consagra, both MMM 2020 
This content was originally published in Poets&Quants.
To prepare for business school, students gear up for lecture room cold-calling, months of career recruiting, and enough networking to last a lifetime. What many MBA students don't anticipate are case competitions.
An often-underrated way to derive value from your business school education, case competitions offer students the opportunity to consult for real clients, helping to solve pressing business problems. These competitions have become almost a rite of passage at graduate schools across the nation. Plus, they tend to pay generously – a perk always welcome on an MBA budget.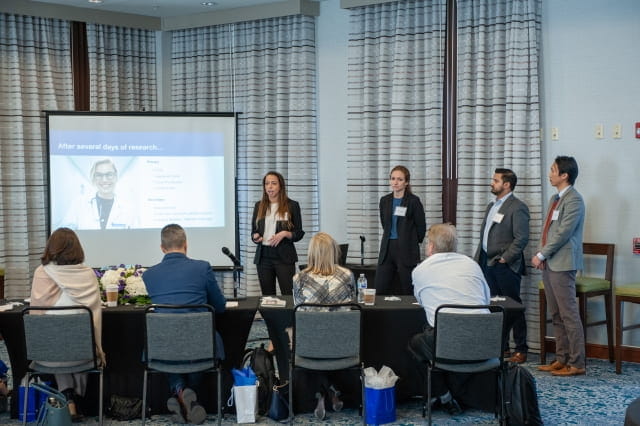 This March, we joined 60 other students from Kellogg School of Management, Feinberg School of Medicine and Northwestern's McCormick School of Engineering to compete in a business innovation case competition hosted by AbbVie, a large U.S. biopharmaceuticals company. AbbVie presented a pressing business and healthcare challenge: how might they accelerate the treatment of diagnosed Hepatitis C (HCV) patients, within the Baby Boomer patient population?
Over two weeks, our team designed a platform aimed at educating and empowering primary care physicians to directly treat patients with HCV, a task typically reserved for specialists. We were thrilled to win the competition, and even more excited to know that our ideas will further AbbVie's mission to eradicate a stigmatized and often overlooked disease.
Among busy MBA schedules, making time for a case competition may be difficult. However, it can be one of the most rewarding experiences of business school. After competing and succeeding in several during our first year at Kellogg, we've gleaned some helpful tips and tricks for designing a "winning" solution and getting the most out of the case competition experience.
1. Make it human-centered.
Get out there and talk to people! Secondary research is important. Where possible, your ideas should also be informed by robust primary research. Judges will be impressed when you are able to cite conversations with people who are "living the problem." Through our conversations with doctors, nurses, and social workers, we unearthed unique pain points related to HCV treatment that we would have missed entirely by relying on the internet. One nurse reminded us that "doctors are people, too," and that their own unconscious biases and busy schedules might prevent them from treating certain diseases with urgency.
2. Keep it laser-focused.
When solving an innovation challenge, there are typically a number of exciting possible solutions. We've found it is most effective to select the one solution you think is most compelling Then, tell the audience why you chose it, and build it out in detail. The audience will be much more impressed by a single, deep and well-studied solution than a set of broad and shallow ones. In our presentation, we recommended launching the education platform with primary care physicians covered by Medicare Advantage, a group we believed was uniquely poised to adopt the education platform. By honing in on one of many existing pain points, we were able to demonstrate that we had done the hard work of prioritizing the biggest win for our client.
3. Make it beautiful.
The value of an aesthetically compelling presentation cannot be overstated. This will keep your audience alert and engaged. Straightforward, crisp slides with simple design elements will go a long way. If you want to take it one step further, don't be afraid to get creative by adding illustrations and vivid imagery. Our team used hand-drawn illustrations (just stick figures – nothing fancy) to bring a typical HCV patient's journey to life for the judging panel.
4. Know your numbers.
When it comes to Q&A time, it's always satisfying to respond to a judge's doubting question with, "Yes, and we have data to support that." If you're going to whip out that reply, make sure you've done your homework. While only key numbers should be presented, an appendix is a helpful add-on for all the numerical content that you may want to pull out of your arsenal during follow-up questioning. Make sure you practice speaking confidently about how you arrived at those final numbers as well.
5. Make it actionable.
Ultimately, judges want solutions that feel tangible – ones they can execute readily, with existing budget, and feel excited to promote to internal stakeholders. Craft a clear outline for how you'll launch your idea, what money you'll leverage, and what existing resources you can draw on. If you want to add some glitz, you can always build out a roadmap for how your solution might evolve and grow as you scale (three, five, or ten years down the line). In our presentation, we focused on a "pilot program," and then shared a window into what a "full-scale" version might look like. This helped the judges understand our solution's potential for immediate effect, and how that might translate into something bigger and more impactful.
6. Tell a story.
Business jargon and charts might seem impressive, but if the judges aren't hooked they may miss the genius of your solution. Storytelling can be a critical lever for standing out and connecting with your audience. Share emotional and powerful stories of personas or real people you spoke with to demonstrate how this solution will transform the lives of customers and stakeholders. Coming full circle to our first tip: speaking with people out in the world will enable you to deliver compelling human stories.
One bonus tip to remember: be sure to make it fun! That may sound cheesy, but it's hard to envision and build out a business solution under time constraints if you're not curious about the subject matter. Find teammates you enjoy spending time with, and let your enthusiasm shine when pitch day rolls around.