Start of Main Content
The 2019 Kellogg Real Estate Conference and Venture Competition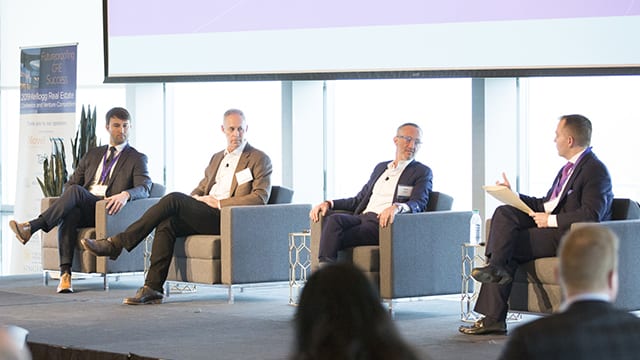 by Justin Westfall, 1Y 2019
I circled the auditorium at the Kellogg Real Estate Conference, observing name tags of the women and men who had traveled across country to attend, and realized I was among industry titans. I had followed their legacies through Crain's and the Wall Street Journal, dreaming of the day I would shake hands with these legends. Today was that day.
The 6thAnnual Kellogg Real Estate Conference and Venture Competition was the culmination of months of tireless effort from my fellow classmates and faculty. The agenda featured three primary events: an Opportunity Zone panel, a keynote chat on responding to rising risk, and the final round of the venture competition.
Opportunity zone panel
The conference kicked off with a discussion on real estate's hottest topic: Qualified Opportunity Zones. Moderated by real estate developer and Kellogg Professor Dave Cocagne, the panel included three of the country's most active opportunity zone investors — Mark Stern of Cresset, Scott Goodman '84 of Farpoint Development, and Stevan Galich '11 of Dwell Interests. Created through the 2017 Tax Cuts and Jobs Act, QOZs allow investors to defer and reduce capital gains taxes by reinvesting capital gains into designated zones throughout the U.S. QOZs are the best tax-advantaged investment opportunity and may replace common real estate tax-advantaged strategies like 1031 exchanges and new market tax credits, according to the panelists.
However, the program is not without controversy and the panelists were quick to take sides. The spirit of the law — to stimulate private investment in economically distressed communities — has been questioned as several states designated opportunity zones in affluent areas, such as downtown Portland, OR and downtown Charleston, SC. Early investors are picking off the "low hanging fruit" in primary markets; investments they would have made without QOZ benefits. However, the panelists agreed that these primary sites are finite, and once picked over, capital will flow into the intended low-income zones via real estate and traditional private equity investments.
Keynote chat on responding to rising risk
The impact of the stimulating panel on opportunity zones was tangible, as attendees returned to their tables with refilled cups of coffee deep in conversation on the polarizing topic. But whispers quickly silenced as the highly anticipated Keynote speakers ascended the stage. Kathleen McCarthy of Blackstone and Amy Diamond of Northwestern's Endowment are among today's most influential and active real estate investors, responsible for deploying billions of dollars into global real estate.
With topics ranging from capital flows to late cycle investing to real estate disruption, the conversation shed light on the decisions and strategies that have catapulted these women to the top of the industry. Amy pressed Kathleen on Blackstone's single greatest advantage: scale. According to Kathleen, financial institutions that were their primary historical competition fell apart after the Global Financial Crisis, isolating Blackstone as one of few firms to compete for opportunities at the highest scale. Both speakers shared valuable lessons from the Global Financial Crisis, reaching consensus that failed managers gambled on projects outside of their core competency and employed too much leverage. These lessons have defined the post-crisis investment strategies for both Northwestern and Blackstone. The crowd attentively absorbed further insight as the conversation transitioned to Blackstone's response to WeWork, the gravitational pull of capital to certain global cities, and solutions to the affordability crisis.
Final round of the venture competition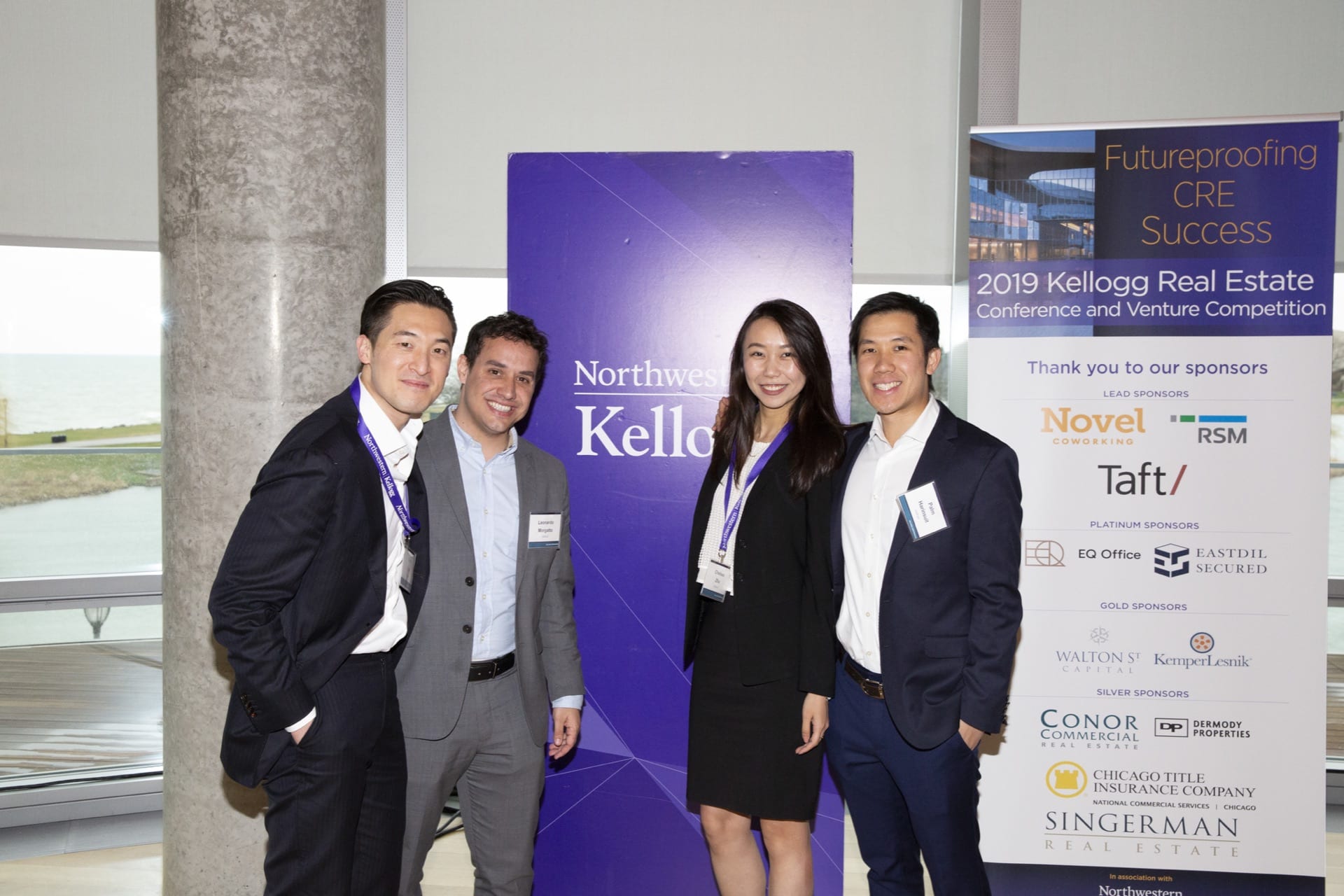 Attendees fiercely scribbled notes as the keynote chat concluded. Real estate entrepreneur and Kellogg Professor Bill Bennett announced the commencement of final presentations for the venture competition. Earlier that morning, teams from nine MBA programs had presented real estate investment ventures to a committee of judges. Four teams were to be selected to present in the final round, competing for a grand prize of $100,000.
I had eagerly awaited this moment for months. Weeks before, my team had submitted a comprehensive presentation to represent Kellogg in the competition. Our efforts proved insufficient, as another team of friends and classmates were awarded the opportunity.
The four finalists included teams from Berkeley, Kellogg, Yale and Oxford. Berkeley proposed an innovative solution to retail vacancies in San Francisco, incorporating an ecommerce incubator and last mile delivery lockers. Kellogg's team presented a workforce housing development in Boston, reducing construction timing and costs through modular construction. Yale offered a mixed-use redevelopment of a closed school in Japan. Finally, Oxford proposed Cloud Kitchens, a concept already popular in Europe, but yet to reach the U.S. These well-located warehouses are converted to kitchens and provide restaurants proximity to their growing delivery customer-base.
As Oxford left the stage, I consulted with my table. I was already enthralled with Cloud Kitchens. Others had picked their favorite and we agreed that there was no clear winner. After several minutes, the judges submitted their final decision to Professor Bennett. The winner was announced: Berkeley had taken home the grand prize.
As the competition came to an end, I again observed the auditorium. But now I was focused on the younger faces — my MBA peers traveling from as far as the UK — wondering how many of these future titans I would read about in years to come.