Start of Main Content
Representing Kellogg at the Venture Capital Investment Competition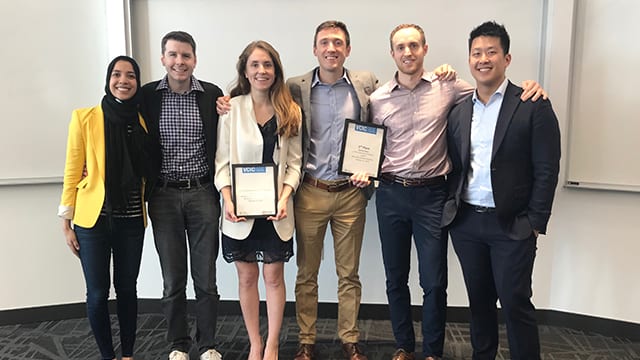 The Venture Capital Investment Competition is an annual case competition created by the University of North Carolina Kenan-Flagler business school in 2000. It is the largest academic venture capital competition in the world, with more than 75 universities competing in 2019.
The process for selecting the Kellogg team
To select the Kellogg team that represents the school in the VCIC, the Heizer Center for Private Equity and Venture Capital sponsors the annual Kellogg Venture Capital Investment Challenge. Teams receive support and training through faculty sponsors, Kellogg alumni, and a wide network of venture capital and private equity professionals on topics such as engaging with entrepreneurs, deal structuring, conducting due diligence, and making investment decisions.
This year, the team of students who won the Kellogg challenge (pictured above from left to right: Heba Ansari [Team Observer], Mike Haining, Suzie Kraemer, Matt Rufener, Joe Docter and Curtis Ting) went on to represent Kellogg at the regional tournament at the University of Texas McCombs School of Business in Austin, TX. There, they placed 2nd and won the Entrepreneur's Choice award for being the team that all three startup CEOs said they'd most like to work with. 
Three months of hard work and collaboration
by Joe Docter, E&W 2019; Mike Haining, E&W 2019; and Matt Rufener, 2Y 2019
The VCIC is one of the only case competitions that puts students in the shoes of a venture capitalist, and it was a hallmark of our Kellogg experience.  In the VCIC, students are asked to apply a mix of hard and soft skills learned from years of personal, professional, and academic experience to a simple question that VCs ask themselves every day: Should we invest in this company or not?
Just as any VC fund needs a partnership, we needed a team. The five of us came together in the Fall 2018 quarter, advanced through several rounds of the Kellogg challenge, and finally took home two awards at the regional competition in Winter 2019.
In our three months together, we spent hundreds of hours preparing and competing. Our success hinged on mastering a few key tasks:
Performing comprehensive due diligence to identify major risks and opportunities
Leading short Q&A sessions with founders that built rapport but also gave key info
Writing summaries and memos explaining the investment, valuation, and rationale
Deciding on terms that incorporate risks, fund fit, and market conditions
Defending investment decisions and terms in front of live committees of VC investors
Much of what we didn't know already we learned during a series of exercises led by our faculty advisors, Professors Pete McNerney and Mitchell Petersen, to prepare us for the regional finals. With their guidance and direction, we gained a deep understanding of how venture capital deals work, from sourcing and diligence to structuring and closing. We also spoke with other faculty members and investors in the Midwest VC community (including some former VCIC teams) who were more than willing to help.
While the actual academic training was very thorough, there are some things that are hard to teach in a classroom but that we learned through this experience, including:
The benefits of having partners with diverse perspectives and personalities, not just skills and expertise
The need to use clear frameworks to quickly identify key risks without just looking for an easy "no"
That VCs need to be contrarian but still realistic and how to walk that line
That rapid industry expertise comes more from leveraging our networks and less from personal research
How to maintain the founder-investor dynamic as a relationship, not just a transaction
The boundaries of investor and operator roles and what each should bring to the table
From start to finish, the VCIC represents a rare chance to learn about the realities of venture capital and immediately put that knowledge to the test.  It opens doors inside the Kellogg community through close relationships with faculty and alumni, but it can also lead to internships and job offers outside Kellogg by giving students the opportunity to demonstrate expertise to and build relationships with senior investors managing real capital.