Start of Main Content
Growing Array of Employment Opportunities for Kellogg Graduates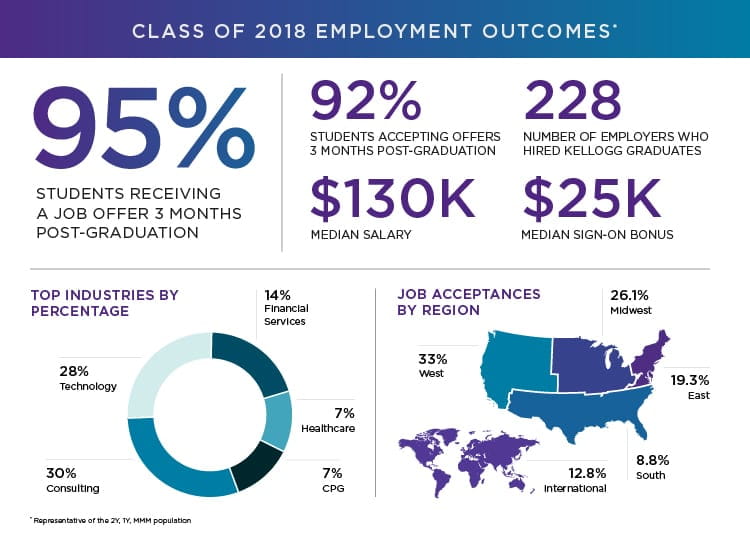 by Liza Kirkpatrick, Senior Director, Career Management Center: Full-Time MBA Programs
In my 10 years at Kellogg in the Career Management Center, the most fulfilling part of my role is seeing students reach their career aspirations, in both the roles they accept immediately after Kellogg, as well as their enriching career paths as alumni that I hear about through keeping in touch with former students. Just the other day, I spoke with an alum who just changed jobs to a ride-share company. In his short time there, he is already spearheading a plan to recruit Kellogg talent into his group. He is one of many, many alumni who turn into Kellogg hiring advocates.
These are the stories I love to hear. Every student who comes through our doors at Kellogg is unique, and every student has different goals and priorities as he or she is seeking the next step in his or her career. We see students who come from nontraditional backgrounds, as well as those looking to apply business skills in a nontraditional way. For example, we worked with a student who was a primary care physician who wanted to hone his business skills in order to work on the business side of the healthcare industry. In the CMC, our team supports each student's unique career journey.
Each year, our Kellogg employment report highlights the success of our Kellogg students accepting roles across a diverse set of employers, from Fortune 500 companies to startups. There are many success stories to be excited about this year. I'm proud of the number of offers and acceptances we've seen from a diverse mix of industries; 95 percent of our Class of 2018 graduates received a job offer by three months post-graduation. These results illustrate a broad array of opportunities for students.
We are seeing a growing breadth of companies hiring Kellogg students
This past year, 228 companies hired Kellogg graduates – this is up 10% from the previous year. This speaks to the optionality in the marketplace for Kellogg students – as a trend, we're seeing more mid-sized and smaller companies hiring one or two Kellogg grads than ever before. With this, we're seeing students leveraging the growing Kellogg ecosystem. It is not unusual to have a student receive a job with a high growth tech firm through a connection made on an educational trip to visit tech companies.
Tech hiring reached a record high
In line with this trend, we're thrilled to have the highest-ever percentage of Kellogg grads accepting positions with tech companies, at a record 28 percent in 2018. The number of tech companies hiring grads is actually up 33 percent from the previous year, with a total of 64 companies hiring Class of 2018 grads. As tech continues to disrupt all areas of business, we are seeing many opportunities for students interested in the tech side of traditional industries, such as Fintech, Healthtech (digital health), EdTech and innovation groups within larger firms.
A record percentage of grads went to the West Coast
At Kellogg, students are uniquely positioned in the Midwest with access to either coast. The San Francisco Winter Quarter, educational trips to companies, club engagement, faculty, experiential learning opportunities and CMC resources and connections all set students up to mobilize the Kellogg ecosystem on the West Coast and beyond.
Of course, if students are interested in a more niche industry, the Kellogg CMC provides the support and resources students need to conduct a very targeted search. Across the board, companies appreciate the versatility of the Kellogg MBA and hire students into a variety of functions including sales, marketing, product development and operations.
It's been an exciting year in Kellogg recruiting for students and our recruiting partners alike. We look forward to another successful year.