Start of Main Content
EMBA Global Electives: Shaping the Future of the Wine Industry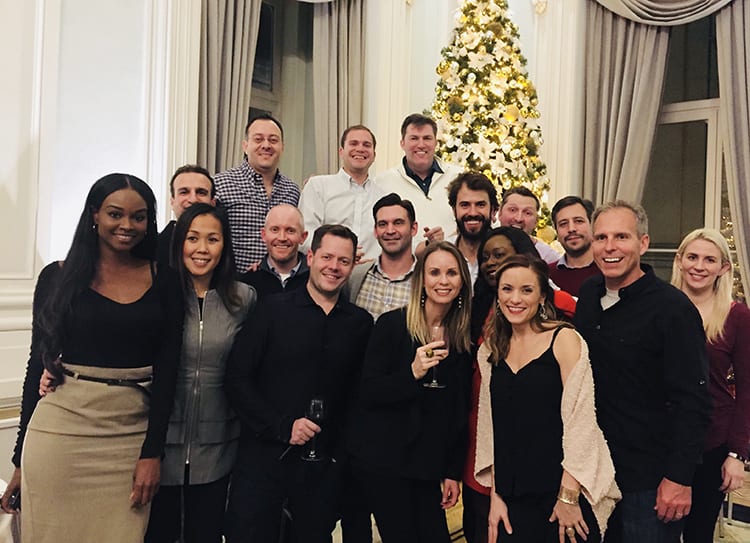 by Cady Dolan Johnson, EMBA 2018
Lisbon, Portugal is known as one of the most charismatic and vibrant cities in Europe. It is rich with history, multicultural influences, beautiful landscape, ancient ruins, quaint coffee shops and some of the freshest seafood in the world. The experience was magical enough to be described as the perfect getaway; however, I was lucky enough to experience it as the backdrop of one of my global electives for my Executive MBA at Kellogg.
It really wasn't a difficult decision to make. In fact, it was my first choice.
In December of 2017, I had the opportunity to visit this beautiful country and embark on the opportunity of a lifetime: partnering with a company that is a market leader in Portugal. The trip included a stay in Pestana Palace, a luxurious 5-star hotel (and member of the Leading Hotels of the World group), a private wine tasting with the family of one of the most prominent vineyards in Portugal, and a luxurious dinner at Pousada de Lisboa in the very room where the council of ministers of the Portuguese government used to meet.
While the location, accommodations and experiences were certainly enough of a draw to make Portugal my number one choice, another significant factor was the award-winning professors teaching the curriculum. Professor Chernev lead the course on Strategic Brand Management and Professor Rebelo humored us through International Finance (humor always makes finance more palatable). The marriage of the two courses provided us the opportunity to analyze global strategic brand management decisions in the context of an ever-changing international finance environment. While the traditional classroom format with lectures, group collaboration and home assignments is what I expected from this elective, Professor Chernev and Professor Rebelo added several unique twists to make the learning environment that much more memorable.
Classroom lessons applied to real-world business problems
Lectures delivered by our fearless leaders were focused around brand strategy, creating market value, brand tactics and brand architecture, as well as financial aspects such as exchange rates, arbitrage, hedging strategies and decisions global companies face each day. It was the afternoon of our third day when we were ready to begin our group projects with Rita Nabeiro, CEO of Adega Mayor, and her impressive team. Rita shared her family's deep-rooted history in Portugal and the heritage started by her grandfather in the coffee business. It was a family-owned enterprise that has produced coffee since 1961 and whose Delta coffee brand is a market leader in Portugal. Rita described the family's core values as focused on honestly, hard work, fairness and authenticity, all of which were inherited into the family's newest business venture, Adega Mayor wines.
Launched in 2007, Adega Mayor became a well-recognized wine brand in the local Portugal market. Rita and her team shared their desire to expand into the U.S. wine market, which is the largest in the world. This would not only provide an additional revenue stream to the organization, but would also be strategically important for enhancing the brand both internationally and at home. A strategic focus for the team was to obtain a high rating by Wine Spectator or Robert Parker's Wine Advocate to help sell wines all over the world.
Kellogg expertise
Our objective as Kellogg students was to collaborate with our global colleagues to help Rita with two key business decisions:
How should Adega Mayor position its brand for the US market, what distribution channels it should focus on, and how it should promote the wine?
How the company should manage the fluctuations of the U.S. Dollar-Euro exchange rate?
Everything I had learned up until now at Kellogg had been case studies where we could look back at history and learn from decisions that were actually implemented by senior leaders. This opportunity was unique. In small working groups, we developed a business strategy and presented it to the CEO and leadership team of the company; however, we left the classroom not knowing what strategy was eventually going to be implemented. But what we did leave with was all of us becoming a part of Kellogg case study history as each member of the class signed the case in hopes that as years pass and Adega Mayor implemented some of our ideas, we can all say that we were a part of their success and contributed to the history of the Portugal wine industry.
To close out our experience in Portugal, we celebrated the past of Portugal's history by having dinner at Pousada de Lisboa in the room where the council of ministers of the Portuguese government used to meet and toasted to the successful future of Adega Mayor. Thank you to the Kellogg faculty and management team for the amazing, one of a kind experience; to my global colleagues for collaborative views, amazing ideas and enjoyable experiences and Adega Mayor for the learning opportunity of a lifetime.