Start of Main Content
Kellogg Entrepreneurs: Building a Better Backpack from Scratch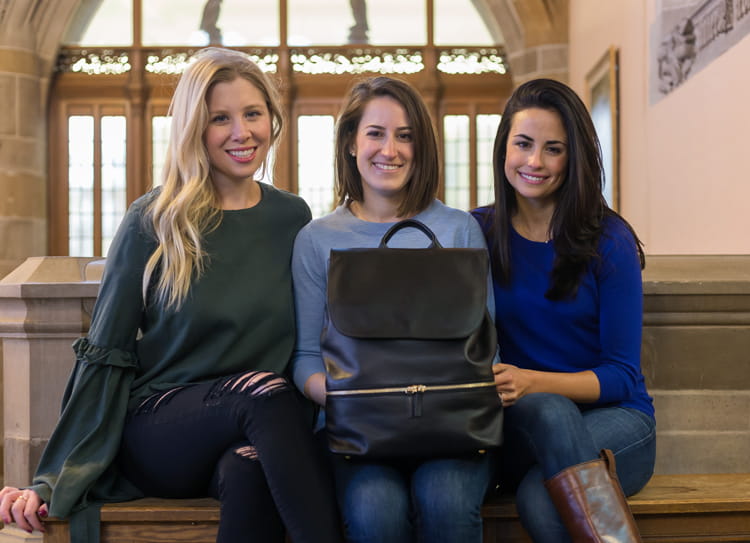 by Allison Brown, Cara Maresca and Kristina Moore, 2Y 2018
We've all been there. You wake up before the sun, pack up some leftovers, makeup, and a change of clothes, head to the gym (on a good day), then on to work, and finally head out to meet friends for dinner or catch your daughter's ballet recital. On the days you actually accomplish all this, you should feel like superwoman. But instead, you're juggling three bags in one day, which makes you feel self-conscious. Disheveled. Overwhelmed. Unprofessional. Uncool.
You're not alone in this either. This scenario might sound trite, but 9 in 10 women say they opt out of "important life activities" – from speaking up at work to spending time with friends and family – when they don't feel good about the way they look. So we sacrifice. We skip the workout class, or the date, or the family dinner. Because you can't do it all AND look good doing it.
Until now.
At Cariset, we believe the key to feeling like you're on top of the world starts with your bag. For our first product, we're on a mission to build a better backpack. Our backpack helps you look effortlessly put-together, while still fitting everything you need for your day. It features pebbled leather and padded straps, plus separate compartments to keep your sneakers from touching your laptop.
For the past year at Kellogg, we've been hustling to launch Cariset, and we've learned so much along the way.
How to build something from nothing while at Kellogg

: As Kellogg students focused on entrepreneurship, my co-founders and I are grateful for the resources available to us. We've each taken the

New Venture series

, three experiential learning courses customized for those building a new venture. Last year, Allison was selected for Kellogg's

Zell Fellows Program

– an instrumental fellowship providing mentoring, tools, and access to a community of other innovators. Additionally, we're honored to be a semi-finalist in

VentureCat

, an upcoming pitch competition for Northwestern's most promising startups, with $100,000 of prize money on the line. These examples are just the tip of the iceberg of the support we've been lucky enough to receive while at Kellogg.

How to build a backpack

: It all began when Allison sketched an idea for a better backpack. Since then, we've established partnerships with factories in Los Angeles, Vietnam, and China to create samples. With each sample (seven in total!), we've cycled through testing, feedback, and alterations. We've selected high-quality fabrics and nailed down our supply chain. After months of fine-tuning, we're ready to sign a contract for our first production run. We cannot wait to bring our product to life!

How to build a community

: Through introductions facilitated by Kellogg professors and alumni, we've developed coaching relationships with retail and e-commerce experts. We wouldn't be where we are today if not for these experts' generous advice. I used to falsely believe entrepreneurs had all of the answers themselves – boy, was I wrong! Learning from those who have been through it before has saved us time, money, and heartache.

How to build a brand

: When navigating the initial stages of a startup, there are SO MANY daily decisions to be made. These decisions can feel overwhelming, but clearly defining our brand has established our purpose and guided our decision making. At the end of the day, we're three women building an authentic brand that will resonate with women for generations to come. We're working extremely hard and having the time of our lives doing it.

 
Cariset's backpack features a padded laptop sleeve and a spill-proof, sweat-proof compartment. It's like your gym bag, work tote, and designer handbag had a baby… a beautiful, comfortable baby. This Cariset article is the first of four in a miniseries featuring entrepreneurship at Kellogg. For $50 off your first order, use code BETTERBACKPACKS.