Start of Main Content
A Recap of Kellogg Startup Week 2018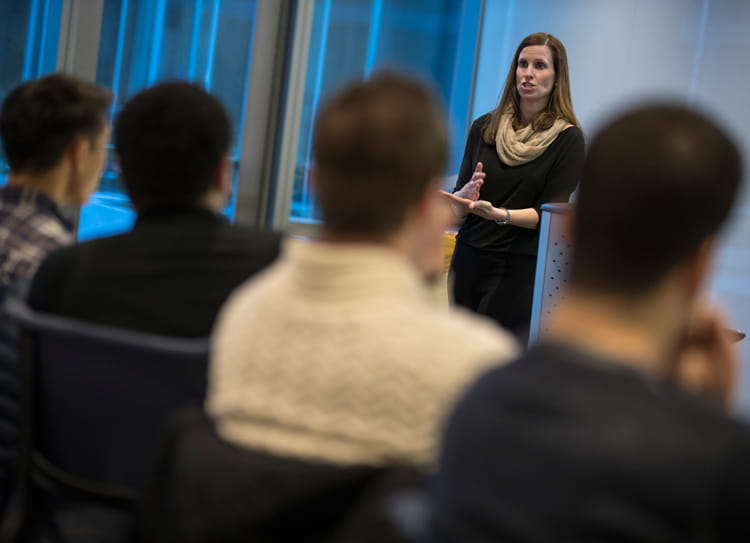 by Will Longano, 2Y 2018
As a member and leader of the Kellogg Entrepreneurship and Venture Capital Club, I wanted to share a few thoughts and reflections about our recent Startup Week and trends in entrepreneurship here on campus.
Make a product your customers love, not like
Sam Altman of Y Combinator has a filter he talks about for understanding which companies have the potential to be massive successes. He believes that you should craft a product that is loved by 100 people instead of liked by 1,000 people. In business school, we often talk about the attractiveness of a market in terms of size, growth and other profit-linked characteristics (ideal gobs of profit). As founders and future founders, I've come to realize that we need to have a product our end users love before we fantasize about owning a leading share in a $1 billion market. I took this same lesson away from Heather Stege's talk about her time at Lou Malnati's pizzerias as the chief strategy officer. When she asked the owners what they did for marketing, they simply replied "We turn the phone on and it rings off the hook." At that point in time, Lou Malnati's had clearly nailed its product and had found a core audience who loved it. That is exactly the right time to pour gasoline on the fire and scale the business.
Follow the road less traveled
Whether it was my immersion quarter in San Francisco or this recent Startup Week, I've been tremendously lucky during my time at Kellogg to hear many outstanding founders speak. I continue to be struck by how many founders have had interesting and atypical paths in their careers. Heather Stege left the well-trodden road of post-MBA consulting to enter the food industry. Sam Shank, founder of Hotel Tonight, worked for Wes Craven to product the horror film Scream. My classmates who founded Romphim certainly fit this bill as well. There are many wonderful paths out of Kellogg, and for many the familiar tracks are a great next opportunity. If you march to a different beat, rest assured that many interesting people have done atypical jobs on their way to post-MBA successes.
Startup energy at business school continues to increase
I came to Kellogg hoping to have launched a massive, world-changing business by the time I left school. While I'm not yet the next Zuckerberg, the experience has been rewarding nonetheless. My biggest takeaway from Startup Week is how much momentum the startup and growth areas have at Kellogg. We hosted nearly a dozen events over the course of the week, and every single event was sold-out and waitlisted. Our club newsletter goes out to nearly 800 people each week. It's never been a better time to be excited about entrepreneurship and startups at Kellogg. I'm off to the real world shortly, but I'm excited to see how this plays out on campus over the next few years.
Find out more about the Kellogg Entrepreneurship and Venture Capital Club and check out its calendar for upcoming events.