Start of Main Content
Living Artistically: A Workshop with Musician Matthew Santos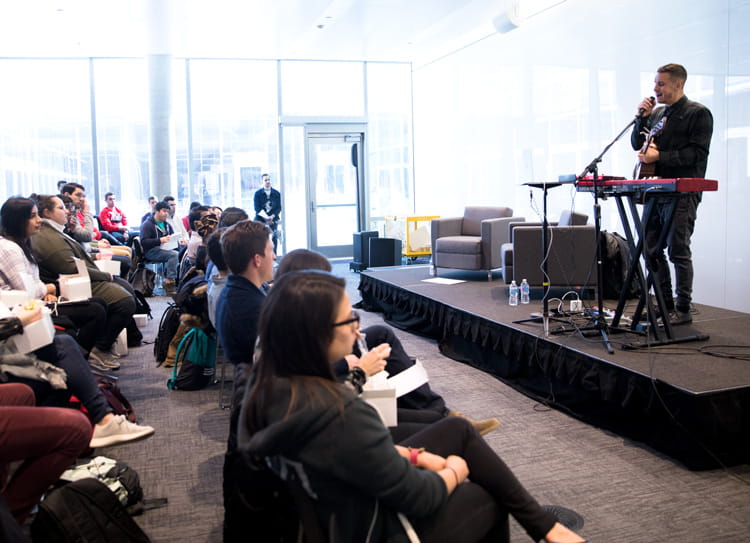 ​by Eric Muhlberger, 1Y 2018
On Friday, March 2,  two-time Grammy-nominated musician Matthew Santos visited the Kotler Innovation Lab to host workshop on the creative process with Kellogg students.
A singer-songwriter who blends alternative/indie-rock/soul and folk, Santos' collaborations with Lupe Fiasco placed him in the spotlight after his work on the smash hit "Superstar" led both him and Fiasco to massive commercial success.
Matthew Santos visits the Kellogg Global Hub
The workshop was a collaboration between the Kellogg Innovation & Entrepreneurship Initiative and two Kellogg One-Year students: myself and Alykhan Kaba. After an introductory song by Santos to a standing-room-only crowd, I had the privilege to facilitate an interview covering a wide range of topics.
Santos touched on his beginnings in music as a child and his being drawn to music as a means of emoting and expressing himself. When asked to react to people who claim that they "are not creative," he encouraged students to remember how they approached the world as children: free from self-doubt and the fear of failing. Instead, he urged students to approach challenges by thinking about what could be possible outside the boundaries imposed on them by their immediate environment.
Regarding his encounter with fame, Santos' reflections were poignant and meaningful. He shared stories of being on stages with the most well-known stars in the world, but also described on how his relationships with those around him changed over time, sometimes for worse, but ultimately for better. For an especially intimate series of minutes, Santos reflected on how mentorship from an early age helped shape his approach to the world and his artistic craft.
Santos closed the session by largely improvising a set of four songs, using looping and vocal effects to build beautiful soundscapes that left students in awe. He left the stage after playing a modernized rendition of the immortal Jeff Buckley song, "Hallelujah." After the workshop, Mr. Santos held open "office hours" in the Galvin Design Wing's Artist-In-Residence studio. The diversity of the students was on full display, as conversations ranged from asking technical advice from a student who performs regularly in downtown Chicago to others asking for advice on how to be mindful and open themselves up to the artistic process.
The session ultimately provided students a way to step out of their usual routines as the life of a Kellogg student and immerse themselves in the experiences of an artist in an intimate setting. While most students in the room will not pursue the life of an artist after leaving Evanston, each one left the room inspired to embrace the lessons learned and seek parallels between the main stage at Lollapalooza and executive board rooms.