Start of Main Content
​How Kellogg Women Support Each Other: A Post from Kate Smith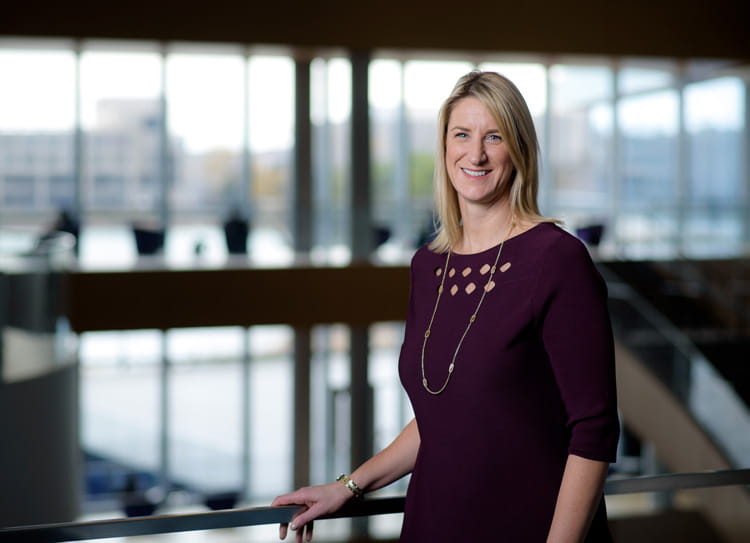 by Kate Smith '98​
Paying it forward
I am so unbelievably grateful for my 20+ years entrenched in a community of supportive, courageous and driven women here at Kellogg. Women who are committed to helping advance one another in our pursuits to make a positive and powerful impact in business, society and the world.
As I reflect on the twists and turns of my early career launch, there were so many successful Kellogg alumnae who offered their time, insights, experience and advice to mentor me as a student, as a summer intern, and early in my marketing career. These alumnae of Kellogg made themselves available to listen, to meet, to discuss, to share their experiences, and who volunteered one of their most precious resources – their time – to help me, a rookie and a novice embarking on what would ultimately become an exciting and fulfilling 15-year marketing career. Over time, my career was fueled by a powerful Kellogg network, one that fostered the right connections, opened doors and created new opportunities when I was ready for them. I am forever grateful.
Why did these amazing and talented women invest in me? I think it is because others invested in them, and that, at Kellogg, we genuinely care about supporting one another. I think that a generation of women who were successful in their careers in the 1980s and 1990s wanted to see more women like themselves thrive as leaders in business. These women took it upon themselves to coach, to mentor, to encourage those following in their footsteps, to be bold, to lead with conviction, to challenge the status quo. And to equip the next generation with knowledge on how to navigate what wasn't always a female-friendly landscape.
Fast forward 20 years later, where I am so honored to now serve Kellogg as the head of admissions. It has been truly rewarding to return to my alma mater to help shape the future of our community, class after class – seeking to identify those "high impact, low ego" leaders who best embody our values of collaboration, inclusivity and innovative thinking. When I enrolled at Kellogg, women represented 28 percent of the student body. Today, I am proud to see that women have grown to 42 percent of the class.  But I am more proud of the unique talents and lofty aspirations that each of these intelligent, driven and passionate women bring to the Kellogg community. I am inspired every day as I observe how our community of women support one another and that our male students are equally engaged in the dialogue.
Now that I have a few decades of experience to draw on, I have enjoyed the new opportunities I have been afforded where I now play the role of mentor. To help support these talented students in their personal and professional pursuits and continue the virtual lifecycle that is at the very heart of how we roll at Kellogg… paying it forward.