Start of Main Content
​Day at Kellogg: A Rewarding Experience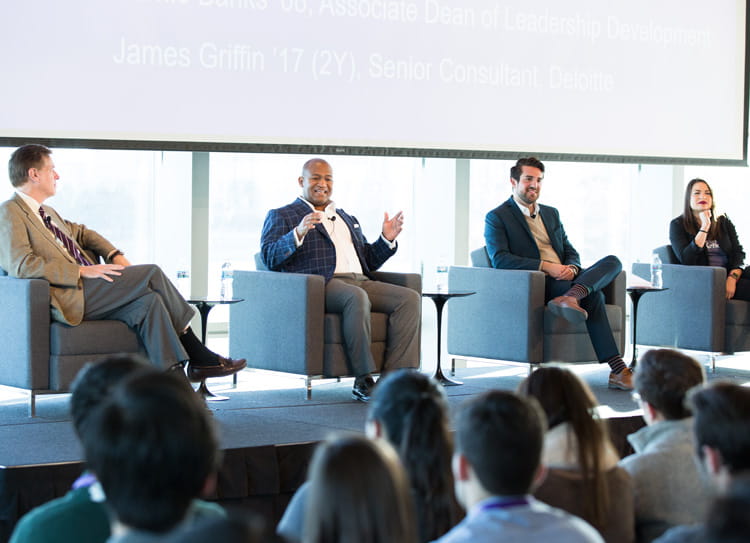 ​by Bo Swindell, MMM 2019
I was working in a coffee shop in DC with my manager, McKenzie, on the day Kellogg admissions called me to let me know I got in. Admissions called around 11:30 a.m., and by noon we had reservations at one of my favorite restaurants in DC to celebrate.
McKenzie had just finished her MBA and our lunch conversation quickly went from congratulatory to soul-searching. What did I want to get out of the next two years? McKenzie stressed how important it was to be intentional with what I got involved in. Did I want to explore a new industry? Function? Develop leadership skills? Travel?
With McKenzie's advice top of mind, I showed up in Evanston for DAK II last spring. I heard Carter Cast talk about the importance of self-reflection and of understanding which company environments fit my work style and personality. I talked to current students about their extracurricular experiences and got a taste of Kellogg's leadership development program. By the time I arrived in Evanston in June, I knew one of my top priorities for my time at Kellogg was to develop myself as a leader.
The opportunity to lead DAK came quickly in the fall in a flurry of other club leadership applications. DAK seemed like a great opportunity for me to develop those leadership skills I wanted to develop and to shape DAKies' first experience as students in the Global Hub.
Charmaine Lester and I were selected to lead the team in late September. Throughout the fall and winter Dak Exec worked with dozens of stakeholders across Kellogg to put together a weekend that showcases the strength of the student experience. Putting on an event for 500 people, co-managing a team of peers and balancing student and administration needs had its fair share of challenges. There were a couple of times when we thought our plan was finalized only to be thrown a curveball like space no longer being available or trying to accommodate our largest DAK ever. Next thing I knew it was February 2 and we welcomed more than 500 admitted students and their significant others to the Global Hub for DAK I.
From Dean Sally Blount's opening on Friday morning to the Saturday night out at the Chicago Cultural Center, the weekend flew by. After weeks of busy preparation, I expected the weekend to feel stressful and jam-packed, but it didn't. It was invigorating to see more than 200 alumni, admissions officers, deans, section leaders, dinner hosts, club leaders and other current students volunteers their excitement for Kellogg.
Over the past several weeks, our team has taken a step back to reflect. What worked well for DAK I? Where could programming have been better? And how can we create a better experience for DAKies coming to DAK II?
Going back to McKenzie's advice and why I'm involved in DAK in the first place, there was one more important question Charmaine and I wanted to ask ourselves as co-chairs: how can we make sure everyone on the committee is getting what they want out of their experience on DAK exec?
We're excited to reset, regroup, and plan an even better DAK II the weekend of April 21. To the DAKies who came to DAK I – we hope you enjoyed the experience as exhausting as it probably was! To the current students who were involved in DAK I, thanks for all your help. Be on the lookout for another ask from us soon! ​