Start of Main Content
The Great MBA Question: What's Your Major?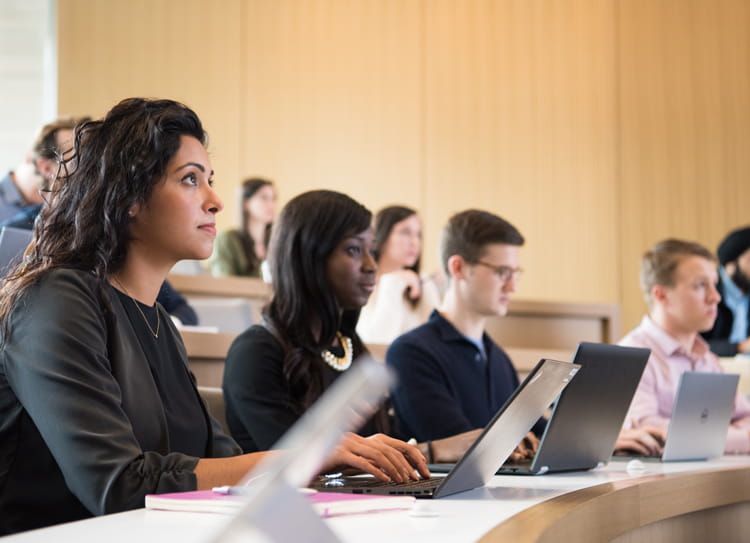 by Leah Potkin, E&W 2018
With graduation day looming, "What are you majoring in?" is a question I am often asked when talking about my experience at Kellogg. For a while, I would reply with a confident "No major."  But after a few awkward silences too many, I explained how instead of focusing on one area within business, I've taken what will likely be my last hurrah in the classroom to study as many fields as possible. "But you have to become an expert!" they say.  On the contrary, breadth over depth has been my M.O., and I argue for small tastes over big bites in the business world.
My enthusiasm for maintaining a broad area of study dates back to my college days when I studied English language and literature. While I then envied my classmates studying for specific career tracks, I now think fondly back on my liberal arts education, which prepared me not only to be an expert in one area, but also how to think, analyze and communicate in many a field.
And while my excitement abounded as I learned about Kellogg's majors and pathways, I was continually drawn to the material I had yet to encounter, and found myself fascinated by the learnings. Sure I could have logged more hours in Organizational Management (I work in and am passionate about HR), but I have my entire career to go deep in this area, and courses like Biomedical Marketing flaunted their unfamiliar material scandalously in front of me.
After completing all my core classes (and celebrating that I made it out of finance, as finance was admittedly one area I found slightly less thrilling), I began to think seriously about where and if I wanted to focus.  I logged hours exploring the course catalog, and I couldn't help but feel all at once excited about the offerings, but confused as to how to shape the experience that would be best for me.
I visited an academic advisor and learned that I was close to completing majors in a handful of areas, but would have to give up the my wish list of enticingly unfamiliar courses in pursuit of said majors. I was struck by how disappointed I was by this thought, and respected Kellogg for giving me the option to opt out. I realized I was addicted to that first-day-of-class feeling of venturing into uncharted learning territory, and from there the answer was clear: no major for me.
And while graduation is still a few weeks out, I'm proud to say that not choosing a major has been a great decision for me. But that's not to say it's the right choice for everyone. My biggest takeaway is that students should remember that careers are long, and they should be confident in choosing the path that's right for them.
For me, this path pushed me to explore the unknown and play novice student whenever possible. I got tastes of marketing, entrepreneurship, finance, strategy, leadership, org design, and health care (to name a few). And while I'm excited to go for depth and bigger bites in the years to come, breadth and small tastes have me sufficiently satiated by my Kellogg experience.