Start of Main Content
​The EMBA Launch Week Experience: 77 Individuals Became 114 Today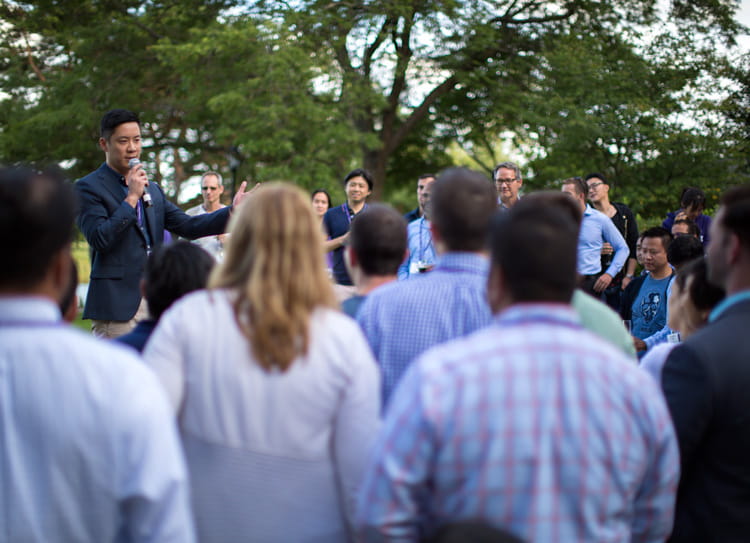 by Stephanie Proesel, EMBA 2019
I am two years away from graduating and I don't want that day to come too quickly. The surreal experience called Launch Week showed me how special this journey towards my EMBA at Kellogg will be. There are 77 of us that make up Cohort 114, and it is hard to believe in one week's time they feel like family. There's nothing like case studies, homework questions and reading assignments that can add up to more work than time in the day to bring everyone together.
Launch Week is masterfully designed by the incredible Kellogg team to bring a group of high performers within various industries and backgrounds together to work towards our goals. The collaborative approach to learning that Kellogg pioneered years ago is truly an art form in itself to witness. Launch week was a whirlwind of experiences full of highs, some lows and everything in between. It didn't take long to see classmates in action; some stepping up to help others that weren't quite there with a concept and teams coming together to analyze cases and present their collective findings.
The best part of the week was seeing various classmates realize their purpose and worth as to what they have to contribute to cohort 114. Many of us had those moments at the start wondering if we should be there with this accomplished group of people but little by little everyone came into their own and you could see the confidence spread across the cohort.
What surprised me most of all was the day after launch week ended. We all jumped back into our work lives and family lives. It was different though, because we all knew that "114" will be there with us every step we take, wherever our journeys may take us. In a couple of What's App messages into that first day after launch week, we began asking each other how we could go through such a tough week but still feel somewhat sad to see it end. It is because we know it is the beginning of more than just a group of people or a network to tap into. It is a group with whom we will likely share life from Launch Week on and throughout our lives. The next two years of countdowns, challenges, ups and downs, enrichment and engagement will be two of the most memorable years of our professional lives.