Start of Main Content
The 2018 Kellogg Women's Leadership Seminar Kicks Off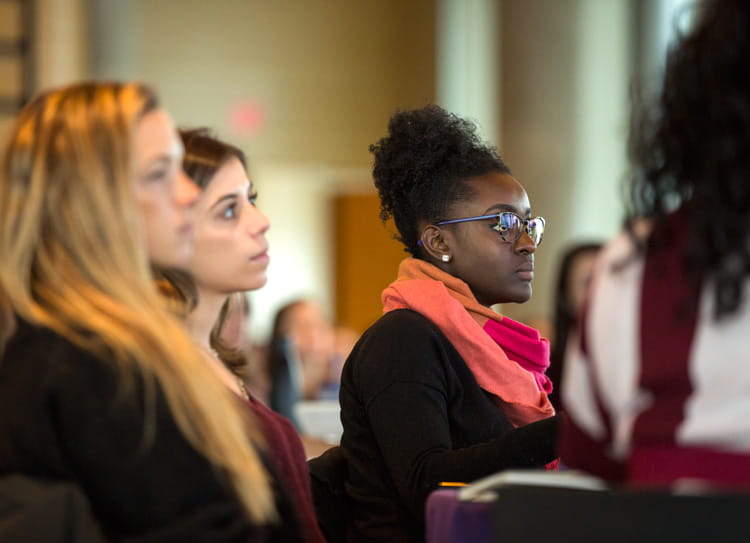 by Stephanie Etzig, 2Y 2018
During the first week of winter quarter, 150 female second-year and 1Y students gathered in White Auditorium for the kickoff session of the third annual Women's Leadership Seminar. Started in 2016 by the Women's Business Association Co-Presidents, the WLS has become a formalized, co-curricular program with five sessions facilitated by esteemed Kellogg professors, inspiring alumnae and external experts.
The mission of this program is to equip and inspire high-potential women to pursue, navigate and sustain careers that drive impact and create lives of personal meaning. Each of the sessions is structured to define and educate participants on the four mindsets and behaviors that impact women throughout their careers: anchoring, aspiring, advocating, and adapting. Led by Professor Ellen Taaffe '97, Kellogg's director of women's leadership programming, these sessions, along with organized discussion groups known as Kellogg Circles, provide female students with a unique forum to discuss and reflect prior to relaunching their careers after graduation.
Reflections from the first session of the 2018 Kellogg Women's Leadership Seminar
Kicking off the first session, "Navigating Career Pivot Points," Dean Sally Blount '92 walked the seminar participants through a framework to manage pivot points during a typical career trajectory: the launch, the mid-career marathon, and the senior executive transition. This presentation was followed by a discussion with a panel of alumnae including Renee Borkowski '98, Roslyn Brock '99, Sonali Lamba '12 and Dorri McWhorter '09. They shared their professional and personal journeys, and specifically focused on the moments when their plans changed or were no longer an option. The diverse group of panelists provided insights on not only how they transitioned their careers, but also how they overcame challenges in their personal lives. A theme of open communication, resilience and acceptance was echoed by the panelists, who have sustained focus amid competing opportunities, changing relationships and the demands of new caregiving roles.
Another key theme during this session was how having a full and fulfilled life can mean something different to each one of us, and how what we want to pursue can change. While Kellogg works to equip students for C-suite roles, not everyone wishes to pursue that path or may have a less linear journey. Effective and passionate leaders are needed throughout an organization as well as on the boards of nonprofits. With so many potential opportunities, tradeoffs are inevitable and this session encouraged women to identify what is important to them, pursue it and not apologize for going after it. Important practices such as adapting quickly during transitions, developing skills intentionally and crafting a compelling narrative were highlighted as core tasks that helped the panelists successfully navigate this time in their careers. The mid-career is a not only about honing your strategic intelligence, but also about navigating and building your network to help identify new opportunities, such that fostering relationships with key headhunters can be just as important as managing a P&L.
Following the presentation and panel, the students were given questions to guide a 45-minute discussion at their tables. Each table represented one Kellogg Circle, groups of 6 women who will meet throughout the seminar series to reflect and discuss the session content. Each group comprised women pursing different careers with different backgrounds and in various stages of life. Future WLS sessions will include "Networking in the 21st Century" with J. Kelly Hoey and "Designing the Life You Love" with Ayse Birsel. The Women's Leadership Seminar also includes the return of two high-impact workshops: "Negotiating Effectively for Yourself" with Professor Victoria Medvec and "Developing Executive Presence" with Professor Brooke Vucakovic.