Start of Main Content
Alumni Corner: How One EMBA Conversation Influenced Two Careers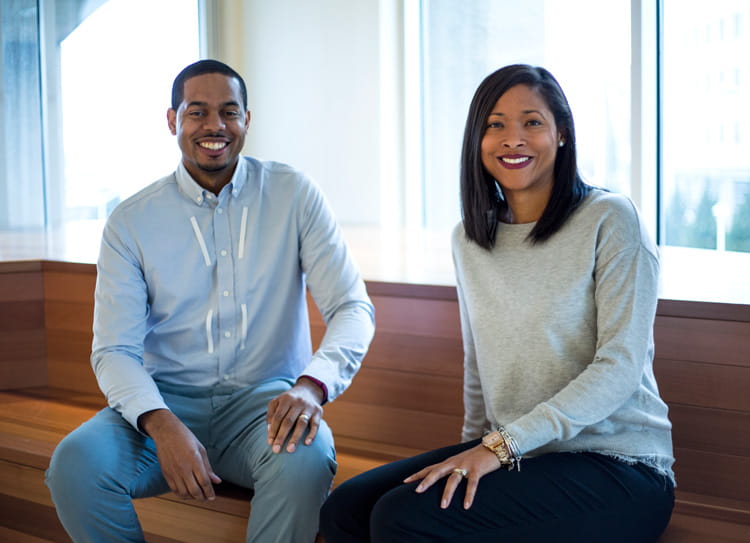 The Kellogg student blog caught up with two EMBA alumni, who shared how Global Network Week influenced the course of their careers, along with some advice for current and prospective EMBA students. Here's our Q&A with Maryann Pellot and Karlo Young, both EMBA 2015:
Please tell us about your EMBA experience. Which electives did you take? Which schools did you visit?
Maryann: I completed my electives in Miami and Evanston. It was great to meet other students from all over the world. The courses were outstanding and there were many social outings that enabled us to bond.
Karlo: The Kellogg EMBA experience was a truly game-changing and transformative experience. The caliber of faculty and peers, program rigor, insights gained and overall Kellogg Global Network all enable you with the tools needed to reach your fullest potential. In addition to my core and advanced MBA courses, I attended electives in Evanston, Miami, Hong Kong, and Germany.
It's August 2014, and you're both sitting down to your first day of the Negotiations course in Global Network Week. What happens next?
Maryann: Global Network Week is a big "aha" moment of how wonderful the Kellogg Experience is. During the negotiations course, we had the opportunity to practice different scenarios on each other. I met Karlo during one of those exercises. Global Network Week is the first time that you get to meet students from the Global Network. It's a really cool experience because you get to make connections and interact with other students throughout your electives.
Karlo: Maryann and I met after being paired together with students from the seven Kellogg Global Network campuses in a Negotiations course during the Global Network Week. It was an amazing course, which pushes you to think strategically about cross-cultural negotiations as you're conducting negotiations strategies in real-time with individuals from the US, Middle East, Europe, Asia, and Canada. Given that I was part of our Evanston campus, Maryann was one of the first people I met from our Miami campus. I remember her being a 'hardball' negotiator, but what stood out even more is that I learned that she had a passion for education much like myself.
Tell us about the conversation you had about EdTech!
Maryann: Karlo worked in finance and I worked in education, so after introductions, we talked about our experience in the program and naturally what we wanted to do after. I was looking into consulting and HR and was focused on finding out more about those industries. Karlo looked at me like I was crazy and said there's so much going on in EdTech. That's the beauty of the Kellogg Network and interacting with others that have a different lens and can help you see the opportunities that are out there.
Karlo: One of the beautiful elements of the EMBA program and Kellogg Global Network is that you have the opportunity to meet and take courses with individuals from around the world multiple times during the program, which allows you to build actual global relationships. Maryann and I met in August during the Global Network Week, and we ended up seeing each other again the following February during electives in Miami. It was during a break in the nice Miami sun where we started talking about careers once again. I was in investment banking at the time, primarily focused on M&A deals in EdTech, and was seeing a huge amount of deal-flow and opportunity in the market. Maryann has a stellar background in education and I suggested that she take a closer look at the EdTech market before jumping ship to head to HR or consulting.
Did you keep in touch following GNW? How well do you and your cohort stay in touch?
Maryann: We had a couple of different WhatsApp groups going for some time after GNW, then we created some for our elective groups. At any given moment we could have a number of WhatsApp groups going all from Kellogg. My cohort still uses this to stay in touch. We've remained very close and communicate on a daily basis about Kellogg events or life events.
Karlo: In general, there's something special about the Kellogg culture and that feeling is consistent across the Kellogg Global Network. I stay in touch with my cohort regularly through social media and WhatsApp. However, what's more remarkable is that no matter where we travel in the world, we make it a point to connect with other members of the Kellogg Global Network. I recall heading to France a few years ago and sending a note to our Kellogg-WHU and Kellogg-HKUST students that live in Europe. I met up with a couple of them while I was in town and they were amazing hosts, and that type of meeting is commonplace among my classmates on their travels.
How has the EMBA Global Network played a role in your career?
Maryann: The EMBA Global Network is like having a wealth of knowledge at my fingertips. I follow a large number of the professors and their work and I also stay professionally and personally connected with other alumni via social networks. The network is doing such wonderful things. It is inspirational and it pushes me to continue challenging myself.
Karlo: The EMBA Global Network is akin to having Siri, Alexa, Oprah, and too many all-star professors to name all suddenly in your network. That provides an amazing level of insight and access, but the true value is that those relationships aren't transactional, you actually develop new meaningful lifelong relationships and partnerships. Everyone is very willing to help you professionally, academically, or personally.
How did the conversation about joining 2U come about?
Maryann: I had been researching the company for a couple of months and then one day on LinkedIn I saw that Karlo had joined. I let him settle in and eventually reached out to ask what his experience was like. I'd heard great things about 2U, but when a Kellogg alum joined, I knew there had to be something great happening there. I reached out and the rest is history!
Karlo: I have had several conversations with individuals that are interested in joining 2U, and what I would say about Maryann is that she was prepared. She did a lot of research and asked really good questions, and you could tell she really understood 2U's business and mission.
What does 2U do?
Maryann: 2U partners with great colleges and universities to build what we believe is the world's best digital education. In these partnerships we provide everything from the technology platform, student support services and analytics support to transform great universities into the best digital versions of themselves. The university is responsible for the admissions and academics-related functions. It really brings together the best of the tech world with the best of what historic universities have to offer. The admissions and academic standards are the same and students receive an identical degree to what's received on campus.
Karlo: Our partner portfolio is pretty impressive. We work with notable institutions including Georgetown, Harvard, NYU, Rice, Syracuse, UC Berkeley, UNC, USC, Vanderbilt, Yale and, of course, Northwestern. We recently acquired GetSmarter, a digital education company based in Cape Town that collaborates with some of the world's leading universities to offer premium online short courses to working professionals around the world.
What else about your time at Kellogg contributed to where you both are today?
Maryann: The two biggest things are the quality of the program and the people. The program is extremely rigorous, however at the end of it I felt prepared for the next chapter and have been able to take more professional risks. The community is very collaborative and focused on professional development. I know that I have a network of people that I can call up if I have a question and I can always go back and take courses to build upon my skills with additional offerings.
Karlo: I've always had a dynamic schedule built around family, career, and community pursuits. While in the program I made more than 80 flights back and forth from my home in Baltimore to campus all while working full-time as an Investment Banker, maintaining my board leadership roles, and still making time for family. My Kellogg experience pushed me to an increased level of capacity and leadership that I am not sure I would obtain in many other places.
What advice do you have for Kellogg EMBA students? What should they take advantage of while they're here?
Maryann: At orientation the first thing that was said to us was 'you get what you put in.' Those are words to live by and they apply to everything in life: your relationships, your work and your own learning. Take the time to give it your all! Also, take the opportunity to network and build relationships. There is no other business school that has an alumni network quite like Kellogg and it is our job to continue that legacy.
Karlo: I loved my Kellogg EMBA experience, and part of what made it special is that in addition to the relationships I made with amazing EMBA students, professors, and alums, I also invested time in meeting others from the broader Kellogg and Northwestern communities, which have so much to offer. I built relationships with Kellogg Full-Time and Evening & Weekend students, engaged with Kellogg professors such as Dr. Nicholas Pearce—who was noted as a student-favorite by some of my Full-Time friends—got involved in broader Kellogg initiatives and joined my local Kellogg and Northwestern Alumni clubs.