Start of Main Content
​Kara Palamountain '04 Meets with the Kellogg Net Impact Club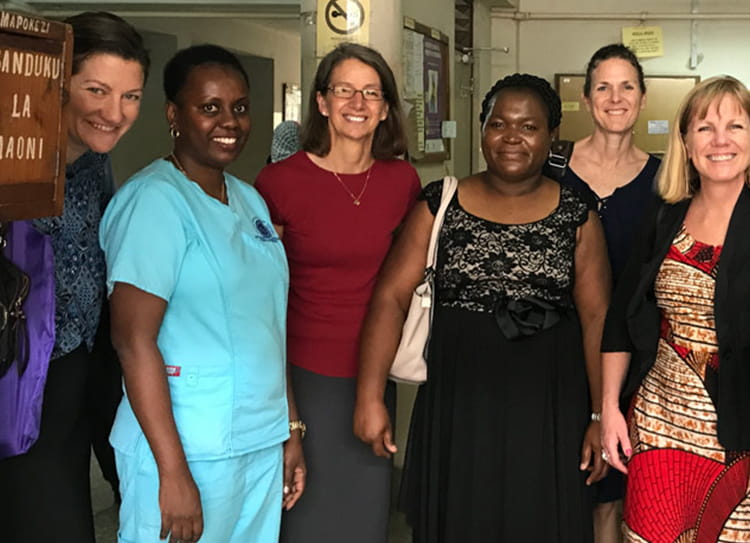 by Jack Bugas, MMM 2019
On Tuesday October 31, the Kellogg Net Impact Club welcomed Kara Palamountain '04 for a discussion on her work to save 1.1 million infant lives in Africa by deploying affordable, life-saving technologies. Professor Palamountain is part of a team of researchers and practitioners from Kellogg, Rice University, the University of Malawi, the London School of Hygiene & Tropical Medicine and 3rd Stone Design, who are working together on the Newborn Essentials Solutions and Technologies project. The NEST team (pictured above) will be competing against three other finalists for a $100 million grant from the MacArthur Foundation​ in December.
Kara Palamountain shares her work with the Kellogg Net Impact Club
In a discussion that was both inspiring and dynamic, Professor Palamountain delivered NEST's in-process MacArthur pitch to a group of 50 Kellogg students and solicited feedback from the room to incorporate into the pitch. NEST's work originated 18 months ago, when the MacArthur competition was originally announced, and Professor Palamountain came together with a group of women who have been working on the issue of infant mortality in Africa for years. The team built a comprehensive plan by forming key partnerships across the globe, traveling to Africa for field research and trials and conducting due diligence on technologies and sites for the project.
Professor Palamountain started her pitch by asking the audience to imagine that they were Indira, a trained nurse in Malawi who sees newborn infants die from preventable causes every day due to the absence of medical devices that have been available in the U.S. for the last 50 years. A full 85 percent of the 1.1 million preventable newborn deaths in Africa stem from three causes: prematurity, infection and intrapartum-related complications. Twenty technologies are needed to help clinicians address these deaths.
NEST aims to assemble a bundle of these 20 technologies that is affordable, rugged, easy-to-use and effective. The project plans to distribute the bundle, called NEST 360°, to hospitals around the continent beginning in Malawi, Tanzania and Nigeria. The plan starts with optimizing and packaging the technologies, then measuring their impact and cost, generating demand, distributing the bundle and training clinical users and service technicians. This would reduce infant mortality by 50 percent in Africa over 10 years, instead of the 150-year time range that it would take under the status quo.
Professor Palamountain ended her talk by describing the tremendous experience she has had meeting the other finalists and semifinalists in the MacArthur competition, stating that the teams are "rooting for each other and hoping that we can all get funded across the eight organizations." We're certainly rooting for Professor Palamountain and the NEST team and wish them all the best in securing funding for a truly critical project that is as ambitious as it is transformative for infant lives in Africa.​