Start of Main Content
Kellogg on Growth 2017: A Lesson in Disruption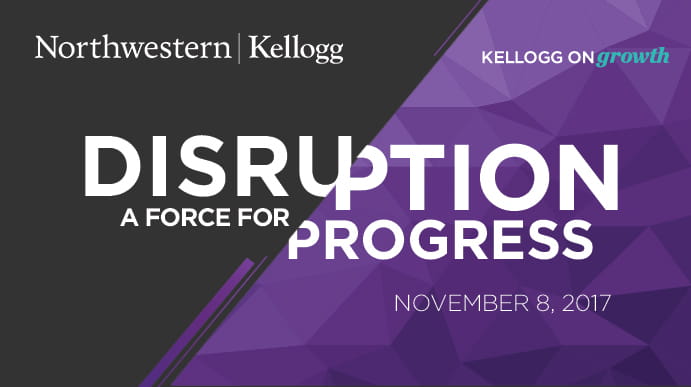 by John Keough, 2Y 2018
In elementary school, disruption had a bad rap. Disruption equaled distraction, and distraction equaled detention. But like many a rowdy student, disruption has proven an impossible upstart to quell, and now, the business world has evolved from coping with disruption to seeking it out as an agent for growth.
This year, on November 8, disruption will finally become the cool kid in school. At the third annual Kellogg on Growth forum, more than 1,500 students, faculty, alumni and industry experts will descend on the Global Hub to discuss disruption, and how it is reshaping the world that we live in.
Kellogg on Growth is taking over the Global Hub on November 8
In an economy where cheap capital is readily available, and moonshot concepts have become successful realities, new ideas and innovations are flourishing at an unprecedented rate. Mature companies and startups alike are harnessing disruption as a force for progress, and it's truly an exciting time to be entering the business world.
The Kellogg on Growth team of students and administrators has assembled an all-star cast of headline and session speakers to shed light on disruption on multiple levels. Mallika Chopra '02, founder of Intent.com, will discuss personal growth and provide attendees with strategies for getting the most out of business school and careers beyond. Eric Muhlberger, winner of the 2017 Kellogg Student Keynote contest, will detail how his work with music company Sofar is reimagining live entertainment.
Dean Sally Blount '92 will have a fireside chat with Carlos Brito, chief executive officer of AB InBev, on how the world's largest brewer continually disrupts itself to adapt to rapidly changing consumer demands. Finally, Marcus Shingles, chief executive officer of X-Prize will discuss the business's innovative model to put creative minds together to solve some of the world's greatest challenges. In addition to the headline speakers, sessions throughout the day will feature dozens of industry experts, who will dive into focused hot topics. These sessions include Artificial Intelligence: Mind and Machine, Demographic Disruption, Disrupting Talent, and Political Disruption.
The Global Hub is already teeming with disruptors. By taking time away from work, family and, for most, familiar places, we students have all willingly disrupted our own lives for the opportunity to attend Kellogg. Our time here at school is a short-lived privilege. By attending the Kellogg on Growth conference on November 8, we can transform our disruptive thinking from a temporary state of mind into a permanent mental asset.